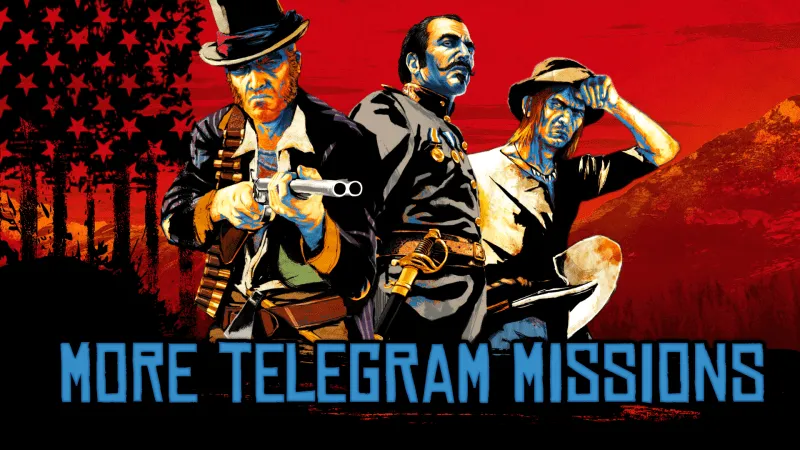 As a cheeky wee surprise from Rockstar, we recently saw the introduction of the leaked 'Telegram Missions' in Red Dead Online - These are a new set of standalone missions to be played solo, with an increasing difficulty level and, in some cases, the ability to complete the level in any way you see fit. As of right now, we only have three of these exciting new jobs, so I thought I'd come up with a few more ideas on what we could see in the future.
NOTE - SINCE RELEASING THIS, WE COMPILED EVERY ONE OF OUR CONCEPTS INTO ONE LARGE ARTICLE DETAILING A FIVE YEAR / 11 UPDATE PLAN FOR RED DEAD ONLINE. THIS CAN BE VIEWED BY CLICKING ON THIS TEXT!
Taking Something Back
Assist Native Americans in disrupting military convoys carrying construction supplies, ammo, food and such.
Choice to destroy or reclaim supplies for the Native Americans. Destruction is easier but more wagons reclaimed is better for money.
"CUMBERLAND FOREST. ARMY CONVOY TAKING SUPPLIES TO CAMP. DISRUPT AND DESTROY OR DELIVER TO LOCALS. BETTER PAY FOR MORE DELIVERED. - YOUR FRIEND, J."
Train Trap Reversal
Train robbery mission, with a twist.
It's a trap for a large gang, and we know it. We've been sent in to spring the trap, and fight out. Full reversal.
"FLATNECK STATION. TRAIN BEING USED AS BAIT TO TRAP MY FRIEND'S GANG. BREAK IN, STEAL THE LOOT, SPRING THE TRAP AND SHOW THOSE PINKERTONS WHO THEY'RE MESSING WITH. - YOUR FRIEND, J"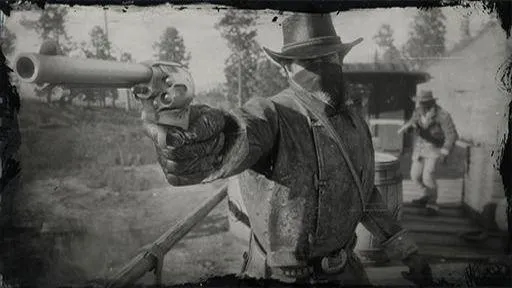 Arson in the Afternoon
Burn buildings in Saint Denis.
They owe the client protection money.
"SAINT DENIS. RUTHLESS BASTARD OF A FRIEND IN THE CITY. SOME BUSINESSES NOT PAYING HIM PROTECTION MONEY. TAKE FIRE BOTTLES AND ENCOURAGE PAYMENT. - YOUR FRIEND, J"
Community Service
Rescue people from the Skinner Brothers.
Through Tall Trees. Faster rescue = better reward.
"TALL TREES. SICKOS MOVED INTO THE WOODS, STEALING PEOPLE. INFILTRATE, FREE CAPTIVES, KILL THE EVIL SONS OF BITCHES. COLLECT THE BOUNTY. - YOUR FRIEND, J"
Friends in High Places
Assassinate high-profile target at Mayor's party.
Could work like Hitman games, with potential to cause accidents and such?

Poisoning, crushing with chandeliers, fire-based accidents, ice sculpture-based accidents, causing an argument so someone else does it.
Being able to blend in as staff after finding a uniform, dancing as a guest, or something else would also be very cool.

"SAINT DENIS. CLIENT WANTS MAYOR'S FRIEND DEAD. GOT YOU TICKETS TO THE PARTY. GO THERE. FIND A WAY TO ENSURE THE MURDER OF REGINALD FRANKFURT. TRY TO BE SUBTLE. - YOUR FRIEND, J"
A Day of Disrespect
Klansman funeral, show them who's boss.

I love a reason to beat down bigots in a videogame.

Attack the funeral, becomes waves of enemies fighting back. Perhaps during a thunderstorm for more atmosphere.
"RHODES. THE SICK BASTARDS IN WHITE HOODS ARE DRESSED IN BLACK. KEEP THEM THAT WAY. - YOUR FRIEND, J"
Bar Room Brawl
Self explanatory mission.
Barman has been sleeping with client's wife, so we're gonna cause some business trouble for him. Three to four waves of enemies for you to beat down, with the "brute" type coming at the end.
"BLACKWATER. BARMAN HAVING AFFAIR WITH CLIENT'S WIFE. GO TO BAR AND CAUSE A BRAWL. DO NOT KILL THE BARMAN, ONLY STRESS HIM OUT. - YOUR FRIEND, J"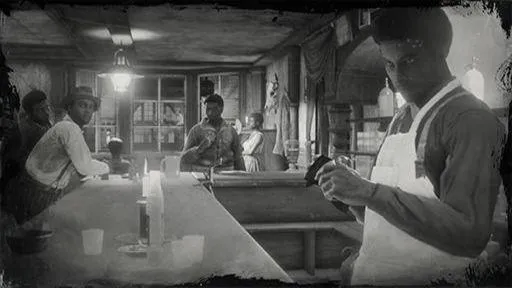 Parade Protector
Work as a guard at the Saint Denis parade, defend it from attackers.
Starts at the photography studio, goes round past the fence, and down the main road to the stables, finishing at the park/lake where there is a party.
"SAINT DENIS. PARADE SOON. BRONTE'S MEN PLANNING AN ATTACK AFTER BEING CUT OUT OF PROTECTION DEAL. DEFEND THE PARADE. - YOUR FRIEND, J"
The Ranch Hand
Help Emerald Ranch take cattle to auction at Valentine.
At one point, you're ambushed by around 10 - 15 rustlers, but no more come after they're dead. It becomes a normal herding mission again.
"EMERALD RANCH. HELP RANCH HANDS TAKE CATTLE TO AUCTION IN VALENTINE. FIGHT OFF ANY RANCHERS AND ENSURE CATTLE SAFETY. - YOUR FRIEND, J"
Construction Workee
Unlocks after completing the rest of the telegram missions on each difficulty.
Help a local build their new ranch house. The House Building Song plays.
No fighting or anything in this one, it's a fun reward for completing every other mission.
Yes, this mission is fan service and slightly ripped from campaign, but perhaps this building could serve for a new set of missions? Perhaps with the focus returning to co-op? It is Red Dead ONLINE after all
"CUMBERLAND FOREST. COUSIN BUILDING NEW RANCH HOUSE IN NEW HANOVER. GIVE HIM A HAND AND I'LL PAY YOU. - YOUR FRIEND, J"
What do you think of the current Telegram missions in Red Dead Online? Would you try these ones out? Let us know on Twitter @GTABase and be sure to follow so you can stay up to date with all the latest Rockstar Games news, and see more fun concepts like this!