Is Rockstar Games heading into being an Independent Music Label? Why are we saying this? Where did such a thing come from? Well, this is pure speculation and prediction based on some details that have recently emerged. Let's find them out!
It looks like Rockstar recently posted a position for a role they are looking for, it is about a Music Marketing Manager.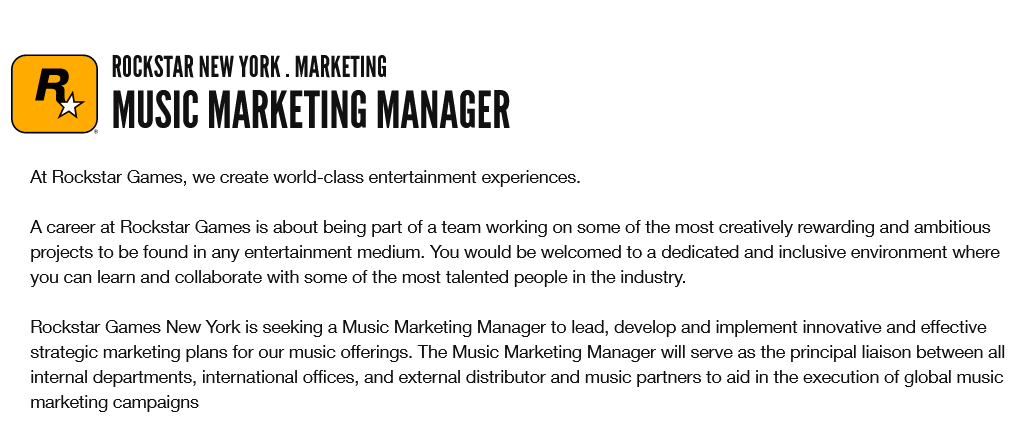 As Big Jim Colosimo also noticed and wrote in his tweet; looks like Rockstar is heading into the Music Business, deeper than they already do (we know that the musical aspect for Rockstar has always been of extreme importance in all their games), and perhaps they are preparing to act as a Music Label as well.
@GTAonlineNews @videotech_
Looks like Rockstar is heading into the Music business, in an even larger capacity, and perhaps laying the groundwork to act as a label of sorts. They are hiring for a Music Marketing Manager with the following responsibilities:https://t.co/5gy50UHvfM

— Big Jim Colosimo (@chi_colossimo) April 11, 2021
The most interesting thing about all this, are the responsibilities that the new position sought - the Music Marketing Manager - will have to take care of.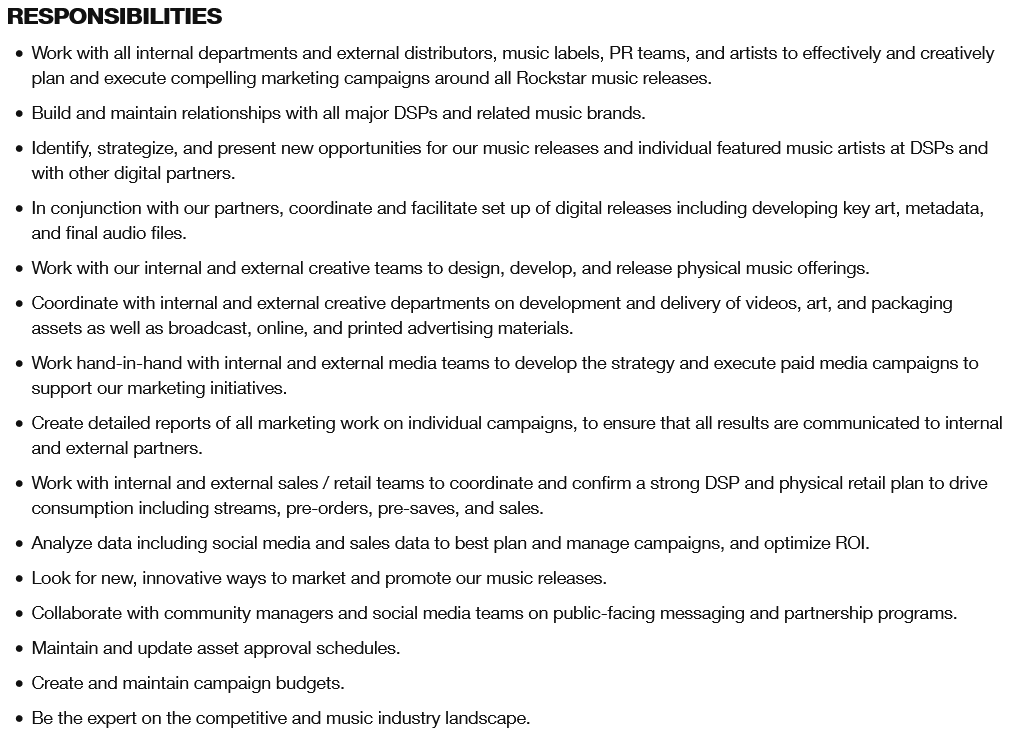 In particular;
Work with internal and external sales / retail teams to coordinate and confirm a strong DSP and physical retail plan to drive consumption including streams, pre-orders, pre-saves, and sales. Build and maintain relationships with all major DSPs and related music brands.
This one! Basically, DPS means Digital Service Provider. A Digital Service Provider (DSP) is an online store (iTunes, Amazon Music) or streaming service (Spotify, Apple Music, YouTube Music) that features digital albums and singles. They collect mechanical royalties and performance royalties from DSPs on behalf of clients and pay those royalties to them.
Also;
Work with all internal departments and external distributors, music labels, PR teams, and artists to effectively and creatively plan and execute compelling marketing campaigns around all Rockstar music releases.
Yes, you read that right... Music Releases!
In the end, also Tez expressed his opinion about that on GTAForums;

He assumed that Rockstar, in fact, never had a Music Marketing Manager before. That's a good point regarding Rockstar being a Music Label.
On the other hand, he also assumed that it might have nothing to do with a next GTA Online Update, but more to show that Rockstar intends to focus even more on musical aspects in their future updates, with new DJs and Nightclubs, or who knows, even Concert Halls or Amphitheaters (already present in GTA V), where big concerts could be hosted. Maybe with a return of Love Fist! (Yes, now we're dreaming).
It also could means that it might easily have nothing to do with the Music Label thing too. I guess we'll find out sooner or later.