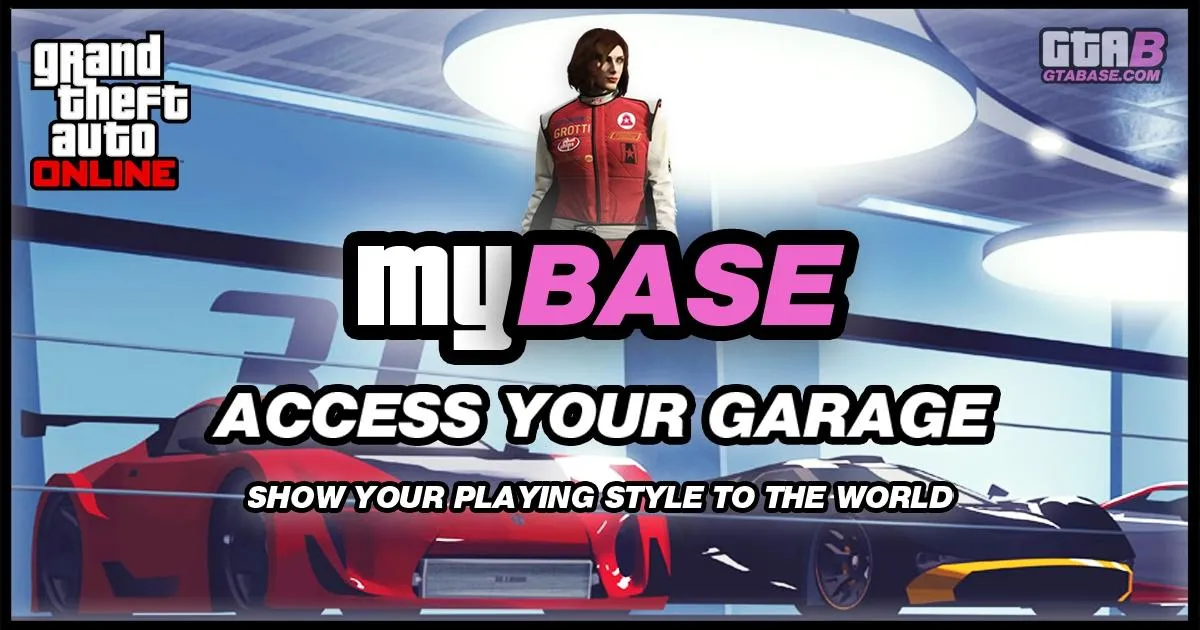 Last week we launched MyBase, a new, interactive system that allows you to keep track and showcase to the world all the Properties and Vehicles you own in GTA Online!
The positive reception we had was overwhelming and completely exceeded our expectations, with almost 2000 users registering and putting together their Garages in less than a week!
We also received a ton of great post-launch feedback and suggestions from all of you guys to improve the system even more.
So we're happy to share the list of changes, updates and improvements we've made to MyBase throughout the past few days following all your initial feedback and more ideas that came to mind:
MyBase Update 1.1 Changelog:
Added the ability to enter the vehicle stored inside the MOC (Mobile Operations Center)
Fixed the missing ability to enter Blazers (Street, Hot Rod, Lifeguard) inside the Motorcycle Clubhouse
Added the ability to enter other Properties such as Crate Warehouses and MC Businesses
Added the ability to enter bicycles in the Apartments/Garages (upped the limit of vehicles from 10 to 13 per Garage)
Split the Hangar Storage in separate spaces for Aircrafts on Floor and Aircrafts on Storage
Split the Nightclub Storage in separate spaces for all the different floors (Service Entrance, B1, B2, B3, B4, B5)
Split the Arena Workshop Storage in separate spaces for all the different floors (Main, B1, B2)
Increased the limit of vehicles that can be entered in the Arena Workshop from 30 to 31 (including RC Bandito)
Added the ability to hide the input for Arena Workshop vehicles and Casino Penthouse vehicles if the Property is not owned
Added the ability to enter the Lost Slamvan as Personal Vehicle
Split all Arena Vehicles variants (Apocalypse, Future Shock, Nightmare) into three separate vehicles for each type
Split the Dubsta2 into a separate vehicle
Split the Tornado Mariachi into a separate vehicle
Fixed Office Garages on LVL 2 and 3 showing a "No vehicles" message when the user might not even own them
Now automatically showing the Yacht-related Vehicles based on which Yacht has been selected
Added the ability to enter the Mooring Location where the personal Yacht is stored
Now showing the Price for vehicles in the "My Wishlist" section
When sharing a profile on Social Media, the profile image will now be used as a social image if it exists
Various other miscellaneous improvements
Dramatically improved speed and loading times of profile pages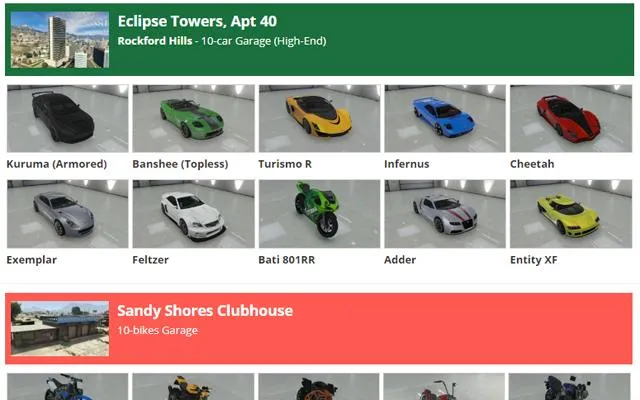 What is MyBase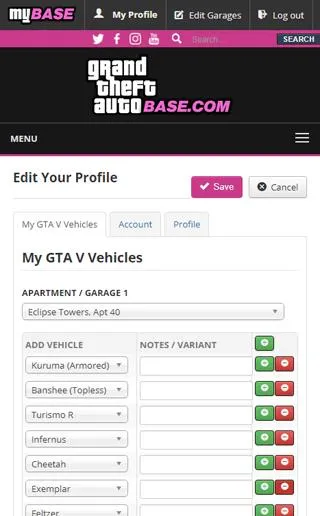 Whether you just want to keep a private record to help remember where you stored each of your vehicles, or whether you want to boast with your friends and publicly show off all the wealth you were able to acquire in-game, with "MyBase" you can do just that!
MyBase allows you to easily share with your friends and with the world how you organize your life in-game and your way of playing GTA Online, exhibiting all the vehicles and properties you own. And if you still don't have some vehicles but you've set your sights on them, you can also note them down thanks to a dedicated "My Wishlist" section.
Your "MyBase" also lets you to set your profile to Public or Private, to enter and change your profile information at any time.
You are able to customize your Display Name, Bio and Profile Image, optionally add links to your Social Media profiles and to your Gaming Accounts (PSN ID, Xbox Live and Steam), and much more.
Conclusion
We are so happy you're enjoying the system and finding it useful.
Feel free to continue sending us links to your profiles on Twitter at @GTABase and we will be happy to Retweet them! And of course, feel free to tell us if you have any more suggestions or option you would like to see added to "MyBase".
Stay tuned for plenty more profile features to come in the future, such as the ability to enter your personal Horses in Red Dead Redemption 2, Weapons and much more.
Register Now and Access Your Garage!