Today Rockstar Games has released a new vehicle, the RC Bandito, plus get double cash on the new Bandito Races and up to GTA$1M in bonuses throughout February. Keep reading for the details...
All the danger, none of the personal risk. The little car with the big payload hits the streets of Los Santos, ready to be customized with a range of explosive surprises including Kinetic and EMP mines, plus a collection of unique visual modifications and more. If you want the pleasure of seeing your enemies flee in panic from a speeding toy car, this is the only game in town.

Arena property owners can head over to Southern San Andreas Super Autos today to order the RC Bandito, which is delivered to its own full-fledged workstation in your Arena Workshop that lets you modify it, with everything from the aforementioned mines and explosives to unique liveries, lids and vertical jumping capability.

Once you've detailed your RC Bandito to your liking at the workshop, deploy it at any time by bringing up the Interaction Menu and selecting Inventory.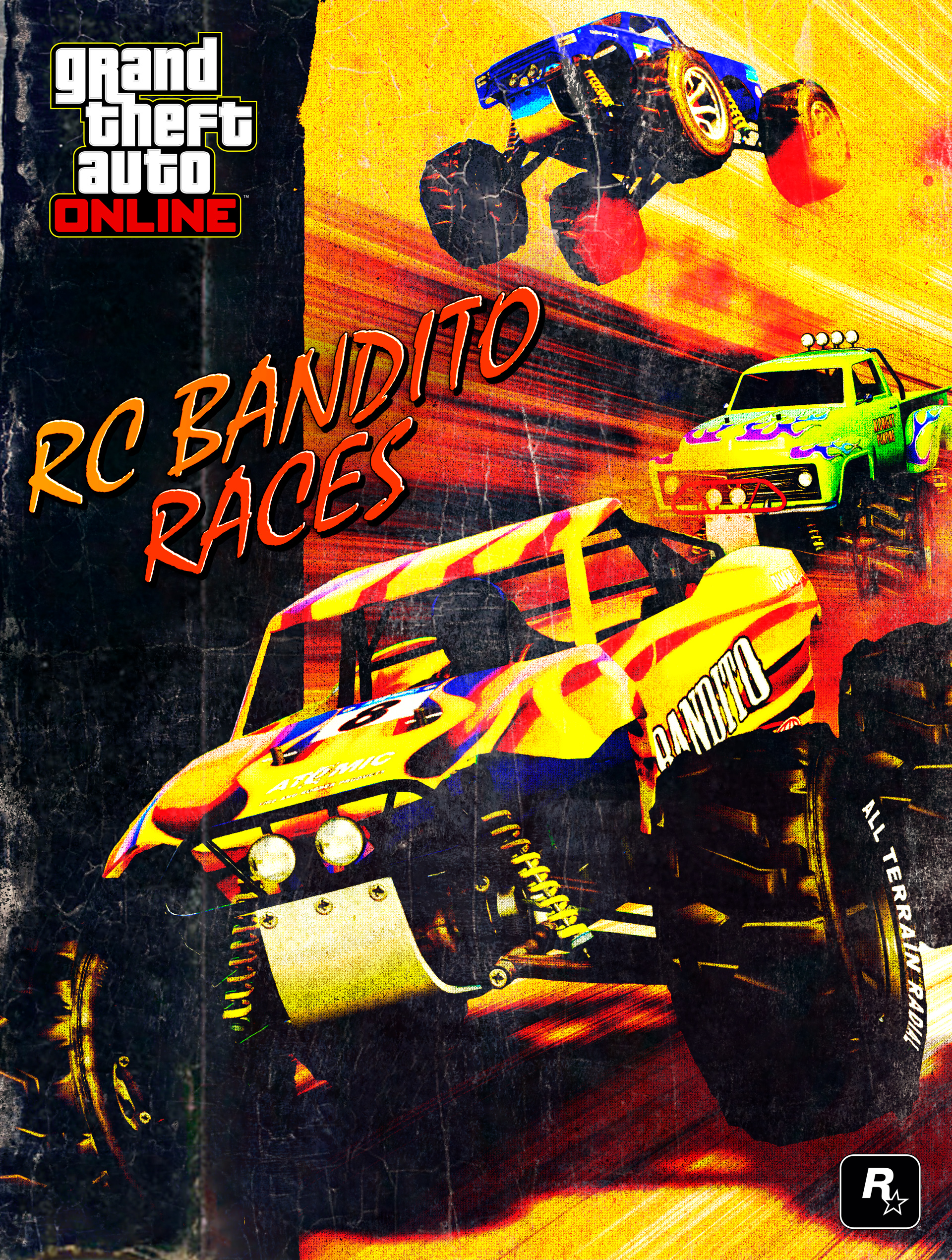 No workshop? No problem. While custom variants are welcome, you don't need to own the RC Bandito to jump into any of the 8 all-new RC Bandito Races, paying out Double GTA$ & RP.
In addition to earning Double Rewards in today's new fun-sized tracks, launch into any Rockstar Stunt Race and earn Double Cash and RP through February 6th.

Plus, get amped up for this weekend's big game via our own vehicular interpretation of three yards and a cloud of dust, as Running Back (Remix) is matriculating Double GTA$ and RP up and down the field all week.
GTA$1M in cash bonuses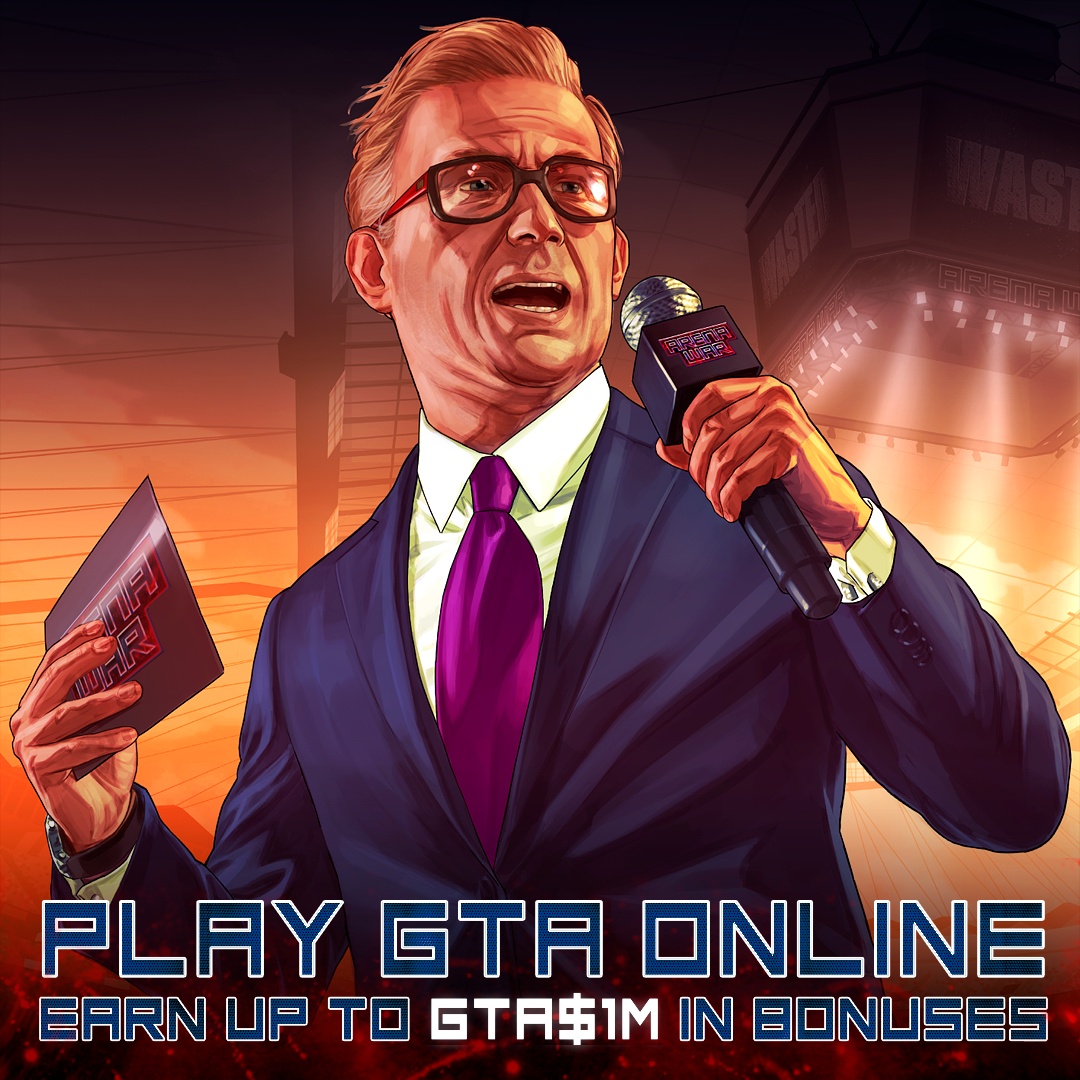 As the result of a class-action settlement with the citizens of Los Santos, Alan Jerome Productions – the fine people who brought you the blood-thirsty hybrid of automotive combat and gladiatorial competition that is Arena War TV – has been ordered to compensate the people of Southern San Andreas with up to GTA$1M each. Jump into GTA Online each weekend in February and you'll be awarded a GTA$250K gift that will be waiting for you in your Maze Bank account when you log in the following weekend.

And while you're in there, take your best shot at Arena War competition (or watch safely with a beverage from the Spectator Box) and jump into a range of gameplay across GTA Online with GTA$ and RP bonuses all month long including upcoming double cash on Gunrunning Sales, Doomsday Heist Finales, fan-favorite Adversary modes and more. Stay tuned for more details in the weeks ahead.
Discounts:
Arena Workshop Mechanics – 30% off
Arena Boost Upgrades – 30% off
Weeny Arena Issi Contender Upgrade – 30% off
Bravado Sasquatch Contender Upgrade – 30% off
Ocelot Swinger – 30% off
Hotring Sabre – 35% off
Overflod Tyrant – 30% off
Pegassi Tezeract – 30% off
Vapid Hustler – 30% off
Ocelot Pariah – 30% off
Hydra – 35% off
Buzzard – 35% off
Hunter – 35% off
Engines (Vehicles & Aircraft) – 30% off
Brakes & Handling (Vehicles & Aircraft) – 30% off
Suspension – 30% off