Today Rockstar released the new Schyster Deviant muscle car along with GTA$ Bonuses all month long (stared last week), special Business Battle events and more...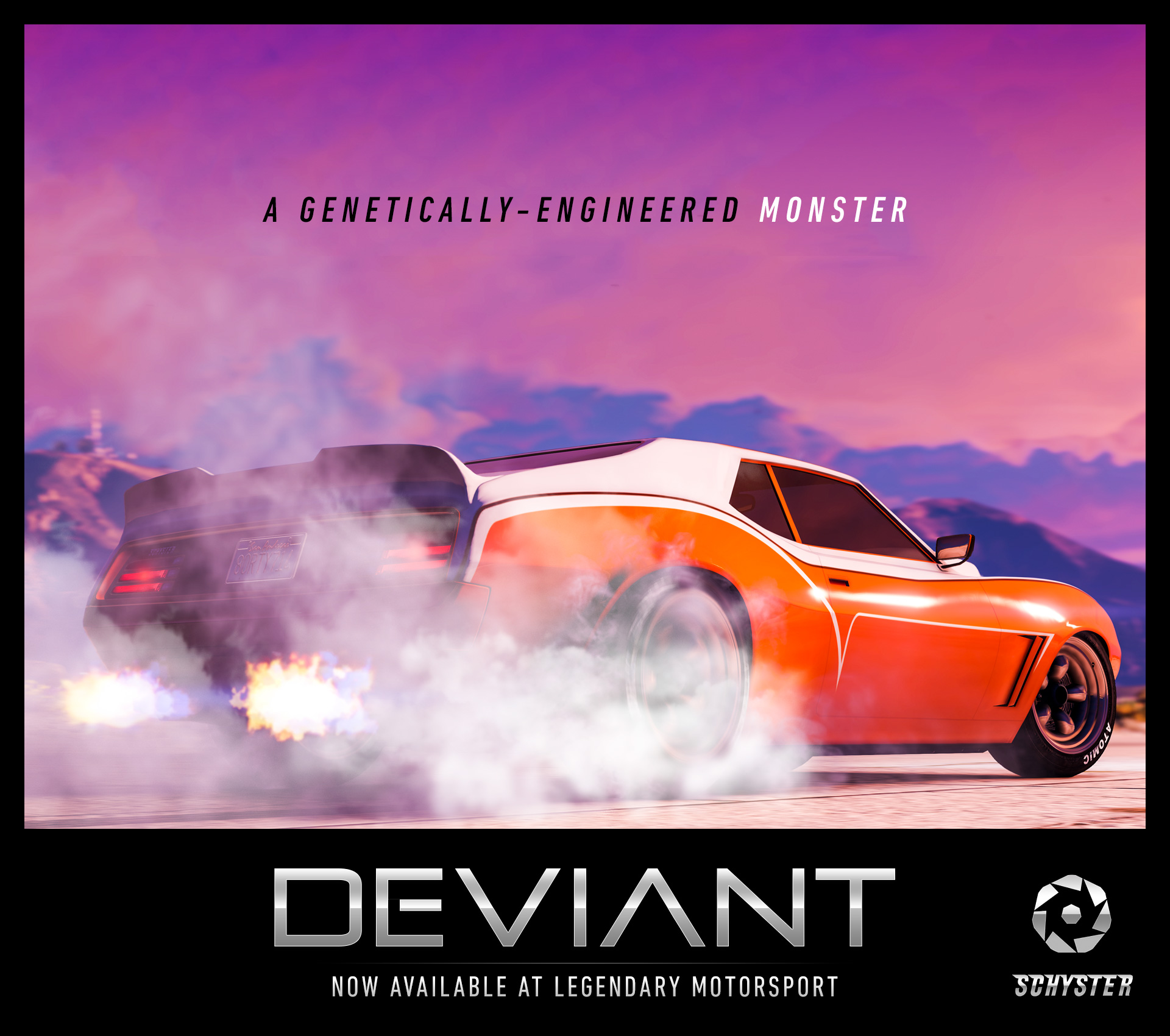 Once upon a time the Deviant was considered an underdog in the muscle car field. But in the land of opportunity, an underdog is only a genetically-engineered monstrosity in waiting, and that's something Team Schyster know all too well. Revamped, remodeled, re-engineered and released on the unsuspecting streets of Los Santos, the Schyster Deviant is back with a point to prove - available now at Legendary Motorsport.
Double GTA$ & RP Opportunities
Challenge miniscule racers at major stakes with Double GTA$ & RP on the recently released RC Bandito Races all week long, then settle the age-old conflict between Beast and Juggernaut to earn double rewards on Trading Places (Remix) for the same period.

Pack the house at twice the speed this week with a 2X Boost on Nightclub Popularity gained from Nightclub Management missions. You'll also rake in Nightclub Income at twice the usual rate - just be sure to empty your safe when it reaches capacity.
Unlock the Schyster T-Shirt & Other Bonuses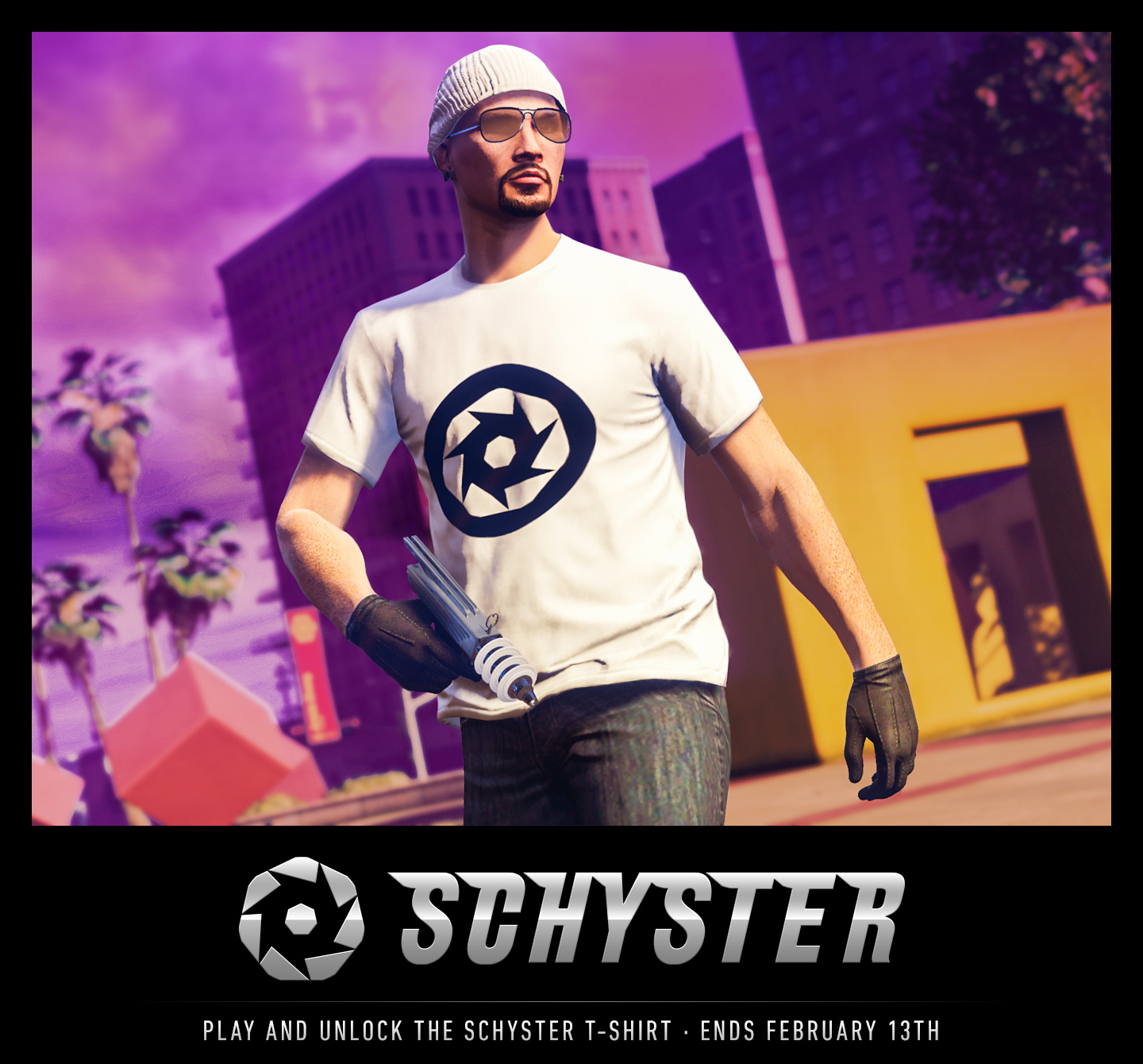 To celebrate the release of the Deviant, Team Schyster is awarding all players who log in this week with a free Schyster T-shirt.

And for a limited time, successfully delivered Business Battle Crates have a chance of awarding a cool GTA$50,000, along with a hand-picked mix of rare T-Shirts from your favorite vehicle manufacturers and After Hours DJs.
Weekend GTA$ Giveaways
Play GTA Online any weekend this February to earn a GTA$250K reward the following week, up to GTA$1M for the month. So if you played at any point between February 1st and 3rd, be sure to jump in this weekend to claim your first GTA$250K cash drop.
Nightclub & Delivery Vehicle Discounts
Make the most of this week's Nightclub bonuses with a suite of After Hours discounts to get you up and running:
Nightclubs & Renovations – 30% off
Nightclub Garages – 30% off
Nightclub Warehouses – 30% off
Nightclub DJs – 30% off
Maibatsu Mule Custom – 30% off
MTL Pounder Custom – 30% off
Savings on the Terrorbyte & Premium Attack Vehicles
And save big on a host of bleeding-edge machinery through February 13th - stage your hacking operations from the safety of the Benefactor Terrorbyte or reign supreme in the Arena with the MTL Cerberus:
Pegassi Oppressor Mk II – 25% off
Benefactor Terrorbyte – 35% off
Benefactor Terrorbyte Add-Ons & Renovations – 30% off
Annis ZR380 – 25% off
MTL Cerberus – 25% off
HVY Menacer – 35% off
B-11 Strikeforce – 35% off