This week sees the launch of the Missile Base Series, featuring intense competitive skirmishes set inside the bowels of Mt. Chiliad. Also, CEOs who own Executive Offices will also receive a fat bonus for playing, while all Smuggler's Sell Missions, Juggernaut and Rhino Hunt modes are paying out Double Rewards through May 29th.
Missile Base Series
Return to the scene of The Doomsday Scenario in nine classic modes set inside the Missile Silo, including Resurrection, Slasher, Every Bullet Counts and more. All modes inside the Missile Base will pay out Double Rewards, as well. Simply set a course for the nearest Bunker Series icon on the map to jump into a rolling playlist deep in the guts of Mt. Chiliad.
GTA&250K Gift for Office Owner
All Executive Office owners, including those who pick one up this week, will receive a GTA$250K Bonus.
2X GTA$ & RP on Smuggler's Sell Missions
All Smuggler's Sell Missions are paying out 2X GTA$ & RP, all week long.
25% Off Special Cargo Crates
Special Cargo Crates are 25% off this week.
2X GTA$ & RP on Juggernaut & Rhino Hunt Modes
Players who will jump into Juggernaut & Rhino Hunt modes will receive Double GTA$ & RP.
In Juggernaut, the eponymous war machine is both your greatest asset and only liability. Win by taking out the opposing team's Juggernaut without being killed.

How many soldiers does it take to destroy a tank? Rhino Hunt lets you find out: a team armed only with sticky bombs must take down one or two players in an armored vehicle at all costs.
3X RP on Shooting Range Challenges
Players will earn Triple RP on all Shooting Range Challenges participating Ammu-Nation locations and player-owned Bunkers through the 29th of May.
Unlock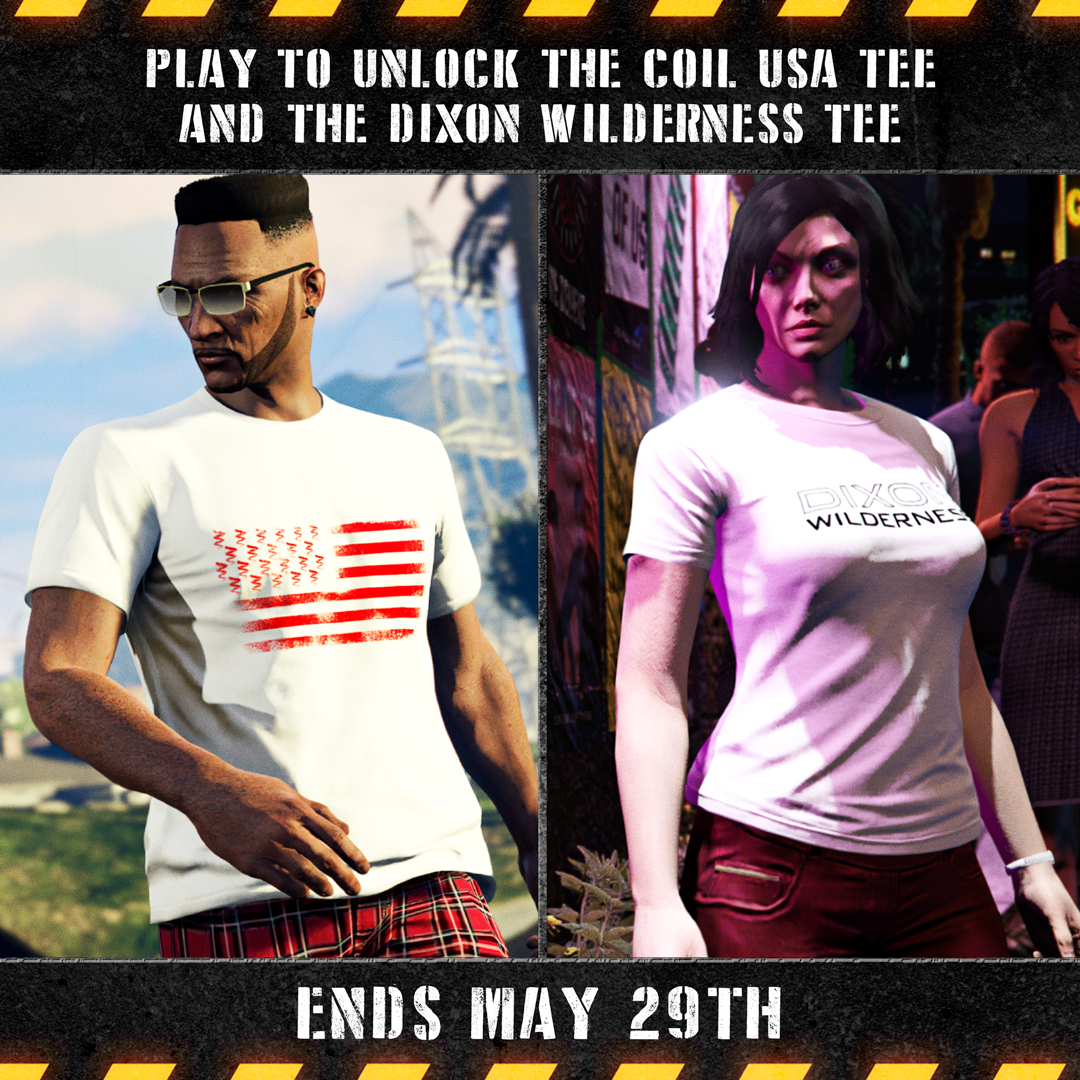 Play GTA Online any time through May 29th to collect the Coil USA Tee and the Dixon Wilderness Tee.
Property & Vehicle Discounts
Hangars, Renovations & Add-Ons – 40% off
Bunkers, Renovations & Add-Ons – 40% off
Mobile Operations Center, plus Upgrades and Renovations – 40% off
Benefactor Terrorbyte, plus Upgrades & Renovations – 40% off
BF Dune FAV – 30% off
All Smuggler's Run aircraft – 35% off
HVY Barrage – 35% off
HVY Menacer – 35% off
Bravado Half-track – 35% off
Declasse Weaponized Tampa – 35% off
HVY Insurgent Pick-Up Custom – 35% off
Mammoth Thruster – 35% off
Ubermacht Revolter – 35% off
Declasse Scramjet – 35% off
Rhino Tank – 35% off
Premium Races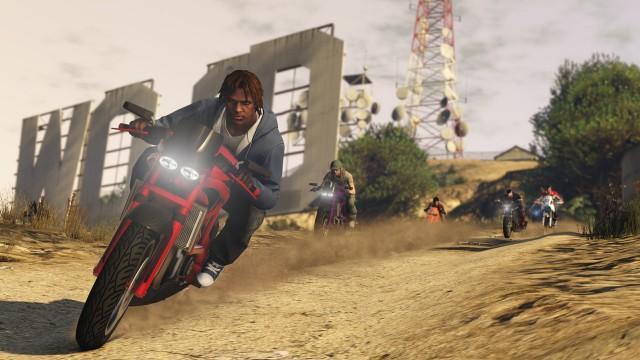 A Sign of Things to Come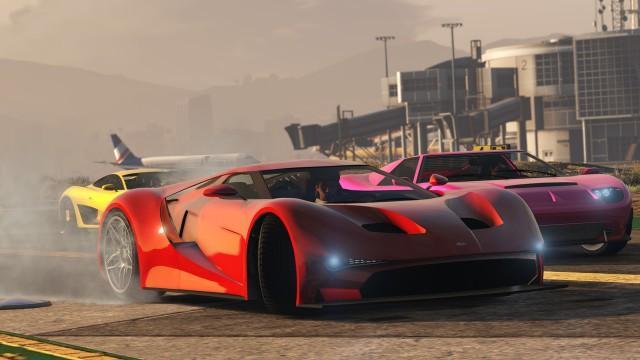 Taking Off
To join a Premium Race, either enter through the Quick Job App on your in-game phone or via the yellow corona at Legion Square. Ante up GTA$20K and compete for first place against seven other racers, which awards GTA$100K, while 2nd and 3rd place finishers will receive GTA$30K and GTA$20K respectively.
May 23rd - Business Trip (locked to Super)
May 24th-27th - A Sign of Things to Come (locked to Motorcycle)
May 28th-29th - Taking Off (locked to Super)