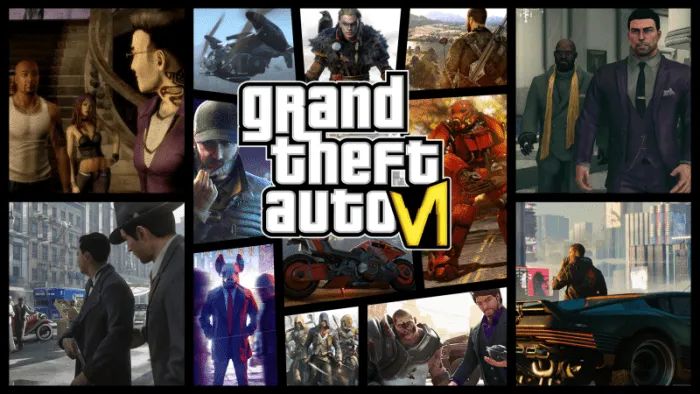 A VI-ry Long Time
It's been a decade since the announcement of Grand Theft Auto V, an entire console generation has came and gone since then - Yet Rockstar has remained tight-lipped about the ever-anticipated sequel to the popular 2013 game.
We Grand Theft Auto fans are beginning to become impatient with the game, with the more impatient members of the community diving into whatever Rockstar posts, desperately begging them to give us some form of information on what could perhaps be the most hyped game of the century.
Although Rockstar are the kings of the open-world genre, we thought we could come up with a list of ten, open world (And mostly crime-based) games from different studios to keep GTA fans entertained until the inevitable release of GTA VI. Who knows, you might find one of your new favourites here!
What You Like
Before working on this list, we posted a poll on our Twitter asking you, the community, what your favourite open-world, non-Rockstar crime game series was.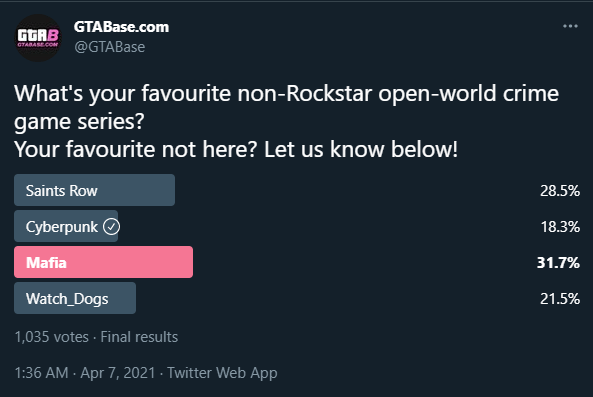 The results showed a close win for Mafia, with the Saints Row series following in second. Many replies discussed their enjoyment of the remaster of Mafia and the crazy route the Saints Row franchise went down, akin to the likes of GTA Online. This poll was the starting ground for this list of games.
Games to Try
We've placed each of the games into different categories in order to more efficiently group them. They are split by genre, franchise and setting. Be aware of mild spoilers for each game, as we have done our best to describe the plot.
Saints and Sinners
We placed three Saints Row games on the list. Originally, this may seem like a strange choice, but each of the games are so different from one another - it only makes sense. Each game has a completely different story, with different mechanics and contrasting open worlds, their experiences are entirely unique.
Saints Row 2

Released in 2008, Saints Row 2 is commonly regarded as the favourite in the franchise. With a plethora of activities to partake in (Ranging from vandalising buildings with a septic truck, to jumping in front of traffic, to posing as a police officer on a cop show) the game has days of content to be played solo or with a co op friend. The story follows the player, only known as 'Boss' as they reform the Third Street Saints. With brutal, emotional and funny moments, I couldn't recommend this game more. After finishing everything, or before if you're so inclined, you can even turn on cheats and let the hilarity ensue!
The game offers a wide variety of customisation for clothes (Multiple layers, patterns, stickers and colours), apartments (Known as "cribs", they have multiple areas which can be changed) as well as a vehicle customisation system which would make even GTA Online's "Benny's Original Motorworks" sweat.
Saints Row: The Third

Released in 2011, Saints Row: The Third is the lead contender for the best-rated 'Saints Row' game. Turning the action up to 11, with epic set piece missions, scoring and action scenes. The Saints are now regarded as pop culture icons and have their own worldwide brand. Whilst it takes itself a little less seriously, it still has a great amount of epic, emotional and funny story beats. The game has a wide variety of customisation still, although not as much as the previous game.
Saints Row: The Third was recently remastered, featuring much improved graphics and all the DLC from the first game included. This is a great deal, as it improves the clothing variety and comes with three hilarious story-based packs.

Saints Row IV

Released in 2013, Saints Row IV doubled down on the wacky side of the franchise. If 'Saints Row: The Third' turned the action up to 11, IV would probably call itself "A sweet 69". The player is now the President of the United States as the planet is attacked by an evil alien race. Placed into a strange simulation, the player fights back to destroy the zin empire with their new digital superpowers. The story is filled with hilarious jokes and high-stakes action, and although it is certainly a step away from the Saints Row fans grew to love, you can't deny that it's a brilliant and hilarious game.
It was originally intended as a DLC, a la "Enter the Dominatrix" for 'Saints Row: The Third' but Volition were forced into making it a full game. Because of this, it runs almost exactly like Saints Row: The Third and uses an almost identical map.
Among the wide variety of packs for the game, all coming with the Commander-in-Chief edition, there's two story-based DLCs for this game, one being a funny concept-style DLC showing the original plan for "Enter the Dominatrix" and the other being an amusing Christmas special.
The Commander-in-Chief edition of the game also comes with the short, hell-based spinoff - "Gat out of Hell"
A Dark Future
Two of the most recent releases on this list, Cyberpunk and Watch_Dogs both offer GTA-like worlds with a high-tech skin.
Cyberpunk 2077

Released in 2020, to unparalleled hype with a rocky reaction to to a staggering amount of bugs, Cyberpunk has slowly been redeeming itself with semi-frequent patches and quality of life updates. The story follows V, who can be whoever you want them to be - From appearance down to their backstory. After a botched heist on a large military and science corporation, thanks to some poorly timed coincidences, V is left with the digital construct of an ex rockerboy and terrorist (Played by the breath-taking Keanu Reeves) taking over their mind and body. The story is filled with hope and hopelessness in the dystopia of Night City, and will definitely pull at your heartstrings. We recommend playing this on a new-gen console, as the game has been known to be a little rough on the previous generation.

Watch_Dogs: Legion

Also released in 2020, Watch_Dogs: Legion allows you to play as whoever you come across - from old pensioners to secret spies. You're a part of a hacktivist group known as 'DeadSec' who have been framed for a selection of terrorist attacks across London. It's your job to find out who framed you for these crimes and bring them to justice.
The game bolsters a decent amount of customisation for all characters, and has a steady roadmap leading into the future. The new online mode lets you play with three other friends in freeroam or in epic coop missions.
Stepping Back in Time
We decided to have two Assassin's Creed entries on this list to cover the different styles of the series. We also cover a game for singleplayer and online lovers. The Mafia series offers GTA-style gameplay in an LA Noire-style world, and with the Definitive Edition, the game has never looked better!
Assassin's Creed: Valhalla

Released in 2020, Assassin's Creed: Valhalla continues Ubisoft's new AC formula. The story follows Eivor, a young Viking who is forced to flee Norway with some of his people to take up settlement in England.
The game features a settlement building and levelling system, which will allow you to gain new loot, cosmetics and money. The combat system from the previous two games returns with a focus on one-on-one sword-based combat, and although the traditional parkour is still seen in the game, it isn't as viable as it once was.

Assassin's Creed: Unity

Released in 2014 and famous for it's bugs, Assassin's Creed: Unity was Ubisoft's attempt at placing the franchise on the multiplayer table. Play through the story yourself, where you play as Arno and do all of the typical "Assassins V Templars" things you see in the franchise.
This game has a gear and cosmetics system, allowing you to build yourself up to an unbeatable killing machine. This eventually makes the online components, such as the high-tier heists feel a little too easy, and with players only having one save of the game, there's no way to go back to the start to experience the story again. (Hence the vague plot explanation earlier)

Mafia: Definitive Edition

Released in 2002, and remastered again in 2020, Mafia takes you to the 1930s where you play as Tommy, an ex taxi driver who is forced into working with the Italian Mob.
The game has been rebuilt from the ground up, with incredible graphical and gameplay improvements making it feel like a real 2020 game. All of the game's clothing, weapons and vehicles have a distinct 1930s feel, really taking you back to the era.
The End of the World
Stepping away from the crime genre, we've got two different kinds of apocalyptic worlds. The post-nuclear wasteland seen in Fallout, and Dying Light's zombie-ridden city of Harran.
Dying Light

Released in 2015, Dying Light has you play as Kyle Crane - An undercover agent sent into Harran, a city quarantined due to the outbreak of a zombifying virus. The story follows Kyle trying to beat his own infection as he rushes to save the people of the city from external political bodies and the raiders within.
The game combines intense first-person zombie crushing action with fast-paced parkour, and can be played with up to three other friends in co op, or even include a fourth person to hunt you down.
The wide variety of undead brings a real challenge and variety to gameplay, but there really is nothing like fighting off waves of basic stumbling zombies.
"The Following" DLC introduces a new world space, too. With big open fields and dune buggies to drive around and mow down hordes of zombies, the game has never been so fun.
We really are excited for the sequel to this game, but there's no telling when that will come out as of yet. We might even be playing GTA VI first!

Fallout 76

Released in 2018 to very poor reviews, due to a swarm of bugs and a truckload of missing content, Fallout 76 has been redeeming itself since then. Last year, the game overhauled it's story and world to include the human NPCs it controversially missed at launch, and has been building on the dialogue system ever since. The game has a massive multiplayer world and allows players to build their own detailed survival camps wherever and whenever they want.
The new story has players trying to solve the plague of the scorched, and is being expanded to have warring factions within the Brotherhood of Steel. At the minute, players can choose to align with the raiders of The Crater, or the settlers at Foundation for special rewards. It takes them to a heist on a supposedly abandoned government vault in which they can steal all the bullion taken from the US treasury before the bombs dropped.
The game still is commonly slated online, but given the chance it is something which is extremely enjoyable with up to three friends in a team. Aside from the main story, it offers a huge collection of events and minigames to be played.
The two downsides to the game are the somewhat dated engine which has been in place since Fallout 3, and the slightly aggressive microtransactions system.
Five Honourable Mentions
Just Cause 4

Released in 2018, this game is wild. Natural disasters, over-the-top physics-based chaos and action, explosions and destructible scenery. Everything you could ever want in this Michael Bay sandbox game. You play as Rico Rodríguez as he fights his way through Solís, a lush destination in South America. This game has you liberating regions of the country from it's dictator, Oscar Espinosa. To do so, you must use your ridiculously large arsenal of tools and weapons.

Payday 2

Released in 2013 and still receiving constant updates, this Heist game gives you endless approaches to tackling the biggest jobs across the Americas. Best enjoyed in 2 - 4 player co op, you'll find yourself thriving to reach infamy.
It's not just your heist approach you can customise, too. Players can design their own masks, weapons and outfits to be worn by one of the many contrasting characters available! (Angry Glaswegian woman to literally John Wick level contrast)
The game encourages improvisation, if you plan to stealth and it goes wrong - You've gotta deal with it. It would make sense to believe these mechanics inspired the likes of the Casino and Cayo Perico heists in GTA Online.

Far Cry 5

Released in 2018, this game is set in an alternate version of Montana, which has been taken over by a crazy religious cult ran by the creepy, yet charismatic Joseph Seed and his family. Travel from town to town across Montana in order to liberate the local regions of the map. Tackle the local wildlife and crazed "Eden's Gate" cultists with a variety of weapons and vehicles to progress through the story.

Ghost Recon: Wildlands

Released in 2017, Ghost Recon: Wildlands takes you to Bolivia, which has been conquered by the Santa Blanca cartel. You are an operative sent in by the US Government to eliminate and dismantle the cartel in order to remove their grip on the country.
This game encourages tactics and stealth, and offers a range of tools to accommodate you sneaking around and taking down outposts. It follows the recent Ubisoft trend of "Do these minigames to unlock missions and liberate areas to get to the big bad" mechanics, which get tiring after some time. The main appeal of this game is it's open world tactical stealth approach, which can be enjoyed with up to four friends in co op.

Defiance 2050

Note: This game is shutting down on April 29th, 2021 - So be sure to enjoy it whilst you still can. Released in 2013 and re-released in 2018 as "Defiance 2050", this MMO is a little different to the other games on this list, but is just as fun. Taking you to a post-apocalyptic California and San Francisco, you're an 'Ark Hunter' who has just survived a recent ship crash.
Take place in huge public events in which hundreds of players swarm to one area to fight a variety of different enemies, or play through the story with up to three friends and fight strange alien and mutant bosses alike as you gain powerful weapons and vehicles to roam the Bay Area.
Which of these games are your favourite? Have we inspired you to try out something new? Let us know on Twitter @GTABase and start a discussion!