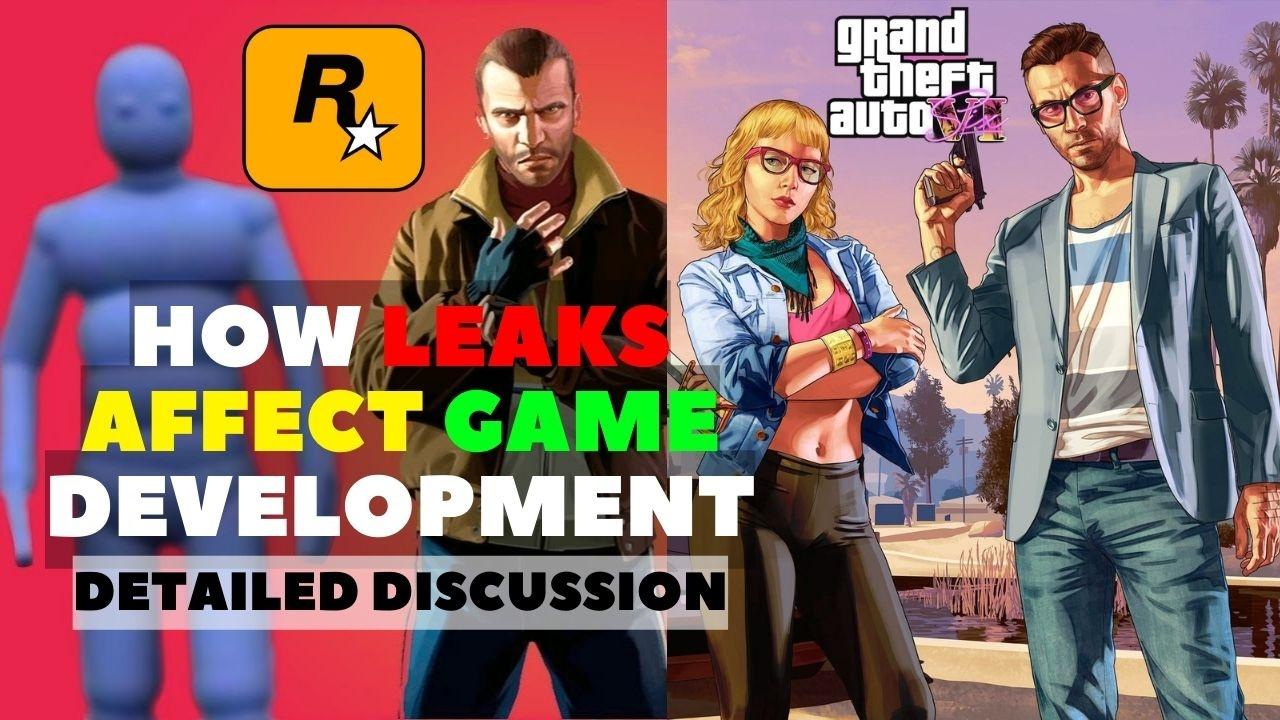 In the past couple of days, the gaming industry has been shaken by the leaks of the most anticipated title by Rockstar Games, Grand Theft Auto VI. And Rockstar Games has come forward with a statement: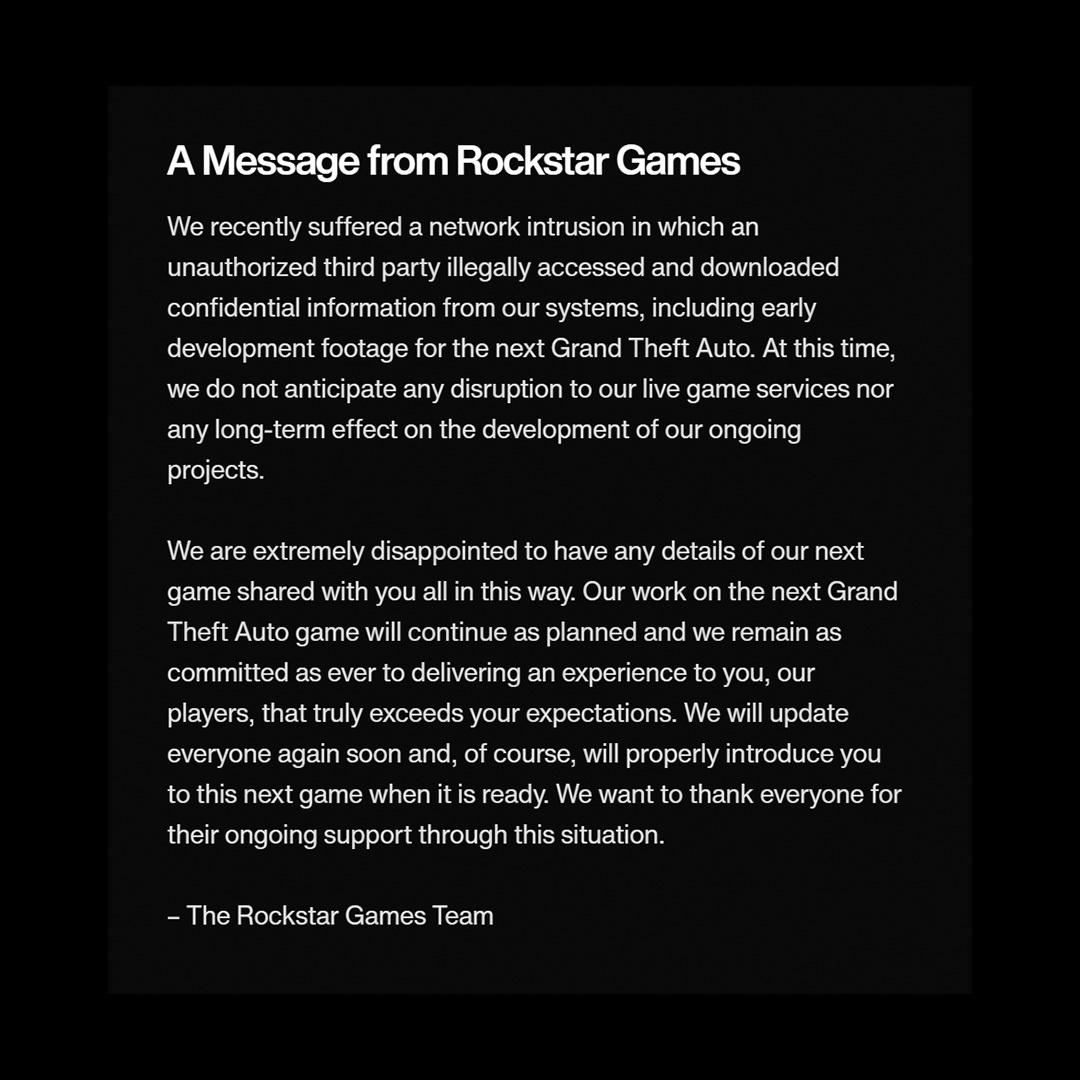 However, the statement itself was not just for the fans of the franchise but also for the shareholders. And we will go over that a little later. But first, let's talk about source code leaks.
Luckly, the Source Code wasn't Leaked
Obviously, the way Rockstar Games have let everyone know that the development will not be affected by the leaks clearly means one thing. The source code leak was never actually real. And in this context we mean, the entire source code base.
As per our sources, the Slack message history between the Rockstar Games developers was compromised in this situation. And as Slack users, we know that media files, like in this case the videos, and code snippets are shared among each other.
The code snippets are basically small chunks of code, which don't mean anything individually. They are shared just to have discussions on the topic. And now that Rockstar Games has confirmed that there will be no delays, means that the whole story about the entire source code being leaked was simply a hoax. Only small code snippets were leaked.
If the entire source code base was leaked, it would have meant a huge amount of delays for the game ranging from two to five years on top of the already long development schedule by Rockstar Games.
How Leaks Affect Video Game Development
So first of all, keep in mind that leaks happen at all stages of game development and depending on the IP (here, in this case, Grand Theft Auto), stage of development, publisher, and studio working on the project.
Leaks can have completely different effects on a project. For example, imagine as a game developer, you are spending money for promoting a game, and then some person decides to leak it early to the public for their own benefit. So a lot of marketing money just went down the drain and that has made a bunch of like dozens of hours of work, less effective or honestly moot thanks to the leaker.
Additionally, leaking stuff means that the company is also having a serious security issue. This adversely means that the company is less trusted and can drive away any potential investors since they know that your company cannot even keep a secret. Here are a few other situations that arise when leaks happen and these are varying in degree of detrimental ness to the company:
Domain Registration
Let's say that maybe developers haven't fully completed the domain purchase yet because they do not want to tip people off on what they are making. So the next GTA title might as well be called GTA Bonnie & Clyde. Or GTA Vice.
And if the domain name of the title comes out then that opens developers up to being squatted or they have to change the name of the game entirely. However, a franchise as big as GTA won't be affected by this because fans already know that the next main title has to be called GTA 6 or GTA VI (numeral number 6).
Ruined Suprise
Maybe there is a mechanic or plot information that developers are trying to save for a reveal closer to the release.
For example, the fact that there are 2 protagonists would have been hidden in the first trailer. Or the fact that players will have item storage bags like Red Dead Redemption II, which has always been absent in previous Grand Theft Auto titles.
It is demoralizing when leaks happen on projects that are further along and it feels like they have been kind of robbed of an experience they spent years preparing for. And game developers would like for people to wait for the moment they reveal things when they are actually complete. So gamers can really enjoy what they have been working on, at their own terms.
As creators, they want to give the most accurate look to a product, and showing leaked footage of older builds or footage that isn't quite polished yet, gives really unrealistic expectations for games and it also could harm the overall reveal if there's enough negative press surrounding it
Conflict with another project
Let's assume that there are multiple IPs happening at the same time for the studio. And maybe this leak comes around the time that developers are working on another project, say the next DLC for GTA Online.
So instead of the consumer focusing on the rumored Michael's movie product DLC, they are now more focused on chatting on social media about GTA 6 leak that they have coming out in two or three years down the road.
And now the limelight has to be semi-shared and/or potentially the new DLC could be swept under the rug entirely. This is because the consumer is more worried about the bigger IP now.
Why does Source Code Leak Matter?
One might think that a game like GTA V which was released over 9 years ago, wouldn't be affected if its source code is leaked, right? After all, the game development engine, shooting mechanics, graphics, etc. are all pretty dated by 2022 standards, right? So does it matter?
Unfortunately, it's not black and white as most people might think. Leaking the source code is a different matter entirely as compared to leaking video game footage. If you get access to the source code, you can pretty much do anything you want. This goes beyond modding.
Competitors can take advantage of it in their game development. Hackers can take advantage of it by gaining access to player's local systems among other nefarious reasons.
To this day, game developers like Ubisoft, Volition, etc, have been trying for years to catch up to what Rockstar Games accomplishes with their next Grand Theft Auto title. So you can imagine, how valuable such source code could be.
Moving over to the online aspect, leaking the source code for GTA V will also create havoc for GTA Online. Knowing how to exploit all vulnerabilities puts everyone at risk. Especially when it comes to hacking.
Hackers will be able to inject viruses that can take down computers. Yes. You read it right. People can gain access to your computer just because you logged into their GTA Online session. We are not talking about IP Addresses getting leaked. A simple VPN will take care of it. We are talking about shutting down your system just because you were in the same session as the hacker.
So if the source code for an in-development project like GTAVI leaks, then it has to be rewritten from scratch to prevent any exploits. And in a worst-case scenario, development may have to be scrapped entirely. This is because the end user (i.e gamer) will be able at the risk.
This basically means the game could be delayed from 2 to 5 years (assuming it doesn't get canceled). However, Rockstar Games has assured the community that isn't the case. And that's why we believe that the source code was never actually leaked. And it was always a hoax from the beginning.
Hope this article was able to shed some insight as to how much leaks affect game development and its possible repercussions.
Feel free to share your thoughts in the comments below. We are always open to discussions.