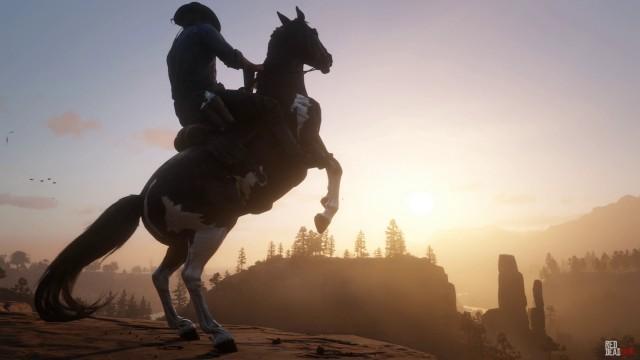 There is no escaping the omnipresent excitement for Rockstar Games' next mega-hit, Red Dead Redemption 2. The hype is real. Everybody is talking about it. From some of the most popular YouTube channels, to the biggest game news outlets, even to other video game publishers.
Below we have pinned up some of our favourite hype-inducing excitement tweets for Red Dead Redemption 2 from the community and beyond. We will not update this page here but post a fresh list over time.
Note: you can send in your tweets to us at our official Red Dead Twitter page, or simply just add the RDR2 hashtag to your tweet and we may pick it out!
1.
Oh my god I'm so excited for Red Dead Redemption 2 OMGGGG!!!!!! The hype is so real!!!! ??? @RockstarGames

— BridgetteWestBehindaShannon? (@BridgetteWest) August 9, 2018
2.
Welp #RedDeadRedemption2 is winning #GOTY... That shit looked absolutely incredible https://t.co/ahSG1omHeQ

— ☣️? VΞRDICT4489?☣️ (@verdict4489) August 9, 2018
3.
WOW #RedDeadRedemption2
Looks incredible. Like ridiculously incredible @RockstarGames pic.twitter.com/4UXgCfGFzm

— Prism Gaming UK (@PrismGamingUK) August 9, 2018
4.
Check out the horse animation in these clips from the #RedDeadRedemption2 trailer. The one where the horse bucks after the rider is shot should convince anyone this is a day one purchase. pic.twitter.com/qQVcjsvhxC

— James Jarvis (@James_Jarvis) August 9, 2018
5.
@RedDeadBase looks unreal! Can't wait to play it 5 days in a row! #BirthdayWeekIsGonnaRule

— James M. Poole (@MontysAmendment) August 9, 2018
6.
I don't think I've ever been this hyped over a game and this is the first time I've considered pre-ordering a game #RDR2 https://t.co/hjP0ECifAH

— Nat Ho (@Nalibumalaki) August 9, 2018
7.
IT'S MY MOST ANTICIPATED GAME OF ALL TIME SO YOU JUST KNOW HOW HYPED I AM FOR THIS, WHEN I SAW THAT GAMEPLAY POST I STARTED JUMPING IN MY ROOM

— Synth Potato ? (@SynthPotato) August 8, 2018
8.
Oh wow the Red Dead Redemption 2 gameplay video looks MAD!!! #RDR2 ?

— Tyler (@FreakyMusic_) August 9, 2018
9.
Just now finally had a chance to watch this. Holy shit it looks amazing, it's incredible! I seriously can't wait for the next gameplay, and the game itself of course! https://t.co/lNl6MvzqNG

— Yan2295 (@Yan2295) August 9, 2018
10.
Fuck8n amaziing this is gonna be one of the biggest games of all time overall Rockstar are the number one GOATS.

— LamboRari Don (@DropTopMaestro) August 9, 2018
As you can see, there is no shortage of anticipation the big Red Dead. Have you preordered your copy yet? Check out all the editions and collectibles here.