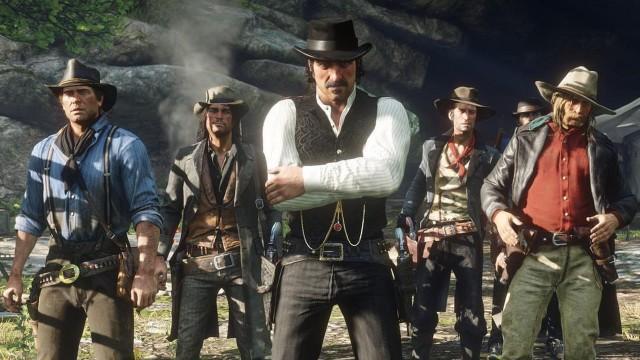 Information about the online counterpart to Red Dead Redemption 2 is scarce, and all that we do know are little details that have been briefly described in the pre-order and game-editions. So We have put all the currently officially revealed details in one place, for you to check out and ponder on. Some may seem obvious, and other details will need to be expanded on before we understand them fully, but for now, we've covered the little that we have.
What we know:
XP Rank system: There is a Ranking system online, and it goes beyond Rank 25. The original Red Dead Redemption's multiplayer had a max level cap of 50, but allowed players to enter Legend once getting to Rank 50, and you could continue re-entering Legend status until Legend 5. I really do hope Red Dead Online follows suite with this and includes the Legend mode ranking system.
Rank Bonuses: As a great start for all Ultimate Edition players, you can rank up faster in online, up to rank 25.
Gunsmith Stores: There are accessible Gunsmith's online, for purchasing your weapons. Below are 3 of the currently known weapons available online, as stated in the RDR2 Ultimate Edition.
Volcanic Pistol
Pump Action Shotgun
Lancaster Varmint Rifle
Free Access to Additional Weapons: Get access to the Volcanic Pistol, Pump Action Shotgun and Lancaster Varmint Rifle, free of charge from Gunsmiths in online.
Online Camps: You will be able to set up your own personal Camps online, and they will also be customisable to some extent. It seems this may work on a 'theme' basis. So, instead of fully customising every aspect of your camp, piece by piece, you might just be able to purchase/unlock set-piece designs for your camp, be it kitted out with respective theme elements. Though it could work out both ways. One theme we know if is the Survivor Camp Theme, as detailed in the RDR2 Ultimate Edition.
Free Access to the Survivor Camp Theme: Customize your own personal Camp in online with free access to the Survivor theme.
Character customisation: There are a number of different outfits and clothing varieties that your Online Player can slip in to, including:
The Blackrose Bounty Hunter Outfit, which consists of
Long Oxblood-colored coat,
A vest with gold pocket watch chain
Dark pants tucked into chocolate leather boots
The Copperhead Enforcer Outfit, which consists of
A fur-lined saddle-brown leather waistcoat
Two-tone gloves
Pinstripe black pants tucked into black leather boots.
Horses:
We don't yet know if there is a personalisation touch to your own Horse online, but the Plains Cutting Saddle is an Ultimate Edition bonus, and that gives you a "beautifully crafted in jet-black leather with gold metal accents", along with the Black Chestnut Thoroughbred, a Horse for your online player. We expect there to be a number of mounts that you can unlock by ranking up and/or purchase throughout the game.
"The game's vast and atmospheric world will also provide the foundation for a brand new online multiplayer experience".

- Rockstar Games
For now, that's all we know but more detailed and deeper online details could be at the receiving end of a button press, so keep an eye out here and you'll be kept in the know.
To summarise
Weapons Stores
Player XP Ranks
Customisable Camps
Unique Horses
Character Clothing options
An atmospheric online world
We're yet to find out if the Online part of Red Dead Redemption 2 will be available at launch on October 26, it could arrive as a later instalment like GTA Online. We should find out soon.
Are you excited to see more of online? I definitely am! oh, by the way...beginning this week, I will be starting up a suggestions series, for ideas I have and features I would like to see in Red Dead Online, so check back let us know if your opinion on them and submit your own for our Community Online Suggestions series too.
Note: 'Red Dead Online' is not the official name for Red Dead Redemption 2 multiplayer, albeit most likely, it is just a personal choice of name for now until we wait for an online reveal.