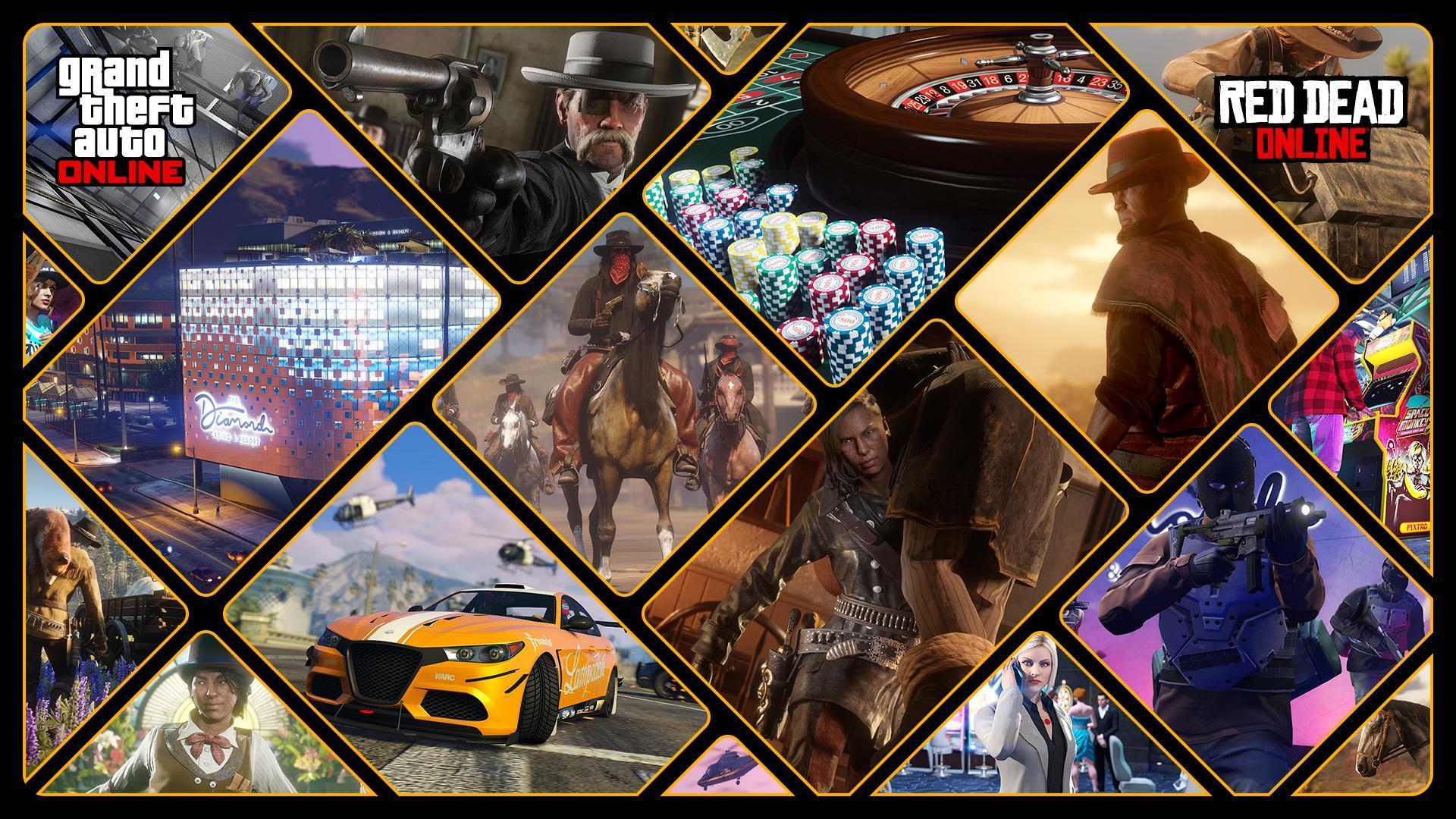 We'd like to thank our entire community and all the incredible players we have in both games for another record-breaking holiday season for both Grand Theft Auto Online and Red Dead Online. Everyone from the Heist crews, stunters and racers in GTA Online to the Moonshiners, Bounty Hunters, Traders and Collectors of Red Dead Online – along with all the players happy to wander, explore and create their own adventures in both worlds – we thank you for helping to build some of the best gaming communities around.

Thanks to you all, Grand Theft Auto Online is entering its seventh year more popular than ever. After breaking records for daily, weekly and monthly average players in July and August consecutively following the release of The Diamond Casino & Resort, the December launch of The Diamond Casino Heist broke even those records, bringing players back in bigger numbers than ever before over the holiday period. The back-to-back release of these two colossal updates – the biggest GTA Online has ever seen – also made December 2019 our largest month ever in terms of player numbers.

We also want to extend a massive thank you to all the YouTubers out there who played, created and commented on GTAV content throughout the year. 2019 was GTAV's biggest year ever for views on YouTube (with December 30th to January 5th being our biggest seven-day period ever), while GTAV videos also hit a new record for engagement via likes and comments in the week ending January 12th, 2020* – kicking off the new year in a huge way. It's great to see so many talented creators who inspire and entertain helping to share the fun and possibilities of these games with the entire world.

Meanwhile, the untamed open spaces of Red Dead Online moved out of beta in 2019 and began to forge its own path to becoming a dynamic online world as we optimized animation speeds and controls for better PvP combat, added anti-griefing measures, infused additional life into the world with new Free Roam activities, and introduced the Outlaw Pass for a whole new system of rewards and improved progress. As the year went on, players had even more reasons to immerse themselves in the world and their characters with the introduction of the first four of many Frontier Pursuits – The Bounty Hunter, Trader, Collector and Moonshiner – allowing players to progress through multiple roles simultaneously while earning new role-specific skills, clothing, weapons and other items along the way. These changes and additions helped push Red Dead Online to a new peak in player numbers in December following the release of the Moonshiners update, topping those numbers again in January.

With two distinct worlds now alive and thriving, we are very fortunate to have such a dedicated fanbase that travels with us on this journey as both continue to expand and evolve with new types of gameplay, new stories and much more to experience over the coming year.
New Rewards & Bonuses
GTA Online will feature bonus cash of up to GTA$2,000,000 in its biggest cash giveaway yet. Starting on January 30th you can earn GTA$1,000,000 just by playing before February 5th and will be able to earn another GTA$1,000,000 by playing between February 6th and February 12th.
Red Dead Online players will receive a series of gifts including free access to select roles, special role item giveaways and more, including:
The Gunslinger's Cache: Play between January 28th and February 3rd to get a Free Schofield Revolver, a Free Varmint Rifle and the Devastating Ammo Bundle, which includes 100x Split Point Revolver Ammo, 100x High Velocity Pistol Ammo, 100x Express Repeater Ammo, 100x Slug Shotgun Ammo, and 20x Explosive Rifle Ammo.
The Bounty Hunter's Kit: Play between February 4th and February 10th to get a Free Bounty Hunter license, 25x Bolas, and 25x Tracking Arrows.
Coming Soon
There is still much more to come in 2020. Next up for GTA Online is the addition of an open wheel racing series featuring all new vehicle types – with tense, high speed, track-based racing where tight cornering, tactical tire choices and perfectly timed pit stops make every second count. Plus, expect more big updates and a few surprises as we move forward into the year.
As Rockstar has hinted at in the past, the world of Red Dead Online will also continue to grow in 2020 as they expand the concept of Frontier Pursuits with additional roles, new missions and many more significant updates to come.