Some time ago we asked ROBHADD if he would have liked to be interviewed by us at GTA Base about his Rockstar Games Collection, one of the biggest if not THE biggest. Truly impressive! We are happy that Rob accepted and had the opportunity to answer some of our questions, thanks Rob.
Enjoy!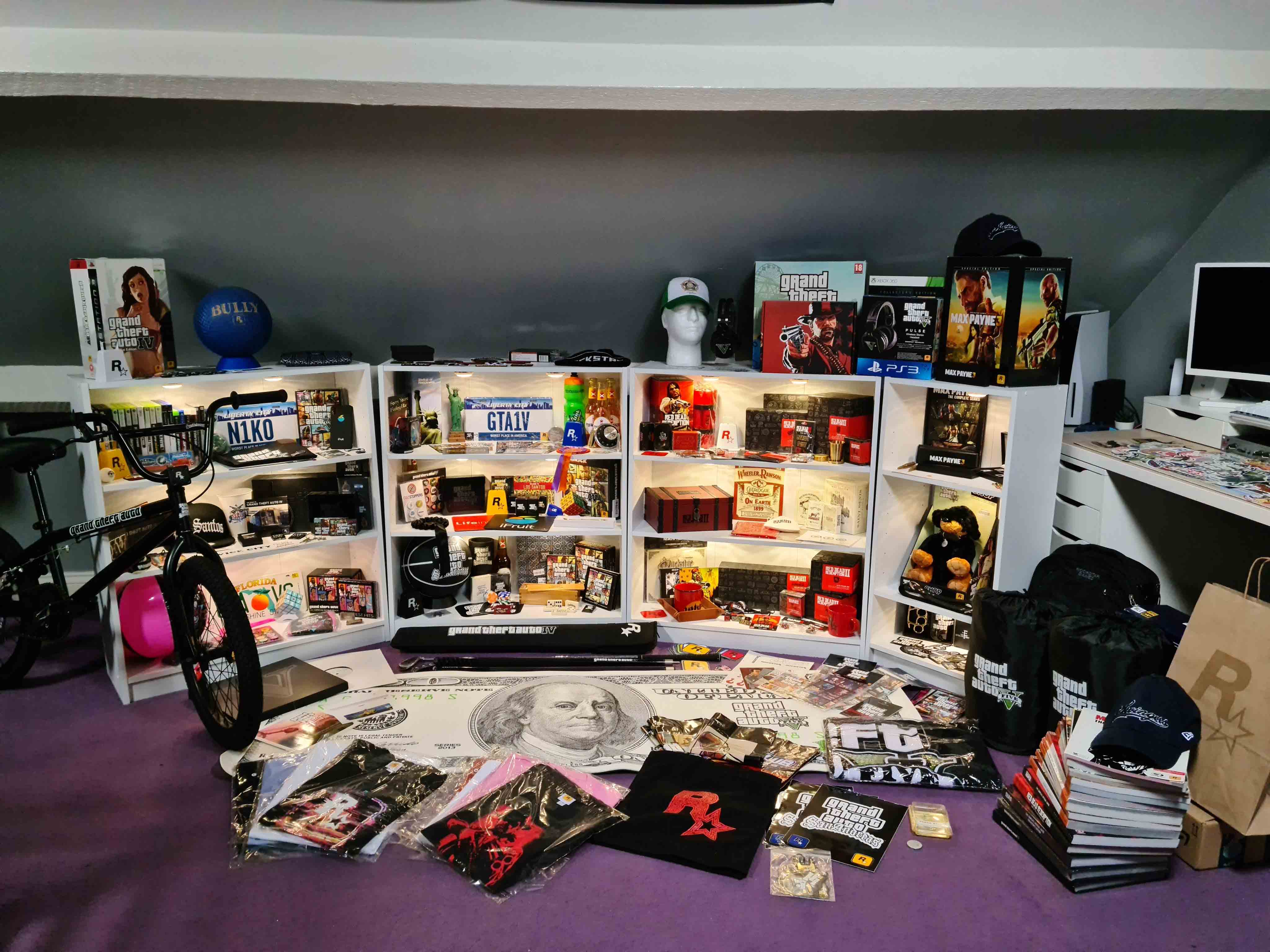 1) Here we are with the first question! Surely the first thing that comes naturally to ask is: but, how big is your collection? Wow I mean, it looks huge!
First of all I'd like to say thank you for this opportunity it means a lot. My collection is definitely big. I try to post a picture of my collection as a whole every year to keep people updated, however this was proven difficult on my most recent collection post when I struggled to get it all in one picture. I also like to display my collection instead of putting it in boxes so the need for more and more bookcases are becoming apparent. My room is slowly but steadily being overwhelmed with my collection.
2) How long have you been collecting official Rockstar Games merchandise?
I started collecting about a year ago. On the 30th April 2020. When the UK went on lockdown because of the pandemic I found myself bored and saw many other collectors using the time to buy new items for their own collection such as GTA GFX. I saw this as an opportunity to start my own as they all looked so good. Then It stepped up a few gears after my first purchases and finding how fun it really is.
3) As we can see, not all of your items are officially for sale on the Official Rockstar Warehouse. Many pieces are rare, found on various online marketplaces. But how much time do you spend looking for these rare items and how hard is it to find them or, even more, to be able to obtain them?
I spend a few hours a week looking at the new listings added each day to ebay and a few other sites. Which is primarily what I use to find these hard to come across items. To be honest you never know what will appear which makes it fun as a collector. Some things don't come up for weeks, month's or years. Then the next minute a lot can come up. You can never judge what will appear as there is so much out there that i'm yet to discover or see.
4) Could you make a generic, non-detailed, estimate of the economic value your collection could have? Feel free not to answer if you want.
I get this question a lot and it's a very good one. I don't know the exact figure and I don't want to be wrong. So instead I'll say that I have spent a few thousand pounds on Rockstar items in my time of collecting.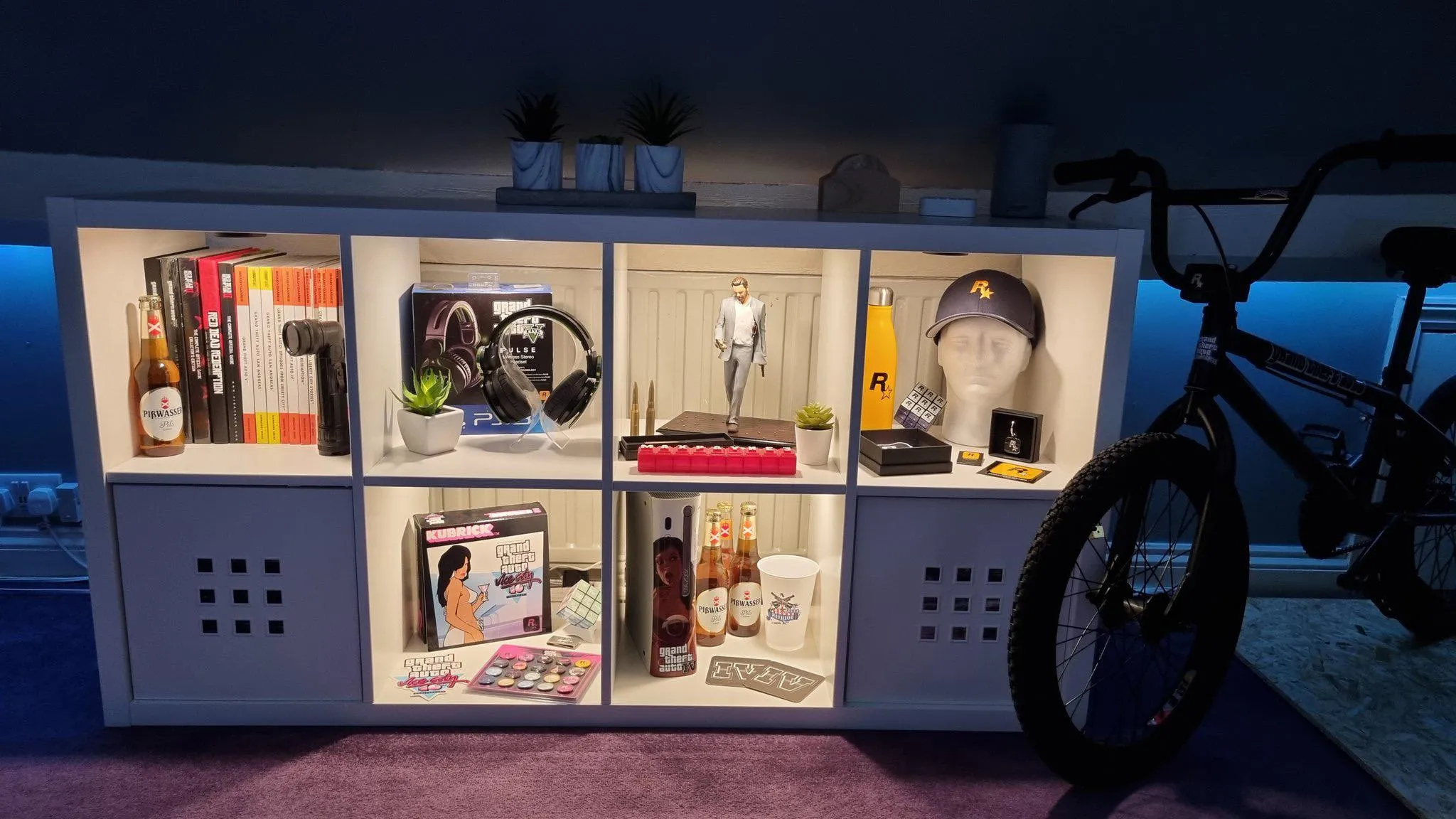 5) What drives you to collect all these Rockstar items as well as obviously the passion that all of us fans shares together? Is there anything more specific? Surely yours is one of the largest collections I've ever seen that it is possible to find around, so this could certainly be a reason already, to keep collecting!
Although i'd like to think I have one of the largest i'm sure there are many more collections out there that hold those spots. With rarer and larger items. GTA Series definitely being one of them. I absolutely love the community that us collectors have. There are so many impressive collections with people all around the world and to be one of the many is amazing. The thing that drives me the most is how many unique items out there and how hard it is to obtain them. Like I said before, some things don't come up for month's or years. This is what keeps me going as there are always new items I'm finding out about and they are all so different and unique.
6) What are the items you prefer, which you care about most and are most attached to, which you have managed to collect over time?
This is such a difficult question as I love all my items and could never decide between them all. I think some of my most attached items that I currently own are the Rockstar Games Rubik's Cube, Rockstar Games Holiday Patches, Chop the dog plushie, GTA V yoga mat & my newly made sticker bomb picture frames. But there are so many more I love. These are just the highlights of my collection.
7) Have you ever had to face problems with shipments or situations where you expected to receive a rare and precious Rockstar item, but then for a problem you no longer had and lost it forever?
As of currently not yet, i have been very lucky.
8) Rob, do you have any secrets or valuable advice to reveal to those who would like to follow in your footsteps and become a Rockstar Games Collector?
To anyone that would like to start collecting I'd suggest firstly buying the items from the Rockstar warehouse as afterall a lot of my items were previously sold there, And one they are gone it can be hard finding them again for a reasonable price. Many second hand sites are fantastic for finding items such as eBay, Depop, Picclick and just getting stuck in with the community as many collectors usually get duplicates that they will either sell, trade or gift. With that being said many collectors are happy giving information about items and sharing things they have found while on there searches. A big suggestion would be the GTA Series Discord server that has its very own dedicated chat room or the GTA Forums.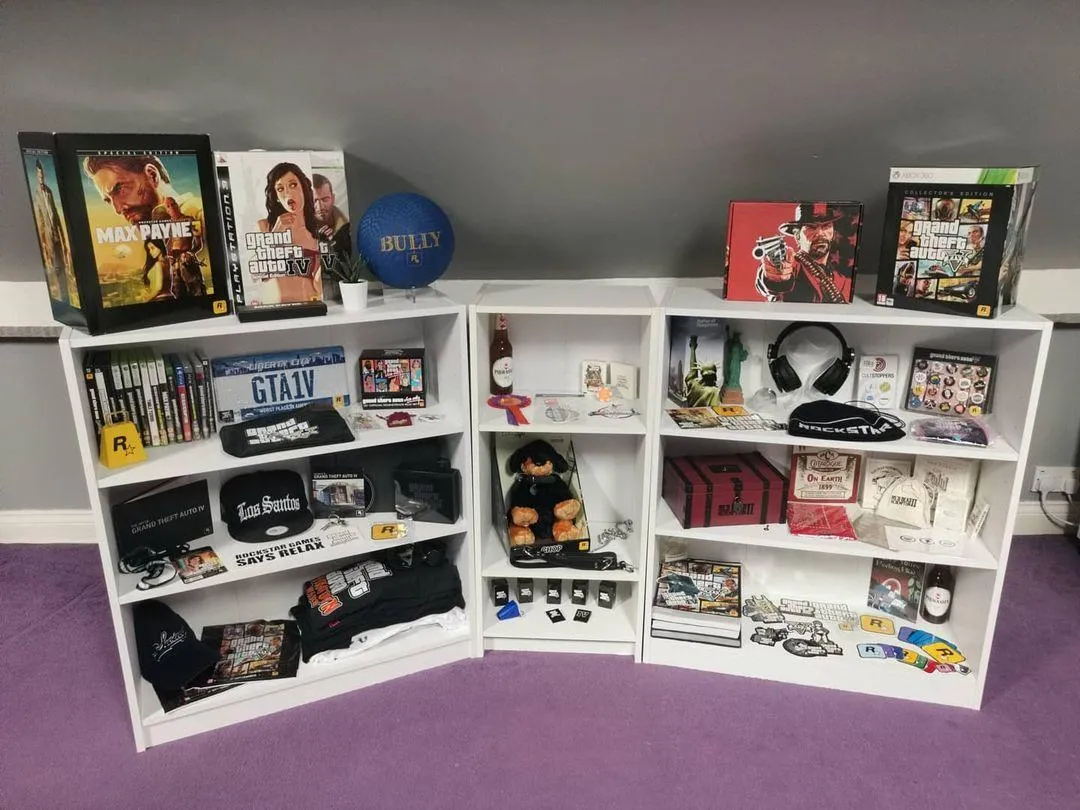 We definitely suggest you to visit Rob's Instagram page for some detailed photos of incredible rare stuff!
Thanks again Rob for your availability and for answering our questions, it was really an interesting interview!