You think you've got what it takes to be awesome? Want to take yourself to the absolute limit – hell, past the limit – and live to high-five on the other side? Get yourself down to The San Andreas Flight School. Grab the stick of the fast and nimble Western Besra training jet and push it to the edge of the envelope. Master absolute air superiority in 10 new solo missions that will make you comfortable in any pilot's danger zone, including combat maneuvering, low-flying challenges, formation flying and more.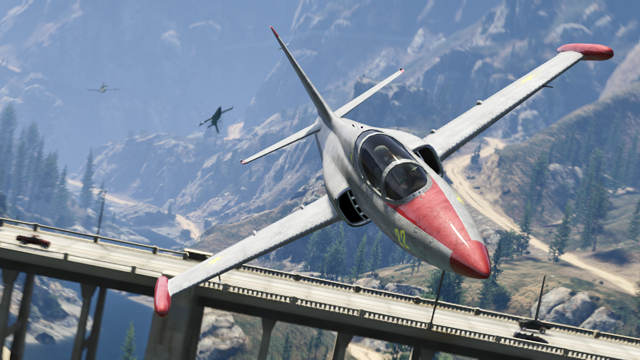 Once it's 'mission accomplished' and you're out of your heroic new Flight Suit, spend your shore leave buzzing the skies in the luxury Swift helo, or cram your entire squad into the new 16-seater Buckingham Miljet for team transport in style. Hit the silk with a collection of new Chutes and Parachute Bags, and if things get a little out of control, rely on the Reserve Parachute to give you a second chance at that soft landing – or use it to get creative with your precision dives. Later, hit the streets in the shapely Invetero Coquette Classic, available in either hard-top or topless roadster variants for whatever your sea-level speed fix.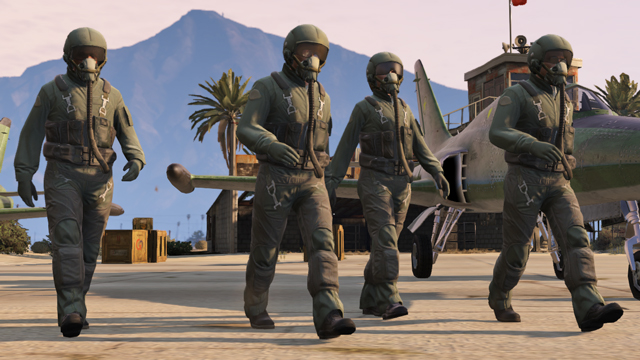 And round up your wingmen for new Races, Captures, Parachute Jumps and more, including the three all-new VS Mission modes. Acquire Targets is a kill-the-carrier style mode where opponents fight in P996 Lazers to control one flag; maintain control for as long as you can to rack up points. In G-Rating, compete against other cadets as you fly to pick up 15 flags in both weapons hot and cold environments. Or try out Air Force Zero, where the defending team must protect an aircraft against an attacking team as it flies to the safe LZ.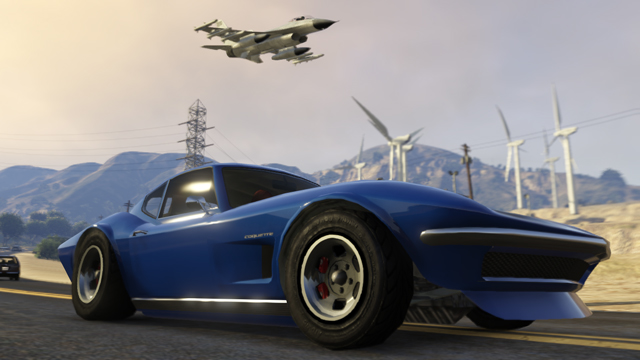 ​
The San Andreas Flight School Update for GTA Online is now available via automatic update 1.16 for both PS3 and Xbox 360. In addition to everything listed above, today's update also includes a number of other adjustments and fixes for GTA Online. Most notably, all Contact Mission GTA$ and RP awards have been rebalanced so that more difficult missions will earn you greater rewards, GTA$ payouts on replays are no longer reduced and all rewards are now time scaled. For a look at all the changes in this update, please check out the full dossier.
Stay tuned for more details on continuing updates to GTA Online, and look out for specifics later this week on the upcoming Event Weekend to commemorate the launch of the San Andreas Flight School Update. Read on below for more on the new Jobs included as part of today's update to GTA Online.

Base Level (Rank 20, 1-8 Players)
Play chicken and dodge ducks with this Race over Lago Zancudo. Lap course for Besra stunt jets that cuts back over itself multiple times. Expect to see wreckage in the wetlands and impact zones on the bridges.

Cleared for Landing (Rank 11, 1-8 Players)
Any cross-eyed civilian idiot can jump from 6,200 ft., pull their chute, and land on the blacktop at Los Santos International. But only a rag tag bastard will be able to navigate the tight, twisting turns on this course, leading down to Devin Weston's hangar. For best views of the skyline, play on a clear morning.

Contend: Crowded Airspace (Rank 1, 2-8 Players)
Your chances of hitting a turbine blade or a rival or the security detail are going to make most victories in this Contend pyric ones, but who cares, right. Two teams in Frogger helos start at either end of the wind farm, race for the goods, and try to bank them at their respective bases.

Crosswind (Rank 45, 1-8 Players)
If it was easy, everyone would be doing it, or at least more people would survive. Advanced level Lap Race for Besra Jets weaving through the RON Alternates Wind Farm. Try not to get chopped in half by a turbine blade, or collide with a rival at the crossover.

Drag Strip (Rank 1, 1-16 Players)
I hope you feel the need for speed on wheels as well as wings. Sports Classics Lap Race on the concrete at the Sandy Shores Airstrip. Drag race down a stretch of runway, hit a short on road section, drag it down a second section of runway, then navigate a hairpin turn.

Flying Low (Rank 20, 1-8 Players)
Push your aerobatic stunt jet to its limits with this tricky Lap Race around the city. You'll duck under bridges, skim the canals, trench run the LS River, and maybe, just maybe, learn something about yourself.

GTA: Airheads (Rank 1, 2-8 Players)
A team of pilots has to run four stunt jets from LSIA to Fort Zancudo while another team is coming in the opposite direction. Start in your rivals' hangar and use a limited supply of Buzzard attack choppers and Lazer jets to mount a defense… attack is, of course, the best form of defense.

Holding Pattern (Rank 20, 1-8 Players)
Every jumper's got to learn to use their back up chute. Either they learn or they go splat with the secondary still packed. Jump from 7,874 ft., drift down to the Maze Bank Arena, release your primary chute, free-fall, pull the backup, and land on top of Ammu-Nation in Strawberry.

Need For Seed (Rank 20, 1-8 Players)
Get in a Sports Classic, step on the gas, and clear your head with this scenic Lap Race through bucolic Blaine County. Takes you over bridges and past McKenzie Airfield to remind you of your day job.

Swift Arrival (Rank 15, 1-8 Players)
Take advantage of relaxed no fly regulations around Los Santos International with this short figure of eight Lap Race for choppers. Go under bridges, and over parking garages, and try and make your flight on time.

Take the Plunge (Rank 25, 1-8 Players)
The best training exercises are the ones that kill the most recruits. Get to grips with your backup chute, or find out if water really is as hard as concrete when you hit it at terminal velocity. Two chute jump from 6,120 ft. over the Alamo Sea.

The Humane Race (Rank 12, 1-8 Players)
Point to Point Race for planes across natural resource rich eastern Southern San Andreas. This is a novice level course, but that is no excuse for novice level flying. Be all that you can be, and hope that that's better than the other guys.

Under The Radar (Rank 11, 1-8 Players)
Time for night raid training. You're jumping from 4,470 ft., gliding through a valley on Mount Josiah, and landing inside the military base. Don't forget to pull your legs up going over the fence, or to take your suicide pill if they catch you. Best played at night with a widow maker chute.

Under The Wing (Rank 18, 1-16 Players)
If you've got a pilot's all access pass to the blacktop at Los Santos International, well, you gotta make the most of it. High speed Lap Race for Sports Classics around the possibly-terminal terminal buildings. Look out for baggage carriers, tight turns, and jet engines.