From Paleto Bay to the Port of Los Santos and everywhere in between, it's time to celebrate the birthplace of freedom with The Independence Day Special (in association with Ammu-Nation) for Grand Theft Auto Online.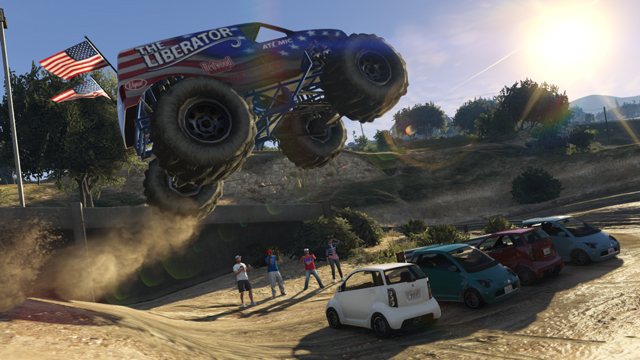 Demonstrate your exceptionalism and own the road from sea to shining sea with two new star spangled rides, the Sovereign motorcycle and the super-sized Liberator monster truck. And protect your rights the same way our Founding Fathers did with the latest addition to Ammu-Nation's antiques collection, the high-powered Musket... or channel your inner Jack Howitzer with the spectacular Firework Rocket Launcher.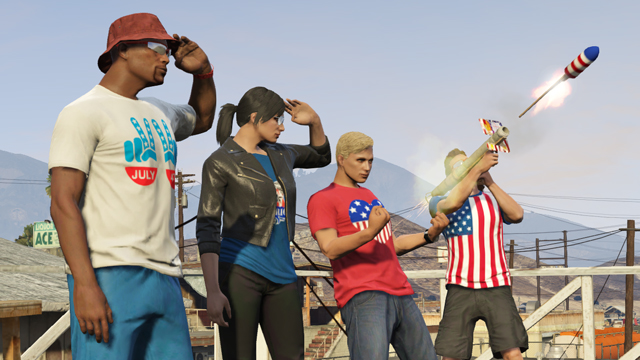 Seven new properties have also been added to the Dynasty 8 rolls, including locations in Paleto Bay and Vinewood Hills that provide plenty of yard space to scorch the grass with your very own Fireworks show. Use up to 12 varieties with different fuse lengths to create a spectacle that would make even the most battle-hardened Republican Space Ranger shed a tear. If you prefer rickety amusements operated by minimum wage teenage workers over incendiary lawn displays, then venture down to Pleasure Pier where you can now ride the Ferris Whale and the Leviathan Roller Coaster.
This limited-time update also features an overabundance of patriotic flare: show off nationalistic pride with a "Made in the U.S.A." t-shirt, a backwoods mullet or let the eagle soar with an animal mask featuring this great nation's most fearsome and majestic creatures.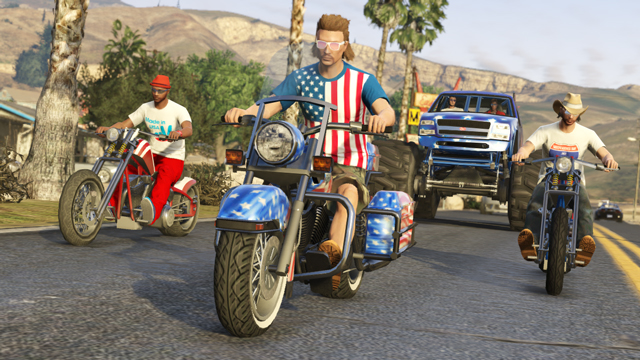 CRATE DROPS
For the duration of The Independence Day Special seasonal content period, Special Crate Drops will contain 6 different Beer Hats and an exclusive Statue Of Happiness t-shirt. Keep an eye out for messages about Crate Drops in your in-game feed and watch for the plane on the map in the pause menus to find the drop zone.
NEW JOBS AVAILABLE TO PLAY
The Independence Day Special includes 17 new GTA Online Jobs to play. Three New Contact Missions are available from the Start Menu (once you meet the rank requirement you'll receive a phone call from the associated Contact:
Hard Labor (Contact: Gerald, Rank 19, 1-4 Players)
"I've got some competition based at a construction site in La Puerta. If the head of the crew had an accident, maybe they won't be so competitive, you get me? Go to the site, clap the dude, I'll make it worth your while."
Time to Get Away (Contact: Madrazo, Rank 20, 1-2 Players)
"The cops have my cousin, El Estupido, surrounded. He's under siege at a farm in Paleto Bay. Two of you get him, and escort him to his chopper at McKenzie Airfield in Grapessed. You'll be rewarded."
Pickup Sticks (Contact: Madrazo, Rank 21, 1-4 Players)
"I've got my hands on one of my rivals' delivery lists. You're going to be provided with a helicopter, and you're going to collect all their product after they drop it off, then I can sell it instead. Bring me the packages, I'll cut you in."
There are also 14 new Jobs across various game modes:

Across the Wilderness (Rank 1, 1-8 Players)
Discover the great outdoors like your pioneer ancestors did before you, even if that means killing whoever gets in your way. An off-road point to point Race through the Paleto forest with a large jump.

Americana (Rank 20, 1-8 Players)
You've been illegally downloading albums for years, so why not finish off the music industry for good. Skip the ticket line, and parachute into the Vinewood Bowl from 6,000 ft.

Contend: Pyrotechnics (Rank 1, 4-16 Players)
Fight for what really matters at the Vinewood Bowl. The team waving the most flags for freedom at the end gets the award for patriotism. The other teams get deported to the land of bad teeth and worse food.

Falling Fast (Rank 11, 1-8 Players)
Parachute from 4,210 ft. and try to land on the roof of the Burger Shot in Vespucci for 4th of July burgers.

Grand Senora Desert LTS (Rank 19, 2-16 Players)
USA! USA! USA! Only one side can win this desert Last Team Standing, but if you back America you're sure to pick the winner. Head for the rocks if you want to put on a good fireworks display, and try not to get caught out in the unforgiving open.

GTA: Land of the Free (Rank 1, 4-16 Players)
Every 4th of July party needs red meat, beer, heart disease, and a monster truck. Only there's just one monster truck, and you're not going to share it (you're not French). Four teams with off-road vehicles fight to get the truck, and make their BBQ one to remember.

Guns and Gasoline (Rank 11, 1-8 Players)
Parachute jump for beginners. Starts at 4130 ft., takes in views of the Land Act Dam, and lands between a gun shop and gas station. Kind of perfect.

Mud, Sweat and Gears (Rank 8, 1-8 Players)
Fill your cooler with some Logger Lites, grab your hunting rifle, and throw them in the back of your monster truck. It's time to go back to nature and remember what this nation is all about. Point to point race on dirt roads crossing creeks and going over Mount Josiah.

Panic Attack (Rank 1, 2-16 Players)
Hot dogs! Get your hotdogs! And by hotdogs we mean bullets to the face. This will be a tailgate party to remember in the Maze Bank Arena parking lot. Explosive Team Deathmatch for up to 16 players.

Raid: Bunker Thrill (Rank 1, 2-16 Players)
It's a holiday, it's hot outside, you're drunk, of course your not-so-historical re-enactment of the Battle of Bunker Hill is going to go "method" and turn into a real battle with real dead bodies. A team with a monster truck try to hold the hill, while another team with a Mesa try to raid the camp.

Road Tripping (Rank 1, 2-12 Players)
Road trips aren't just three gallon energy drinks, sex with truck drivers, and voiding your bowels on the side of the highway. They're a great American tradition. Celebrate it with this death match along Route 68 - frantic team skirmish among motor hotels of Southern San An for up to 12 players.

Swamp Monster (Rank 15, 1-8 Players)
America isn't just a place, it's an idea. Show nature who's boss by crushing it under your sixty inch tires, and spewing exhaust in its face. Lap Race for monster trucks in area of natural beauty, but not for much longer, Lago Zancudo.

Tour the Lake (Rank 8, 1-8 Players)
From sea to shining sea - appreciate the scuzzy, meth ravaged, recession-beaten beauty of this great nation with a point to point for Sovereign bikes. Starts at the Alamo Sea and ends at the Alamo Sea.

We Have Lift-off (Rank 8, 1-8 Players)
The cops watch the roads for drunk drivers every holiday, so keep to the hills with this lap Race on the desert slopes outside Sandy Shores. Use monster trucks for the terrain and for crushing cop cars if they do find you.
This special seasonal content will be available to redeem in-game until Mid-July (we will announce a specific redemption expiration date soon). The automatic update for the Independence Day Special also includes additional game tuning updates and other adjustments, including the new On Call Matchmaking function. This new option allows players to accept a Job invite and continue playing in Freemode until that Job fills up, reducing time spent idle while waiting for a Job to start. For the complete list of all the fixes and tuning updates, visit the Title Update 1.15 Notes.
To download the Independence Day Special, fire up your online-connected PS3 or Xbox 360 and start GTAV. You'll be prompted to download the automatic update (1.15) and Xbox 360 players will also be required to download an additional compatibility pack upon entering GTA Online.
And look for details about the upcoming celebratory 4-day Independence Day Weekend Event tomorrow.