The fourth and last selector is now available to book for your Los Santos club, The Black Madonna. Along with Client Jobs, two new vehicles and more online discounts and bonuses. Read the full details below.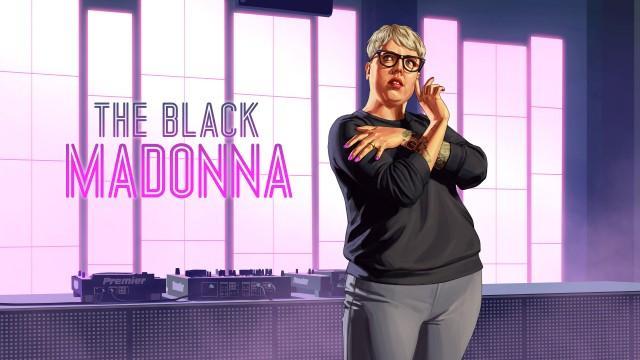 Global ambassador for all things house, techno and disco, The Black Madonna is bringing the groove to Los Santos this week. Keep an eye out for English Dave's call, pick her up and bring her back to perform at your Nightclub. Access the computer in your Nightclub's office for more information and to rotate between your stable of available resident DJs at any time.
Plus be sure to check out all of the latest sets from Solomun, Tale Of Us and Dixon on Los Santos Underground Radio.
The Pegassi Oppressor Mk II is the bleeding edge of hover tech. Your enemies can run, but you've picked up their scent all the way from tomorrow.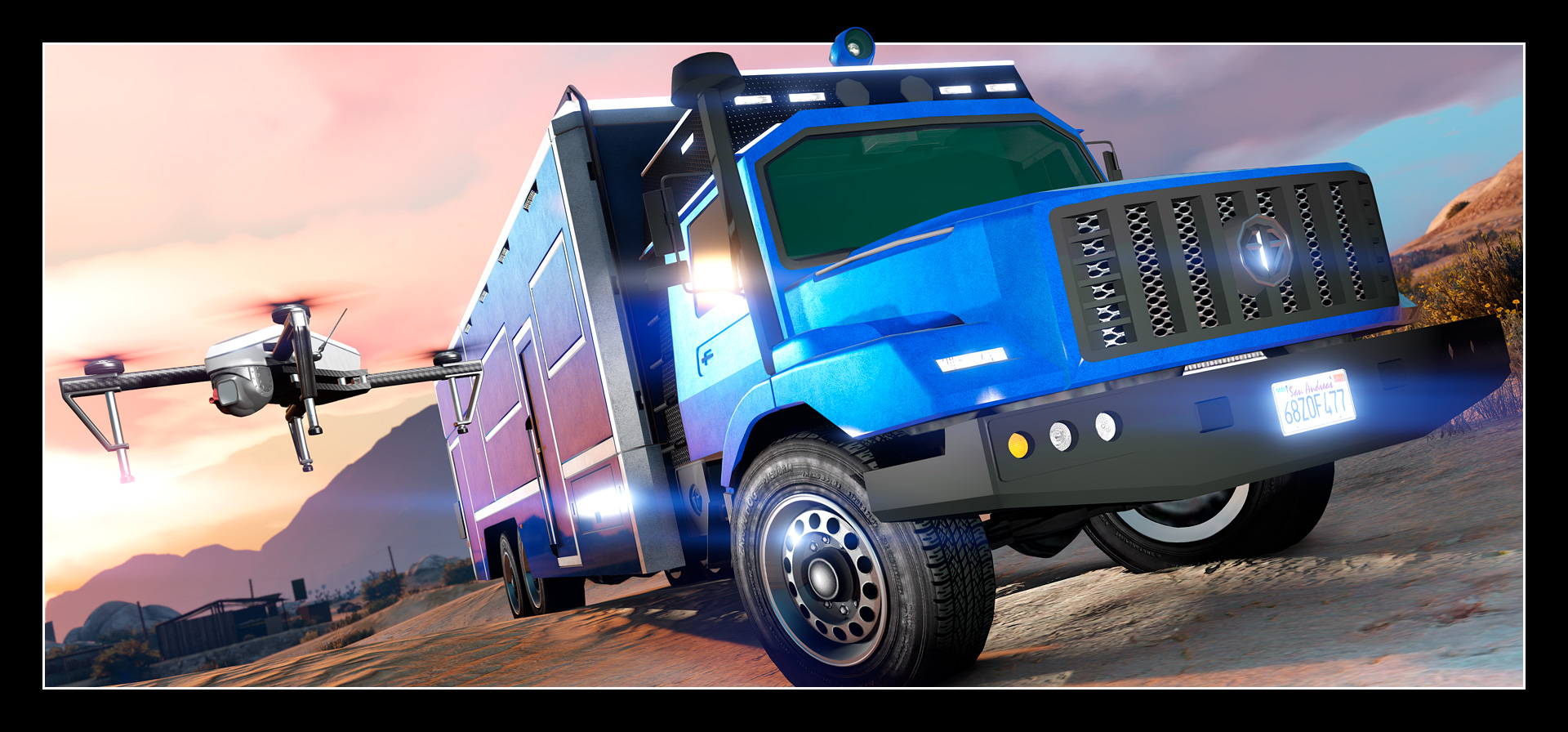 If malware had six wheels, heavy armor and comfy seats, this is what it would look like. It can launch source and resupply missions for every business you own, mine the data of every other reprobate in the city, launch exclusive Client Jobs, and that's before you get to the upgrades: a Multi-Lock Missile Battery, a drone station, a Mk II weapon workshop, and the only vehicle workshop in the world capable of customizing the Oppressor Mk II.
Launch Client Jobs, Resupply and Steal missions from Paige's custom built touchscreen.
Deploy and control drones and operate the multi-lock missile launcher in the Nerve Center.
Customize the Oppressor Mk II and upgrade superior Mk II weapons from the Specialized Vehicle and Weapons Workshops.
With the Terrorbyte's long-range hacking and detection capabilities now at your fingertips, you're primed to make blitzkrieg scores in six new Freemode Client Jobs. Launch encrypted client requests on the go from the touchscreen terminal of your Terrorbyte's Nerve Center and seize opportunities as they develop.
This is no coffee run — you'll have to hack security networks around the city, triangulate targets to find sensitive materials and be ready to execute with shock and awe. From armored transports stuffed with antiques to heavily guarded diamonds in the Vangelico store, to lesser bank robbers trying to make off with gold bullion, no target is safe from your digital gaze.
Take advantage of 30% off select Vehicles & Modifications through August 20th and keep your foes guessing.
BF Dune FAV – 30% off (Buy it Now & Trade Prices)
HVY APC – 30% off (Buy it Now & Trade Prices)
Pfister Neon – 30% off
Annis RE-7B – 30% off
Armor Plating (Speedo Custom, Mule Custom & Pounder Custom) – 30% off
Countermeasures – 30% off
Bombs – 30% off
Liveries – 30% off
Engines – 30% off
Aircraft & Land Vehicle Weapons – 30% off
Open new avenues of illicit trade or refurbish your current hideout with 25% off select Properties, Add-Ons & Renovations all week long.
Hangars – 25% off
Hangar Renovations – 25% off
Hangar Workshop – 25% off
Executive Offices – 25% off
Executive Office Renovations – 25% off
Executive Office Garages – 25% off
Executive Office Garage Renovations – 25% off
Custom Auto Shop – 25% off
Special Cargo Warehouses – 25% off
Biker Clubhouses – 25% off
Biker Clubhouse Renovations – 25% off
Custom Bike Shop – 25% off
Biker Businesses – 25% off
Bunkers – 25% off
Bunker Renovations – 25% off
Be sure to check out the Social Club events calendar to stay up-to-date with the latest event bonuses and discounts.
The exclusive Facebook Gaming x Social Club: After Hours Live Stream Series concludes with a bang this week with a grand finale of After Hours streams across four Facebook Gaming Creator friends' channels. Make sure to link your Facebook profile to your Rockstar Games Social Club account if you haven't already, and tune in for a chance to claim in-stream GTA$ rewards as lucky linked viewers can look out for drops of GTA$50K all the way up to GTA$500K while you watch.
Wednesday Aug 15
5pm ET
Leah Ashe
https://www.facebook.com/LeahhAshe
Last Saturday, O.G. GTA streamer JoblessGarrett had his edition of the After Hours series streams, and to kick off this week's set is his better half and partner in crime, the one and only Leah Ashe. Tune in for nightclub fun with Leah and Garrett on her channel.
Thursday Aug 16
8pm ET
Sohinki
https://www.facebook.com/gaming/sohinki
You may recall Sohinki from years' worth of GTA Online escapades as part of the long-running Grand Theft Smosh series. Tune in for Sohinki's efforts to dominate Los Santos clubland.
Friday Aug 17
4pm ET
Smosh Games Crew
https://www.facebook.com/SmoshGames
The illustrious Smosh Games collective have thrown down in many a GTA Online session with us here at Rockstar over the years, and for this After Hours stream on the official Smosh Games Facebook channel, Smosh's Matt Raub will be taking the helm.
Saturday Aug 18
7pm ET
NobodyEpic
https://www.facebook.com/NobodyEpic
Day one GTA Online veteran NobodyEpic takes center stage for the epic finale of the Social Club x Facebook Gaming Live Stream Series.
** Please note that all live stream scheduled times are subject to change. Please make sure you're following these creators on Facebook for live notifications so you don't miss out.