Today Rockstar Games released the last vehicle from the Arena War update; the all-new Principe Deveste Eight supercar now available at Legendary Motorsport, among with a cool bonus of double GTA$ & RP in any one of the Doomsday Heist finales and in the Arena War Series for all week long. Keep reading for all the details...
It began as little more than a myth: whispers on the dark net that Principe's top engineers were working on their first ever supercar. Then the myth became a legend: a few leaked photographs so provocative that possession was a federal crime. Then the legend became a rumor: a car so exclusive no one could confirm it existed in the real world. And now, thanks to you, that rumor is about to become a very messy headline.
There's more than one way for you and your squad to earn big this week. Further your career in post-apocalyptic vehicular warfare with Double GTA$ & RP in the Arena War Series all week long. Plus, launch into any one of the Doomsday Heist finales to score 2X GTA$ and RP payloads.
THE DATA BREACHES
Rush to an IAA base under the Satellite Relay Station in the desert. Foreign agents are attacking and trying to hack government servers - they need to be stopped.
THE BOGDAN PROBLEM
Launch an operation on a foreign submarine lurking off the coast. One team boards through an airlock and disables the sub, while the other holds off enemy agents in an aircraft above.
THE DOOMSDAY SCENARIO
A Missile Launch Base has fallen into the wrong hands. Storm the base, clear it out, stop the warhead from launching, and save the day.
Unlock the Principe t-shirt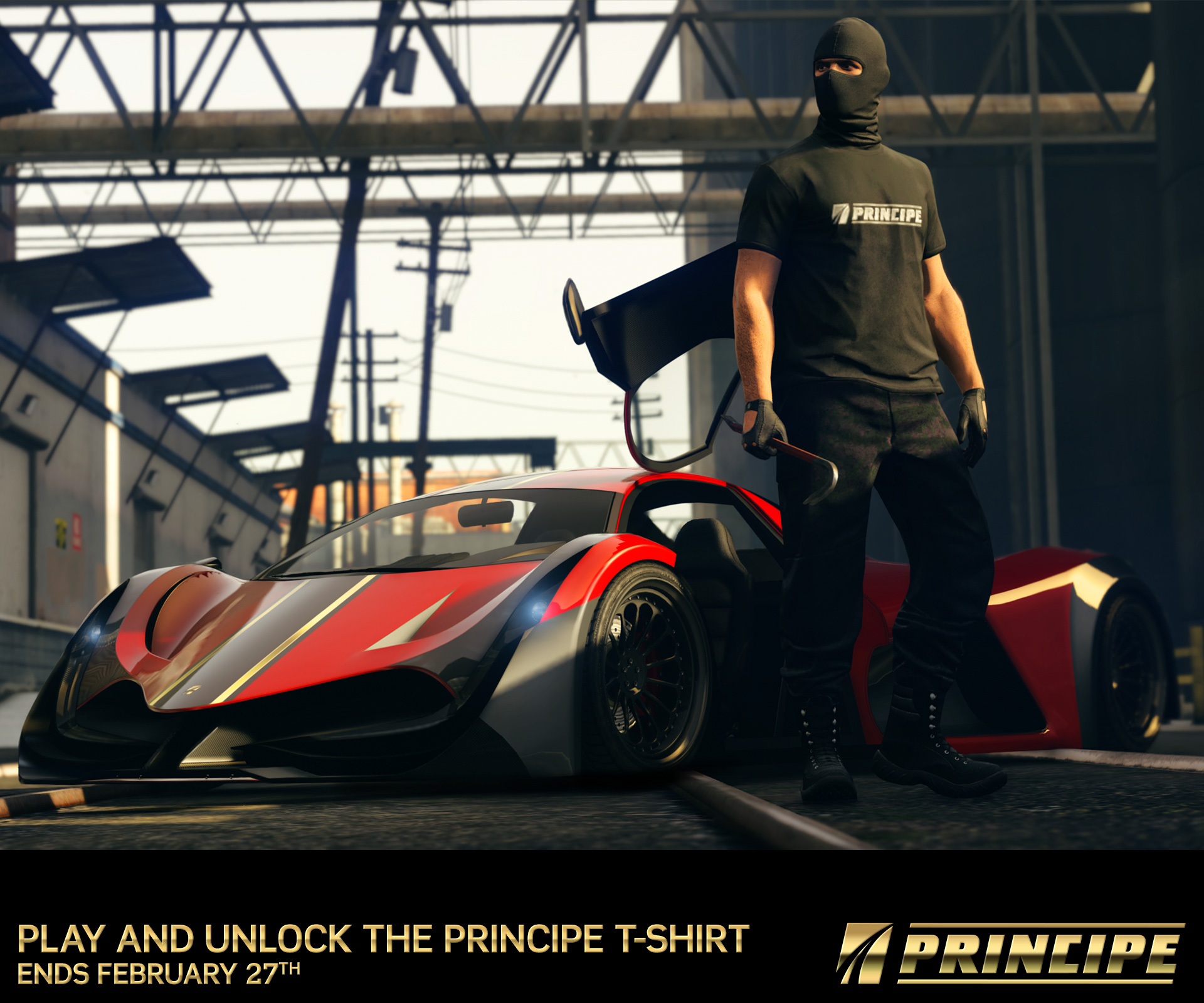 To mark the release of Principe's first foray into the 4-wheeled market, play anytime this week to unlock the Principe Black T-shirt.
Weekend GTA$ Giveaways:
Playing GTA Online at any point this weekend on Saturday February 23rd or Sunday February 24th makes you eligible for this month's 4th and final GTA$250K bonus, which will be awarded when you log in next weekend.

Plus, if you loaded up GTA Online February 16 - 17, play anytime this coming weekend to claim your outstanding GTA$250K.
Property & Vehicle Discounts:
Facilities – 30% off
Facility Renovations – 30% off
Hangars – 40% off
Mammoth Avenger
Imponte Deluxo
Mammoth Thruster
TM-02 Khanjali
Ocelot Stromberg
RCV
Buckingham Akula
Volatol
HVY Barrage
HVY Chernobog
P-996 Lazer