The Grotti Furia Supercar is now available from Legendary Motorsport in GTA Online. Take it for a joyride or use it as a getaway vehicle in your next Casino Heist.
Los Santos is getting into the holiday spirit in a big way. Local businesses, including The Diamond Casino & Resort, are decking their halls with towering trees, boughs of holly and wreathes of glittering tinsel. Retail workers have been driven halfway insane stocking the shelves with crate after crate of holiday-themed clothing, accessories and weaponry. And Weazel News' crackpot weather team have even forecast a rare spate of snowfall in the coming days, meaning you and your buddies can get together and indulge in an honest-to-goodness, old-fashioned snowball fight.
Keep an eye on GTA Online to spot festive gifts with your name on them. Through the holidays you'll have chances to get free Festive Bodysuits, Fireworks, Miniguns, Snacks, Armor and all new toys. Plus get explosive goodies through until New Year's Eve, so check back in daily to see what's stuffing your stocking.
Invade and Persuade RC Tank
There'll be a bounty of gifts awarded to players who log in on December 24th, including the Green Reindeer Lights Bodysuit, Firework Launcher, 20x Firework Rockets and more.
Don't forget to log in on December 25th to score an even bigger package, including a totally free, fully weaponized, definitely dangerous, Invade and Persuade RC Tank with your name on it from Warstock Cache & Carry.
Free Festive Gear
In addition to the presents rolling out throughout the week, make sure to play GTA Online any time before January 1st to collect a special set of holiday clothing items, including the Vibrant Check and Red Swirl Motif Pajamas, plus the Burger Shot and Green Slaying Festive Sweaters.
New Podium Vehicles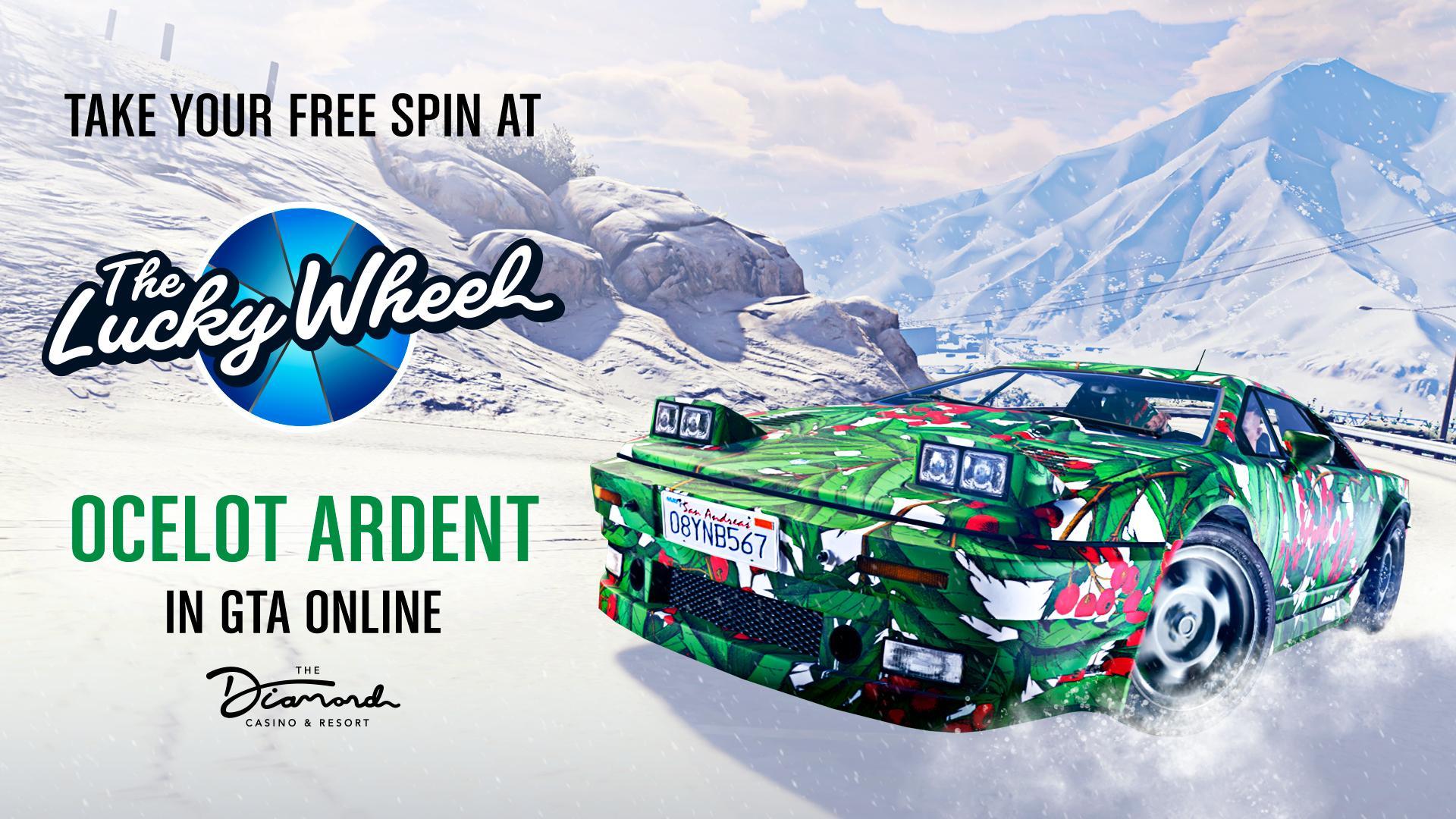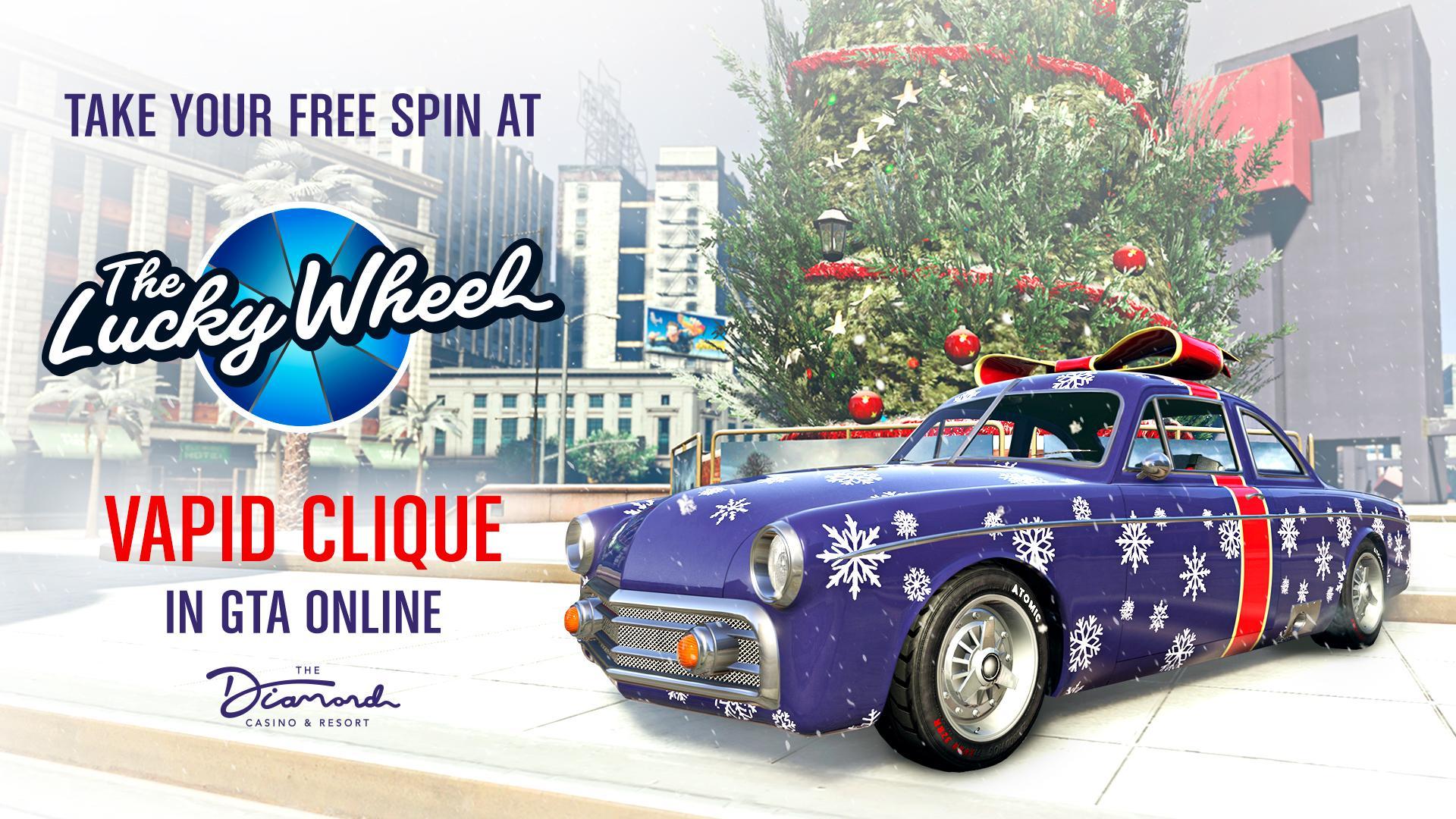 Make sure to swing by the lobby of The Diamond Casino & Resort to give the Lucky Wheel a spin for the opportunity to win GTA$, RP, clothing and more. This week's top prizes are the Ocelot Ardent wrapped in the Deck the Halls livery, starting on December 19, and the Vapid Clique complete with the Merry Cliquemas Livery, available on Christmas Day.
Holiday Discounts
Real Estate:
MC Clubhouses – 50% off
MC Business Properties – 50% off
Executive Offices – 50% off
Bunkers – 50% off
Hangars – 50% off
Facilities – 50% off
Vehicles:
Pegassi Tezeract – 40% off
Imponte Deluxo – 30% off
Mammoth Avenger – 40% off
Mammoth Thruster – 40% off
Ocelot Stromberg – 40% off
Armored Kuruma – 40% off
Buckingham Akula – 40% off
HVY Insurgent Pick-Up Custom – 40% off
HVY APC – 40% off
HVY Barrage – 40% off
RCV – 40% off
Twitch Prime Benefits
Twitch Prime members who linked their Twitch Prime and Rockstar Games Social Club accounts will receive the Pixel Pete's Arcade property in Paleto Bay for free via rebate within 72 hours of purchasing it, and also get an extra 10% off all of the holiday discounts listed above. To ensure access to future benefits, make sure to visit Twitch Prime and sign up.
Stay tuned to the Newswire for more details on new GTA Online gameplay, vehicles and other forthcoming updates, plus head over to the Social Club Events page to see all current special events, bonuses and discounts.
Check Rockstar Support for details and limitations.