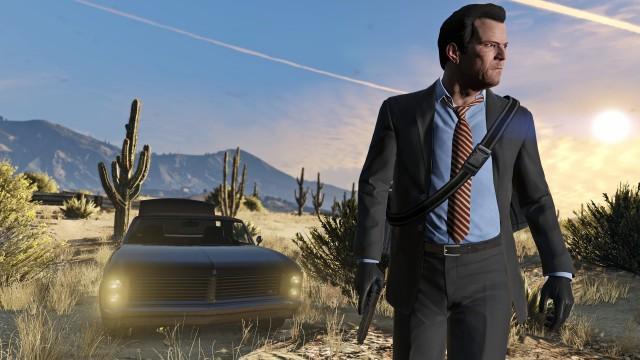 With just a few days to go until the launch of Grand Theft Auto V for PC, select press across the globe have had a chance to experience Grand Theft Auto V in 4K at 60 frames a second. Read on for a quick sample of their thoughts and head to their respective sites for full impressions, new screenshots, and interviews with the development team about the road to the ultimate version of Grand Theft Auto V.
PC Gamer's hands-on impressions:
"I played the PC version for the first time recently... this absolutely plays like the ultimate version... I swore a hell of a lot (in a good way) at the gorgeous skylines during my hands-on. This is a handsome game... First of all, 60fps makes a hell of a difference. You can't get this in any of the console versions, so on that level alone makes GTA 5 PC the superior version. Seeing this extraordinary environment run so smoothly while you're driving through it is a treat... This is GTA 5 as I've always wanted to see it. The rich weather and day/night effects make this approximation of Los Angeles feel far nicer than the real thing... This looks insanely good... If you've never played GTA 5 and have been waiting all this time for the PC version, what a genuine pleasure you're in for... It's all ahead of you. If, like me, you're going back to Los Santos, it looks like it'll be more than worth the return journey on PC."
Read more at: http://www.pcgamer.com/why-gta-5-pc-is-the-definitive-version-of-rockstars-epic
IGN's preview delves into many of the new features and options available in the PC release…
On GTAV PC's graphical detail:
"Depending on your hardware GTA V on PC also supports resolutions "up to 4K and beyond" and this brings an incredible amount of additional clarity to the world, both close up and particularly over long distances... Parachuting high above the Mount Chiliad side of the Alamo Sea I note Los Santos' tallest buildings are not only completely visible from this distance, but amazingly crisp. Impressive, considering they're nearly the entire length of the map away at this moment."

On GTAV PC's deep customization and settings options:
"Rockstar has also baked in a wide selection of options that players can fiddle with in order to either increase performance or visual fidelity, one of which is a city density slider which allows us to determine just how bustling streets and footpaths are and how busy the city can be around us at any given time."

On the Rockstar Editor video creator feature and its unique Director Mode:
"Some of the video content that players will create with more time to hone their productions will no doubt be fantastic, especially now that Rockstar has augmented the system with a new option it has dubbed Director Mode. Director Mode will allow us to stage elaborate scenes and control characters and animals, adjust weather and time of day on the fly, and trigger actions like gestures and dialogue phrases. Players will also be able to warp to different locations around the map and activate in-game cheats."
Read more at: http://www.ign.com/articles/2015/04/08/hands-on-with-gta-5-on-pc-at-4k
Check out GameSpot for an exclusive interview with GTAV PC developers 'What New Things Should You Expect in GTAV PC?' as well as their video feature explaining GTAV PC's Video Editor and Director Mode.
And James and Dan from GTA V o'clock are joined by PC Gamer's Sam Roberts for a special episode on GTAV PC which you can watch below:
In addition to a wide array of graphical and technical upgrades, Grand Theft Auto V for PC includes all Rockstar-created content for Grand Theft Auto Online including Heists, available on day one; a brand new Los Santos Radio station called The Lab featuring all new music from the album "Alchemist & Oh No Present: Welcome To Los Santos including the two singles "Play It Cool" and "Lock & Load"; and the all new Rockstar Editor for advanced movie making and sharing.
For those who've pre-ordered the digital version of the game, pre-loading is already underway. Digital pre-orders are still available via Rockstar Warehouse, Steam and other digital retailers. Make sure to pre-order GTAV PC before game release in order to get $1,200,000 in in-game money (as well as a bonus $150,000 for use in GTA Online if you pre-order the digital download version).