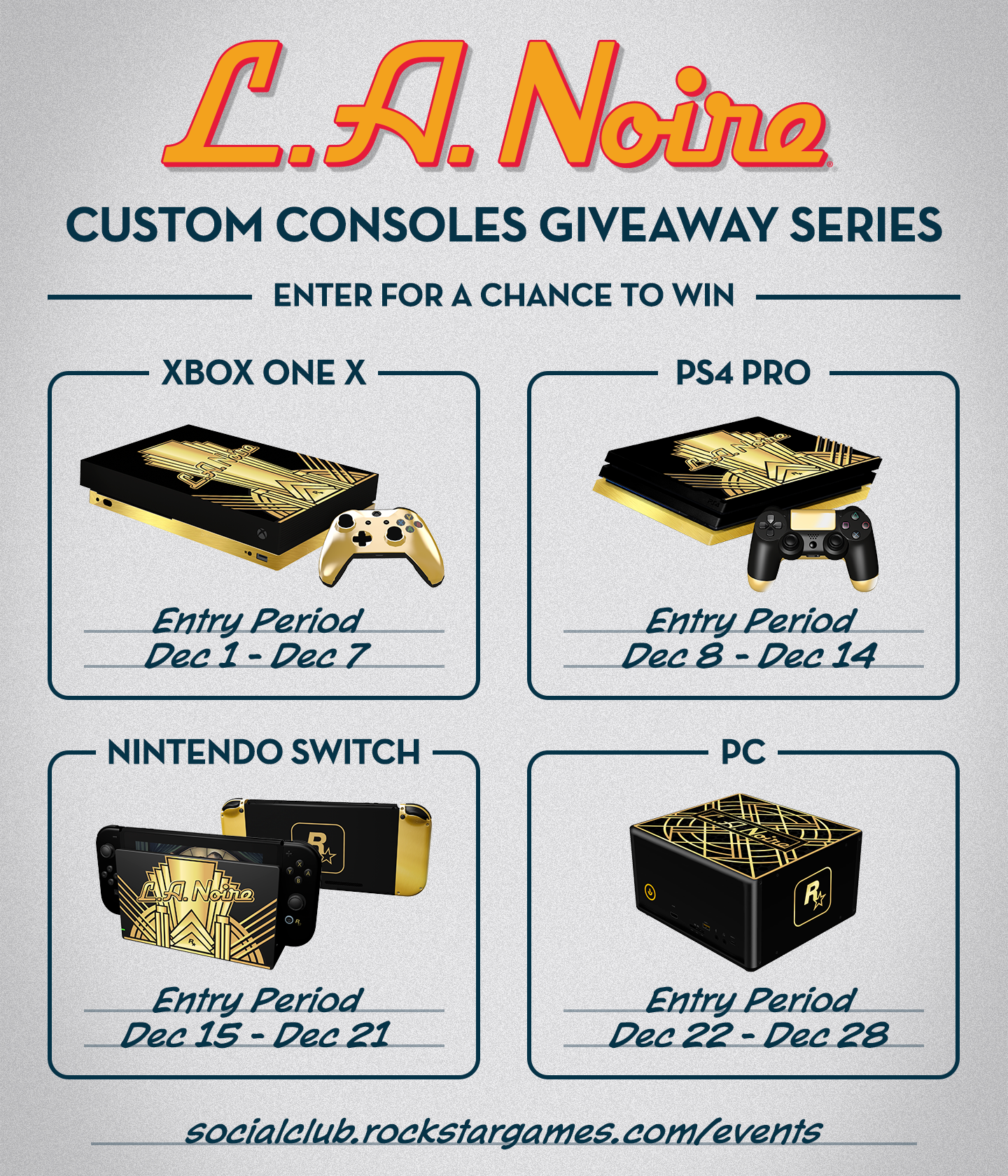 In celebration of the recently released new versions of L.A. Noire for Nintendo Switch, PlayStation 4, Xbox One and the upcoming release of L.A. Noire: The VR Case Files for the HTC Vive on December 15th (now available to pre-order), we're giving away a series of unique, custom-made, exclusive L.A. Noire themed consoles to four lucky winners.The sweepstakes series begins with your chance to score the brand new Xbox One X, and over the coming weeks we'll also be giving away a custom-designed PS4 Pro, Nintendo Switch and gaming PC (complete with HTC Vive), so keep an eye out here on the Newswire for the chance to win yourself a one-of-a-kind system.
L.A. Noire for Xbox One delivers the complete original game and all additional downloadable content with a range of technical enhancements for greater visual fidelity and authenticity, from enhanced lighting and clouds to new cinematic camera angles, high resolution textures and more. Playing natively in 1080p for the Xbox One and stunning 4K for Xbox One X, experience the grit and grime of 1940's Los Angeles like never before.
Through Thursday, December 7th, enter the L.A. Noire Custom Xbox One X Social Club Sweepstakes at the Social Club Events page for the chance to win this exclusive Xbox One X console and start your investigation in to the dark, criminal underworld of L.A. Noire.
NO PURCHASE NECESSARY. Void in certain countries and where prohibited. Must be 18 years or older. See Official Rules and Privacy Policy for eligibility details.