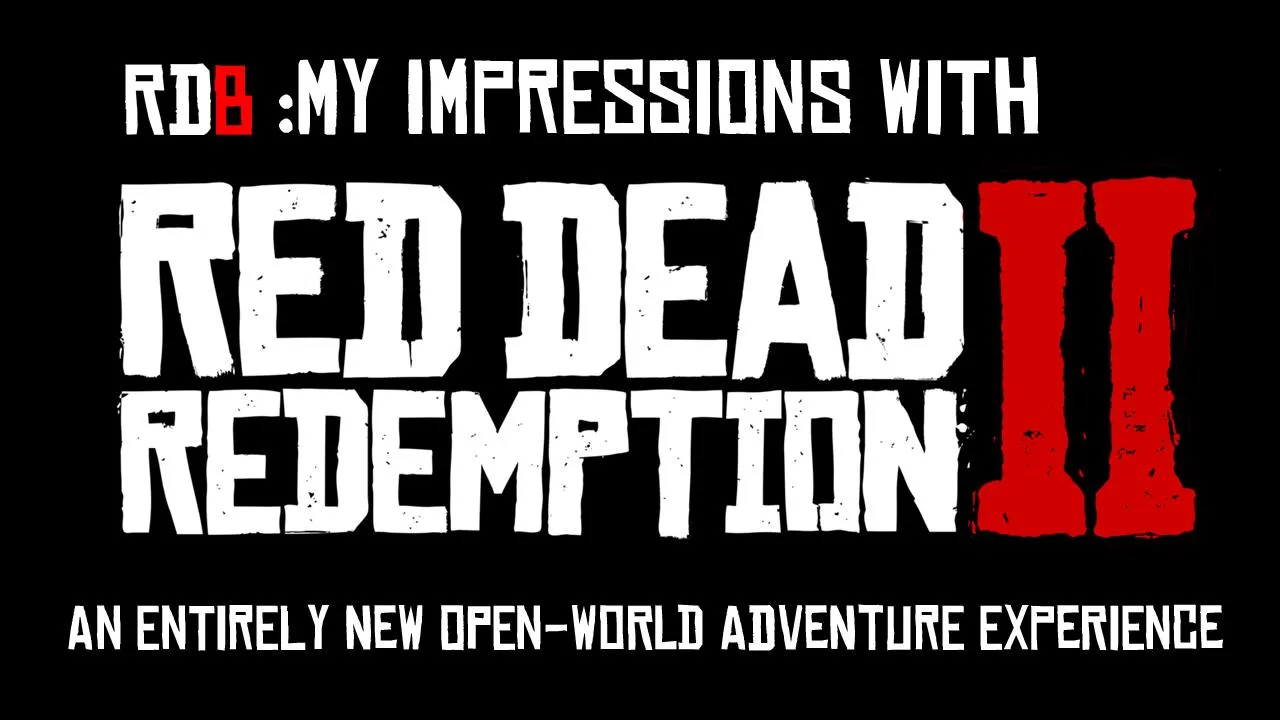 I played Rockstar Games' Red Dead Redemption 2 this week. A game that is so very alive and filled with fun and meaningful things to do, and a massive, massive world to explore.
Where do I start? The sheer level of detail in this game is unprecedented.
Within the first few minutes of playing, I immediately felt part of something. A group of outlaws on a chaotic journey across the frontier on a quest to survive, make money, and not die. The relationship between each character seems strong and realistic. Every person I walked past, be it a fellow gang/camp member or NPC's tending to their shop, just hanging out or even taking part in a robbery, it all truly feels right. I'd heard that your surroundings were filled with people and animals doing their part and it is not until I played for myself that I really understood this.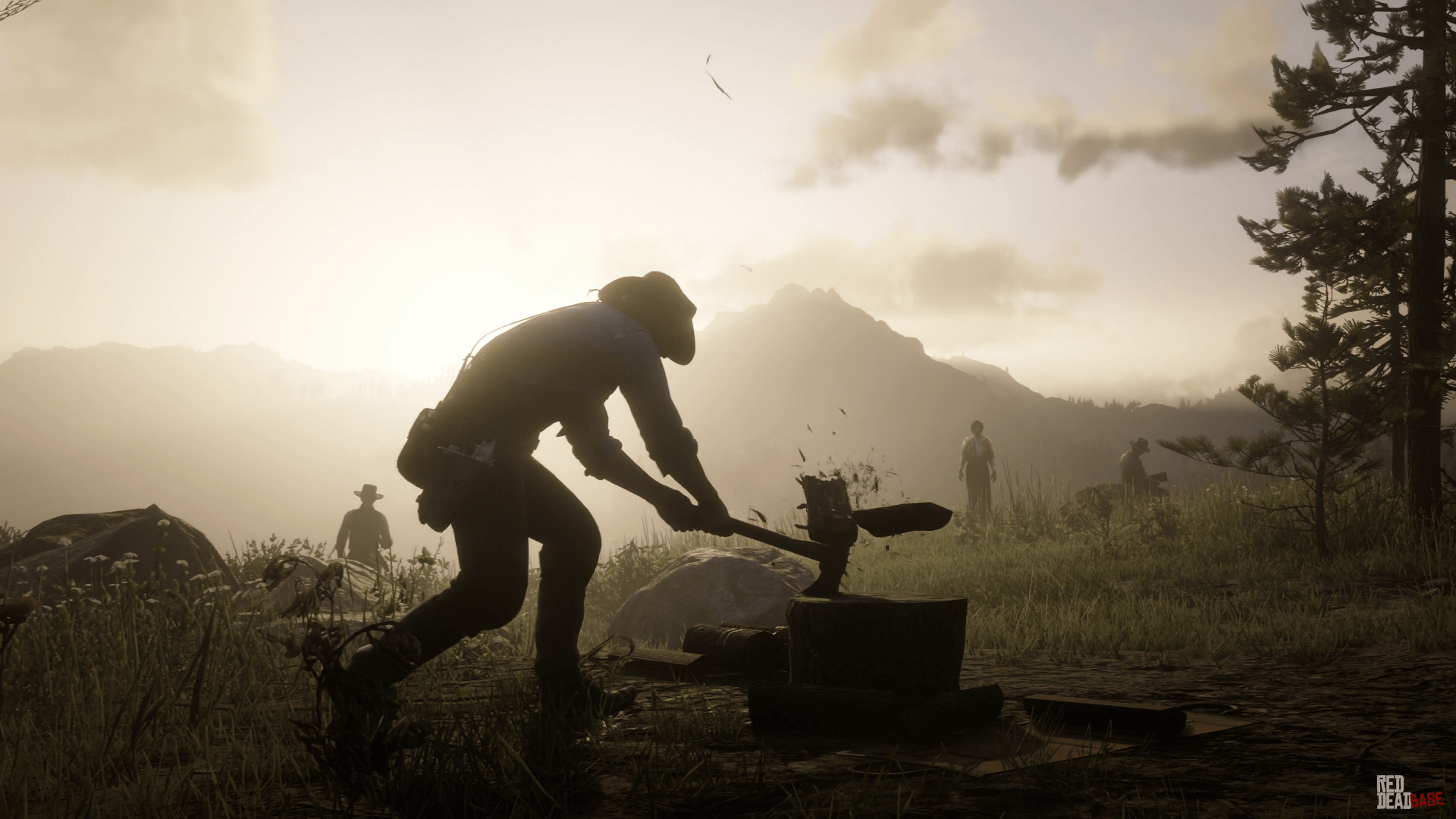 After doing some chores around the camp, which let me mention is not only an important part of camp life, it is also so much fun. I chopped wood, had a shave, donated food, cash and misc supplies to our camp's donation box. In a lot of open-world games, these things always feel too much like errands but in Red Dead Redemption 2 it is the polar opposite. Let's just say that the word dynamic does not just apply to horse poop. I have never seen so much detail in something that could just go untouched.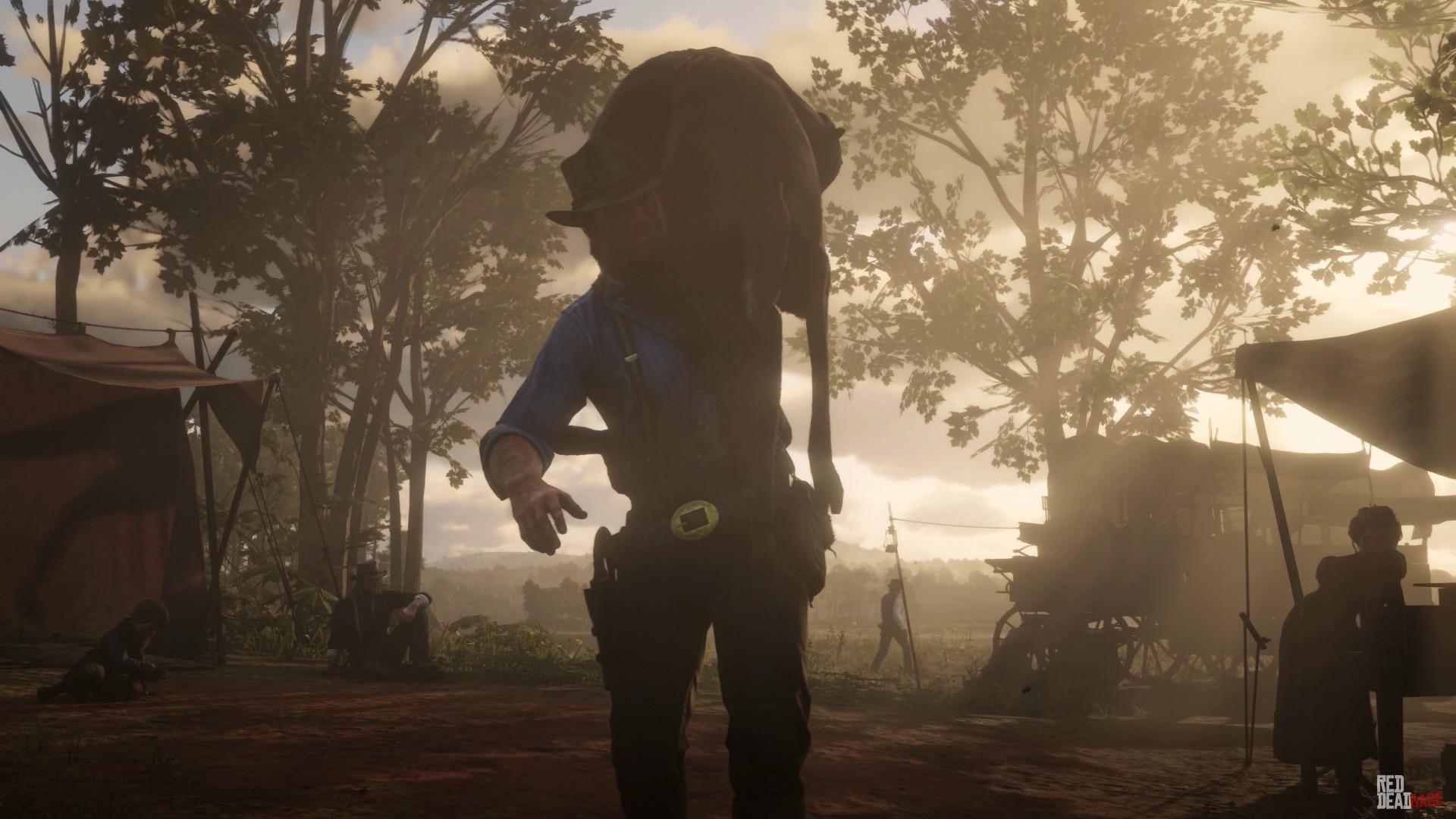 I took a roam around what seemed to a never-ending and ever exciting world of opportunities. Riding my horse, which I had by this point levelled up a bit and just unlocked a really cool move for, I stumbled across a sizeable wooden house tucked away past the trees and flowers. I climb off my horse and dig the rope line into the ground to keep him put, this always seems to change, sometimes you tuck they horses rope in the ground, sometimes around the nearest tree.
I had a little peek around but it wasn't long before the owner popped his head out, his gun is drawn and (quite angrily) shouted to me "what do you think you're doing sneaking around here". There wasn't enough time for any more words as I quickly put him down (let's call this one "surprise fire") I didn't want to kill the poor bastard, my trigger-finger went off in a heated moment. Luckily no one else is around so there are no witnesses therefor no law after me.
Seconds later I hear loud barking and his dog comes running over but stays at a distance and continues to bark at me, jumping backwards and forwards, I try to calm the dog down and eventually pat it, but this one is having none of it and he jumps for me, biting my forearm in the process, I manage to shake him off and I take off on my horse but not without dropping a pin-point marker on this location on my in-game map so that I can come back better equipped to loot the now unoccupied house and of course, give the previous owner a proper burial.
One thing I keep finding myself say is "What now"?. Where shall I go? What shall I do? The world gives you an overwhelming sense of life. The way the trees blow in the wind, how the snow falls and lands, yes I did some circles on the spot with my horse and the imprints in the snow and the mud, and the grass is as realistic as can be. I can see snowy mountains in the very-very far distance, high rocks on one side, flowers and beautiful grass surround me, I am spoilt for choice on where to go, what to see. I have never felt so truly lost in a video game and it has never felt so good.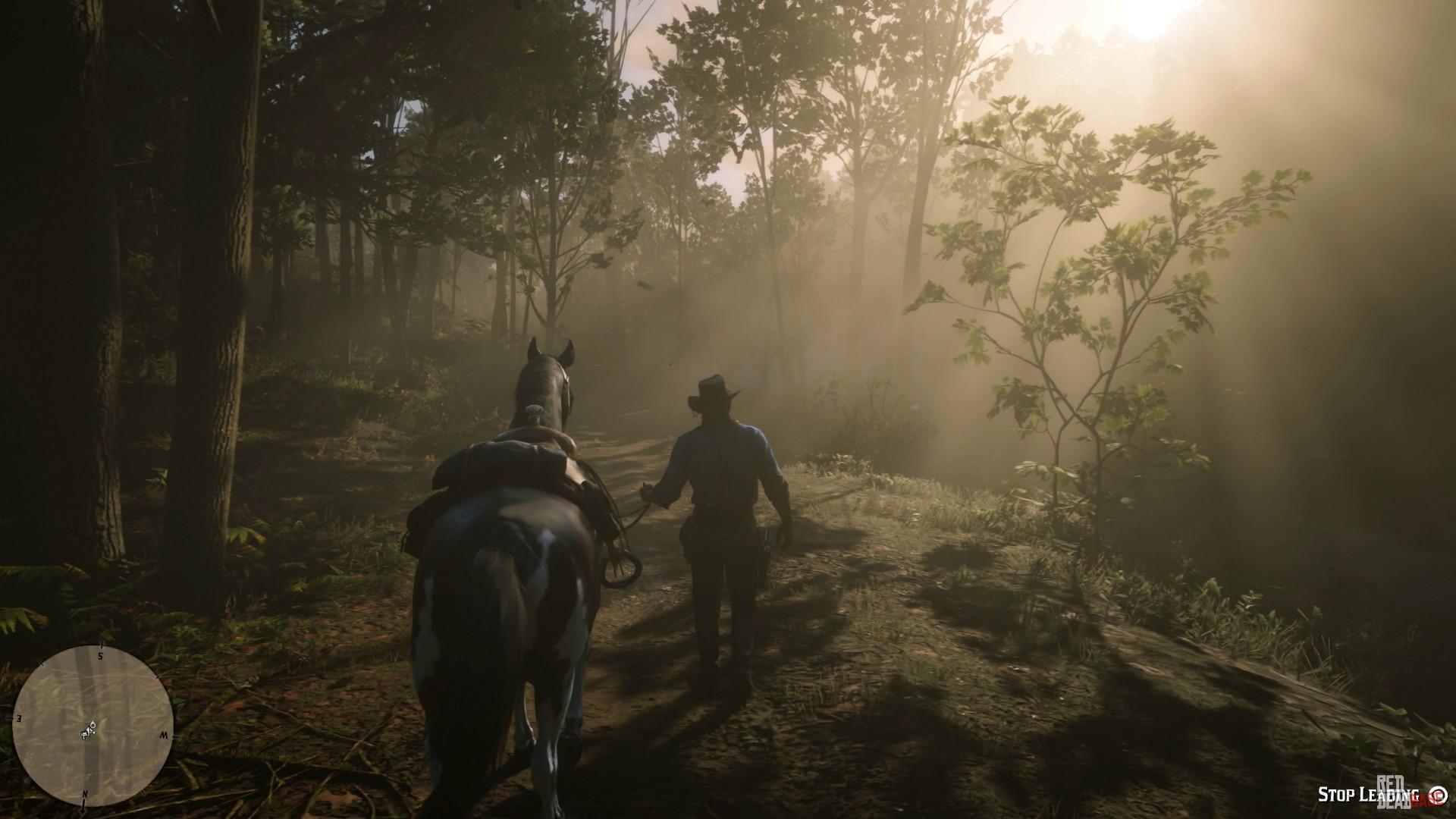 I have never felt so truly lost in a video game and it has never felt so good
Animals act like animals. I see rabbits being chased, birds flying high and low, deer cautiously taking sips from a stream. I see some dear and decide to put the hunting system to work and am blown away at just how well it flows. I crouch and quietly creep to a safe distance and view of my prey, note that animals can smell your scent, and your scent travels in the wind so you need to place yourself properly, like a real hunter. I adjust my positioning, bow in hand, I take aim and fling an arrow towards my dinner but I only wound the deer and have to take chase.
I enter into my hunting vision view (you can find out the official specific names for systems and things when you play yourself) and try to track down my game, I can hear it letting of a shriek and spot it stumbling ahead, it finally falls and I am presented with multiple options. I pick it up, sling it over my shoulder and walk it to my horse, the deer's body juggling and bumping about as I pace through the environment back to my horse to stow and take back to camp. Once I arrive back at camp to donate my game. On my first attempt to donate a deer I realised that my kill was only 1*, I want to be giving my comrades 3* meat so I left that one for the scavengers. (Your kills are rated by stars between 1-3, 1 being not so good meat, 3 being perfect meat).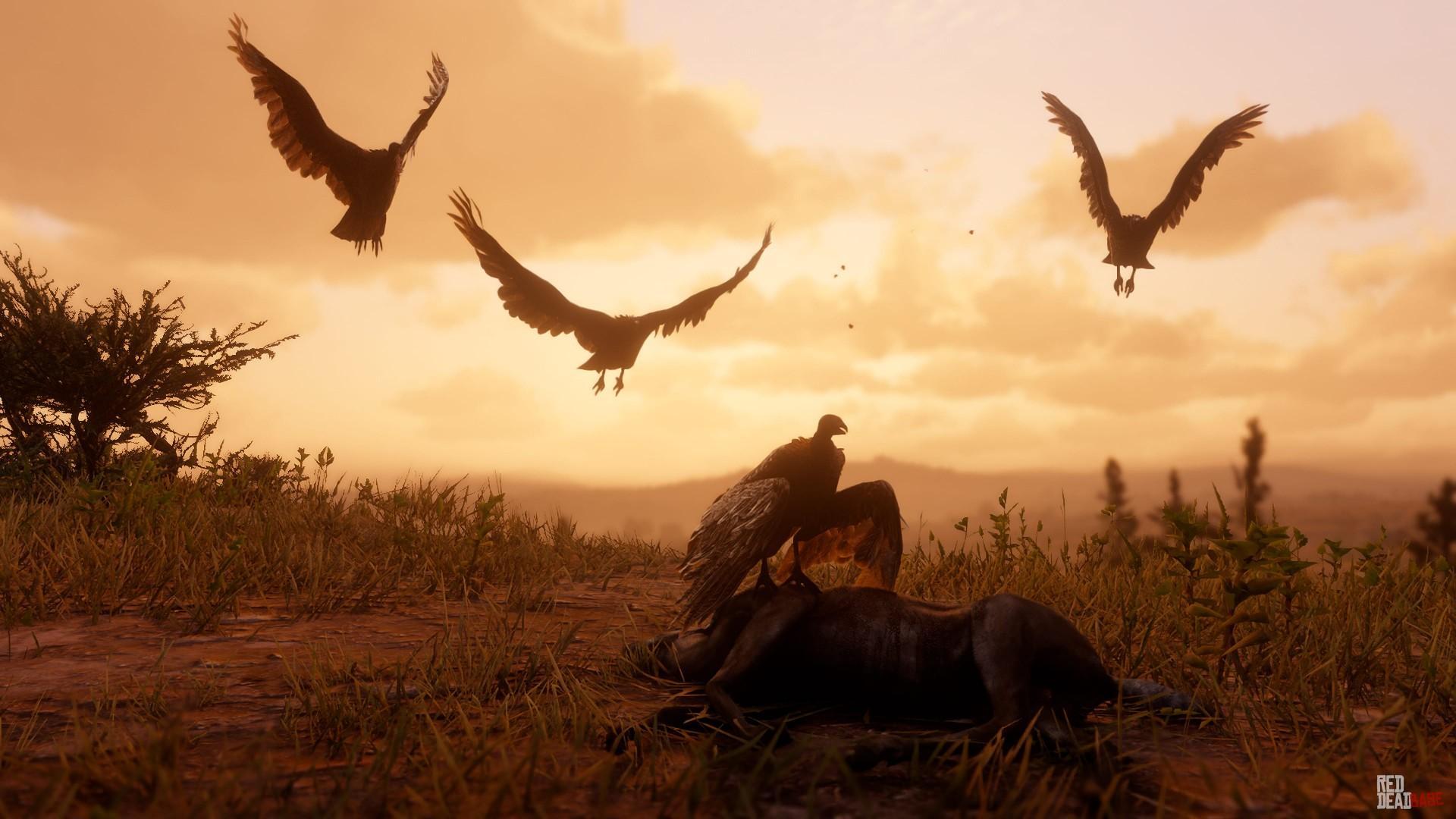 The way horse (and Arthur) handle and traverses the environment is completely believable and responsive. The way Arthur leans to the side or ducks down from a low hanging branch when moving through treelines, to how the horse vibrates and shudders when you gallop across the more rocky and bumpy land, it actually feels as though you are a living-moving person on a living horse. I was riding through a heavily snowed over forest area and the amount of snow on each tree and its branches differed to one another, the way the branches move and the snow falls off onto my shoulders and drops onto my horse as I brush past each tree. It is so believable.
A true western film-esq experience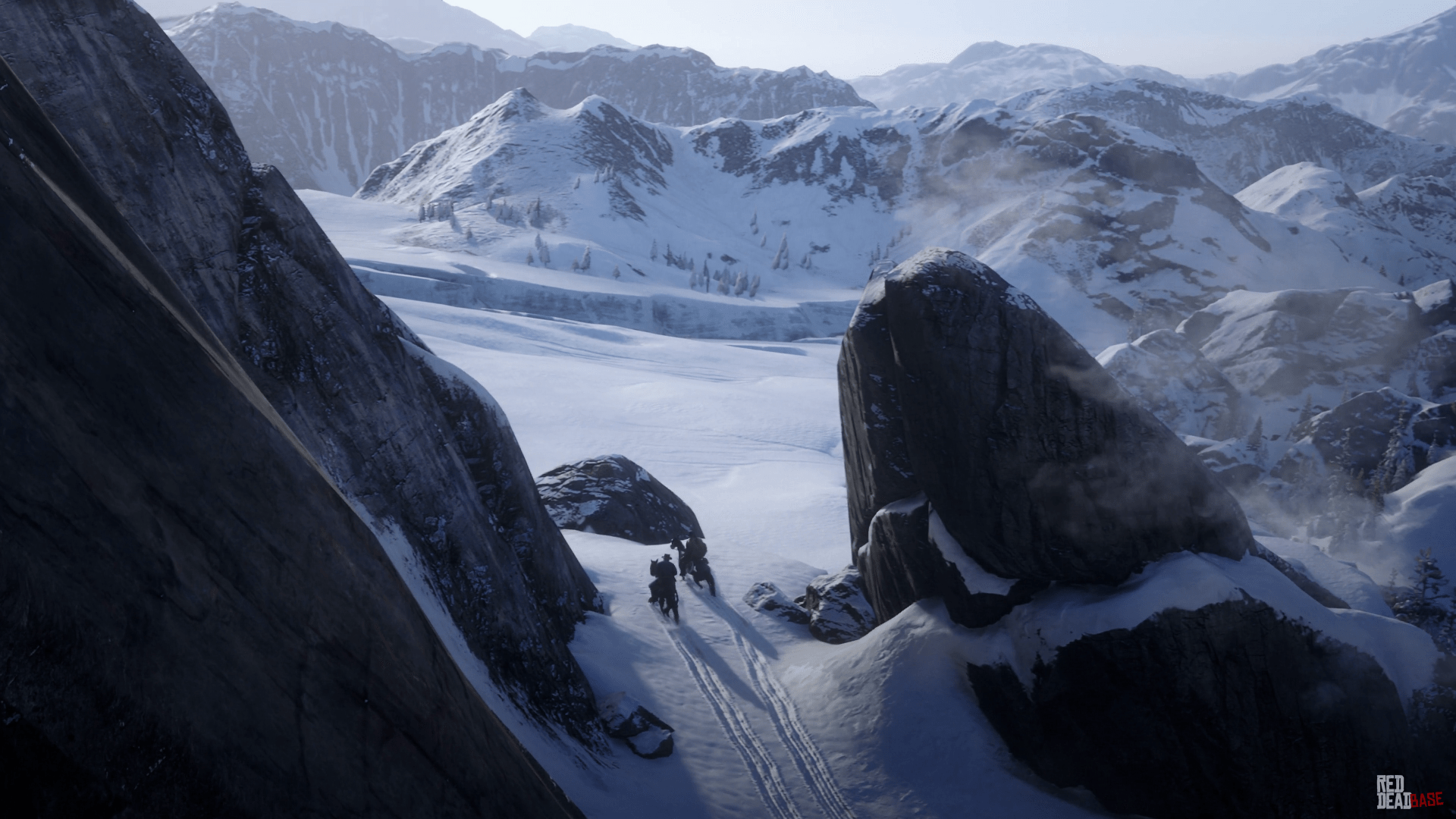 Cinematics. The way gameplay and cutscenes blend together is seamless and beautiful. I have never felt so immersed in my years of playing videos games than I have felt while playing this. The cinematic camera view(s) while in-mission or roaming around is beyond absolutely incredible. I genuinely forgot for a minute that I was playing a video game. It's a true western film-esq experience. You can switch between view modes for Arthur Morgan while on the road, in mission and so on. Bringing your point of view far back a fair amount, closer to Arthur or completely first-person which feels and plays out a lot better this time around. The cinematic camera seamlessly blends gameplay and cinema together in a way that only Rockstar Games can do.
While exploring in and out of a mission, you can loot for supplies for yourself to keep and use, sell, or donate to camp. Of course, my inner hoarder wants to pick up everything and shove it into my bag but this is not how it works in Red Dead Redemption 2. Everything you loot, search or collect is actually handled by Arthur with, again, unprecedented detail. Ever drawer, shelf, box and person, is opened up or picked up and searched. You have the option to open cabinets, drawers, chests, right down to opening all five drawers of a cabinet to see what is inside. This helps hoarders alike to actually think about what they need and want. Have I got time to open every draw of this cabinet in search for a new Tonic or a Premium Cigarette Pack that contains a Collectible card? No? Yes? Of course, I'm going to open every single drawer.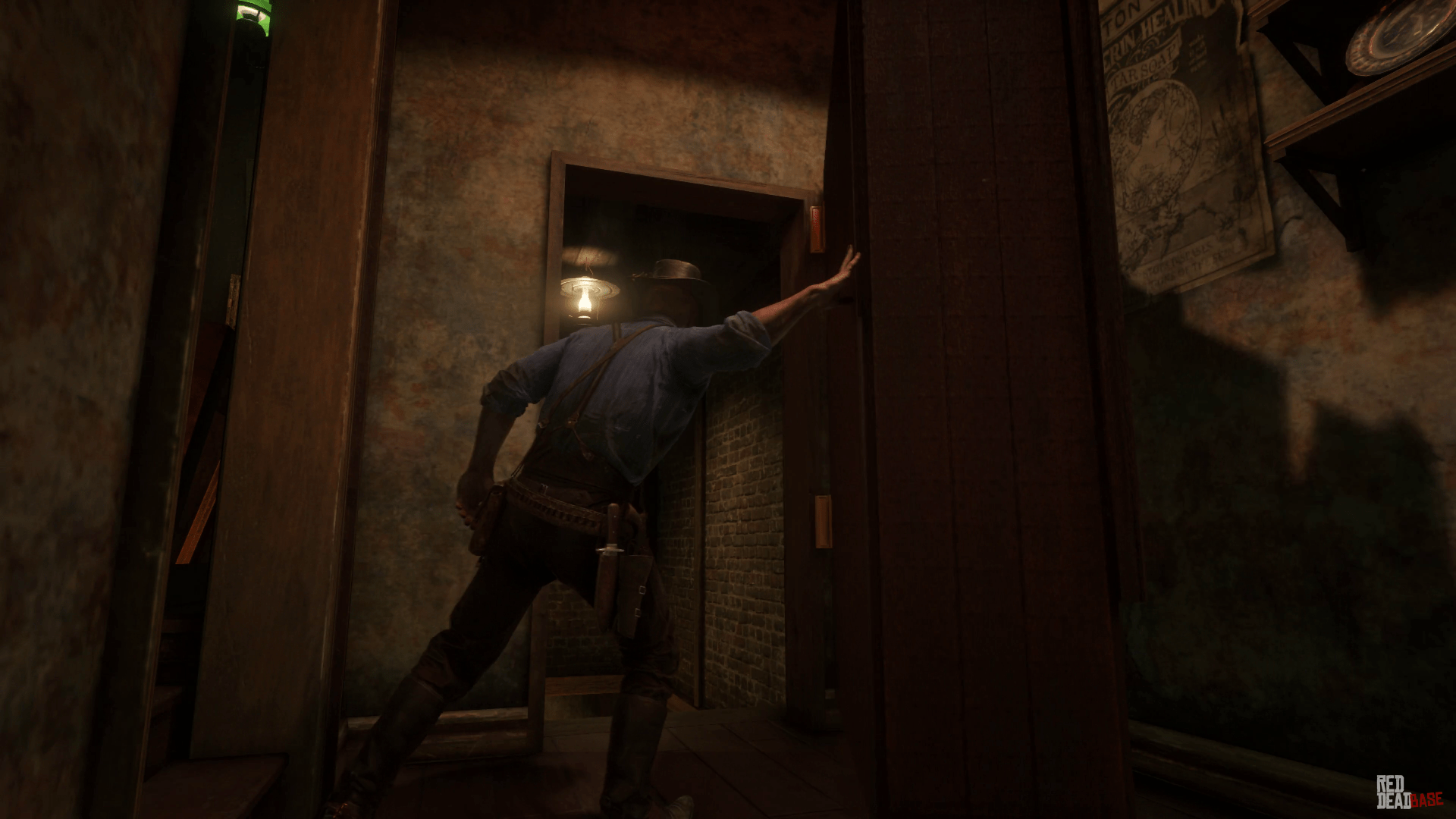 Customisation. You can and will need to upgrade your satchel so that you can carry more items. Each one looks different and is made up from materials and game that you find while out in the world. This is where everything is tied in. It gives you the sense that everything you do matters. Hunting is not only an activity to take part in for fun or to feed yourself and your camp, but it is also needed to upgrade your carry bags and alike.
I spent a large amount of the little money that I had on a new gun. A cool pump-action shotgun. I walked into a gunsmith and was able to look at the shelves and browse each individual shelf., up, down, and across. Picking out some bits and bobs and then went to the desk to browse through the shops' catalogue. And by browse I mean every single page, fully detailed with weapons and accessories. The way Arthur flicks each page and the noise the page makes. Unprecedented detail. After buying myself a new gun I could go through a great amount customisation options from varnishes, to different trigger colours and barrel lengths, you can really make your gun your gun. I needed more money than I had thought, so it was time to set out on the paper chase.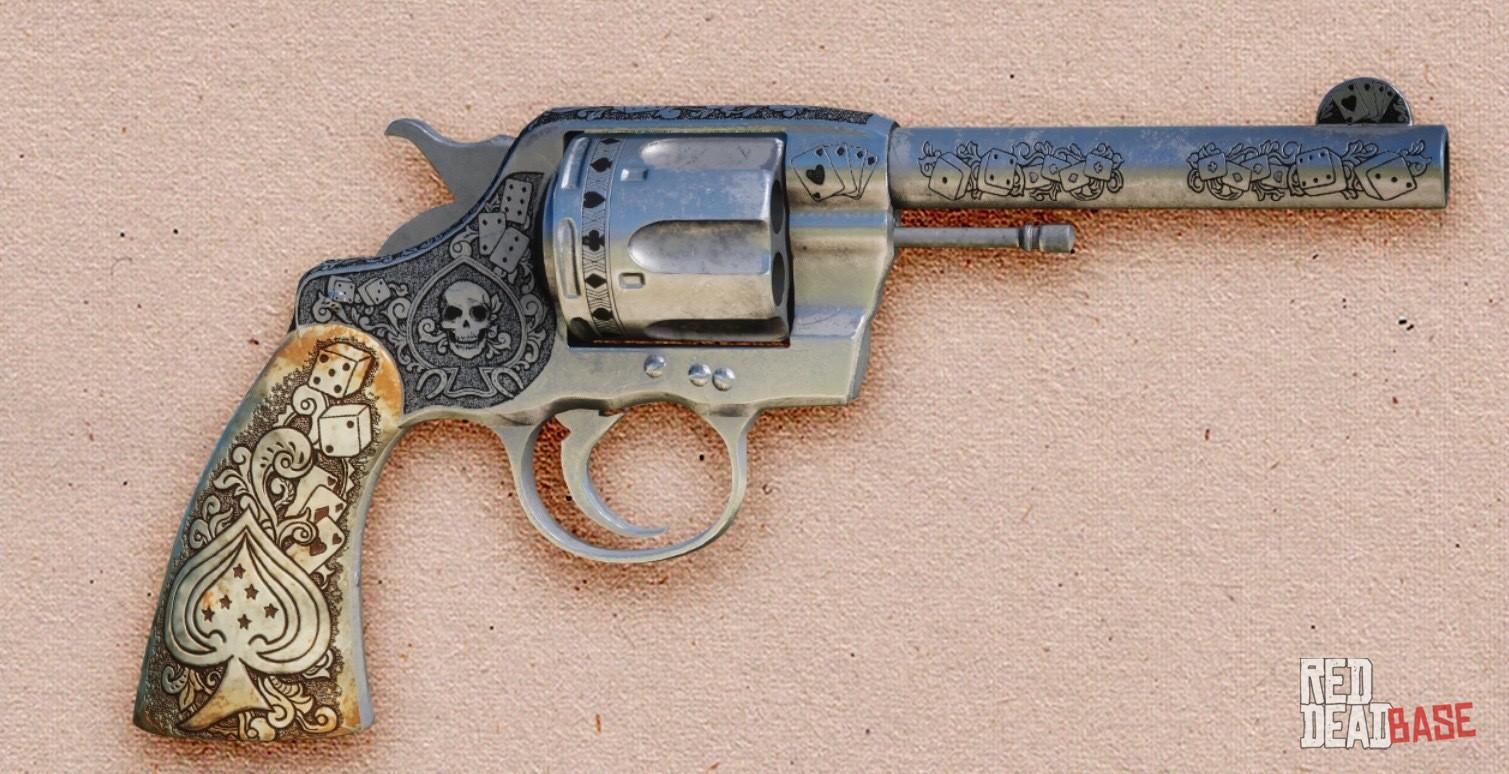 The world is more alive than I ever could have imagined. Animals chasing each other, the way waters splashes off rocks along the stream, the people going out their business, acting in ways that you could only ever see in real life. Bumping into camp members hiding in the trees on the lookout, the world gives you a true sense of realism.
Red Dead Redemption 2 is unlike any other game I have ever played before and it will undoubtedly change the way games are made and played
I stumbled across a guy carefully crouching with his rifle, stalking his prey and talking out loud to himself. So I decided to join in crouch alongside him, but my urge to run over to a blossoming raspberry tree got the better of me and I scared his prey away. "Well that's just wasted 6 hours of work, thanks" he muttered and then scurries back over to his horse. I felt bad but with a satchel full over berries I was able to make a new recipe, so not all was bad.
There is an abundance of things to collect in Red Dead Redemption 2. Not only ingredients and materials but official Collectibles that you expect to find in a Rockstar game. Of course, I won't go into detail on these but rest assured, fellow collectors and mystery solvers, there is some very-very cool secrets to unearth and collectables to... Collect and more.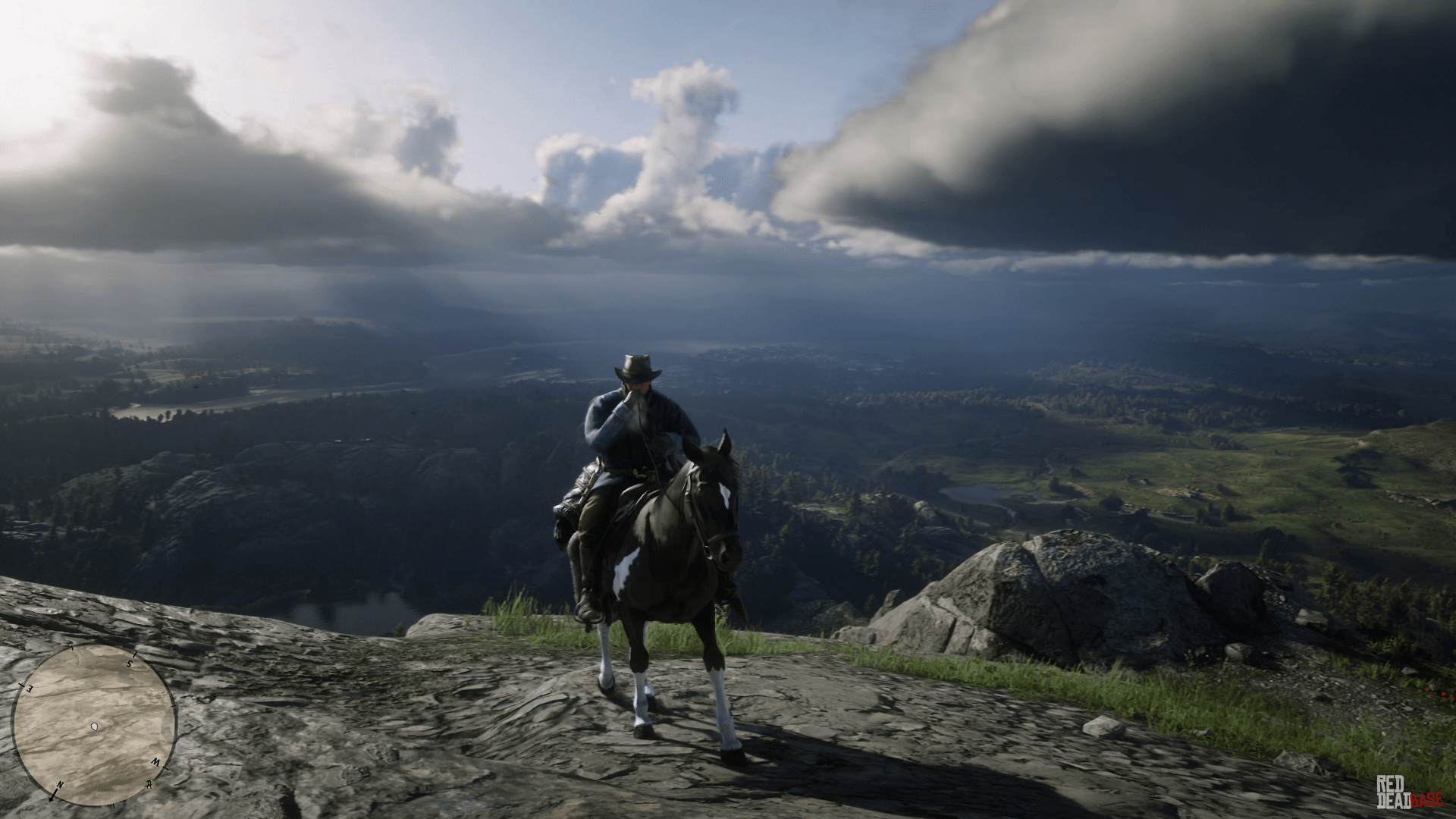 I have never felt so small or so lost in a game world before and Rockstar has nailed what almost every other game in the same style has failed. To create a massive, living and breathing world, and actually fill it with living and breathing people, along with dynamic events, off-chance encounters and outcome differing scenarios. A world filled with opportunities and situations that really mean something and push the player to think before acting. A sense of reward or guilt is lurking around every corner.
There are lots of familiarities to the original Red Dead Redemption and players will instantly feel this as well as the classic Rockstar style of video game creation but it is also an entirely new game and more so, a brand new way to play and experience an open world adventure story.
Red Dead Redemption 2 is unlike any other game I have ever played before and it will undoubtedly change the way games are made and played.

SCORE: 10/10