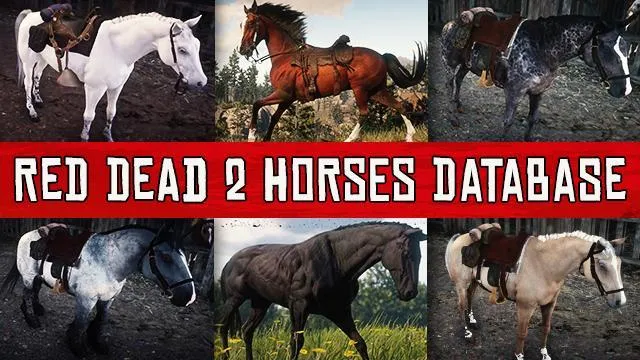 We are very happy to present to you the latest addition to our ever growing set of Databases: The complete and interactive Red Dead Redemption 2 Horses Database!
The database allows you to browse, filter and sort through the full list of Horses you can find in RDR2, along with Statistics, Purchase and Sale Prices, Locations & Habitats for Wild Horses, Acquisition Method, and more!
Here is the list of Features and Filters for everything you can do with it (you can combine multiple filters to fine tune your browsing experience):
---
Horse Name: Quickly find horses by typing part of their name, or simply sort them alphabetically.
Horse Breed: Filter/Sort horses by their Horse Breed.
Horse Type / Category: Filter horses based on their type (Draft, Race, Riding, Work, War Horse, Superior).
Base Value ($): This is the purchase value of horses. You can sort them from most valuable to cheapest and vice-versa, as well as filter by price range.
Statistics & Ratings: You can sort horses based on any of their stats: Health, Stamina, Speed, Acceleration, Handling, and Overall (Average) rating.
Available From: This allows you to filter by the method to acquire the horses. So, which horses can be stolen/found in the wild, and in which Stable horses can be purchased from.
Available after Mission: This allows you to filter based on when in the Story Mode a horse becomes available.
Wild Horse Habitat: Filter by the location in which you can find the horses that can be found and stolen without purchasing them!
Game Edition: This allows you to single out the horses that are only available in certain game editions or modes. For example, if some are exclusive to Story Mode or Red Dead Online, you will be able to see it here.
---

In addition, the Database is fully Responsive, meaning it can be easily browsed by any device, from desktop to mobile. You can also switch between two layouts, either the Grid layout or the List layout, each of which have their own benefits (from the list view you can see at a glance all the stats for each horse!)
Clicking on each horse brings you to their detailed profiles, which come complete with all Information, clickable Horse Breed for more details on them, Locations to find them, Images, and all their respective Resale Prices, which if you didn't know are based on three factors:
How you acquired the horse (purchased legally or stolen);
Where you sell it to (at a Stable or Horse Fence);
Your Bonding Level with your horse (the higher the bonding level the higher you can sell it for, LV.4 gives you 95% of the Base Value!)
Here is the link to the database again: https://www.gtabase.com/red-dead-redemption-2/horses/
Of course, this will be updated with any new horses that may come out in future Title Updates or Red Dead Online. We hope you enjoy it and you find this useful!
---
For more Red Dead Redemption 2 Guides check out the complete Guides Section, including Wildlife Database, Weapons Database, and more!