In support of this week's worldwide release of Grand Theft Auto V, Rockstar made available a special pair of totally free companion apps that will be available for download starting today to enhance and aid your game experience.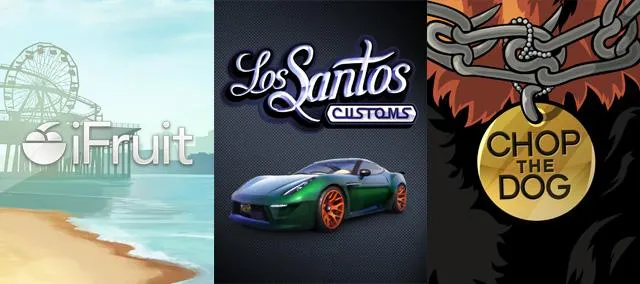 Grand Theft Auto: iFruit – featuring Los Santos Customs and Chop the Dog
The free iFruit mobile app hooks directly into your Grand Theft Auto V experience featuring:
Los Santos Customs - The Los Santos Customs app offers players the freedom to create their ultimate vehicle in Grand Theft Auto V from anywhere. At the bar, on the beach, on the toilet. This is the future, we're almost sure of it. You can even create and reserve custom license plates for both Grand Theft Auto V and Grand Theft Auto Online – order your personalized plates before they're gone! Also choose from paint jobs, window tints, smoke colors, wheels, hoods and spoilers. Upgrade your engine, brakes, exhaust, suspension, and accessorize with new lights, horns, tires and body armor. Place your order on-the-go and find it waiting for you in the garage the next time you play Grand Theft Auto V, or send your order in while playing and get a call from your local mechanic to swing by. Everybody's had some work done in Los Santos, so don't let your ride be the exception to the rule.
Chop the Dog - Depth of content, high production values, defecation. It's the app that has it all. Because who doesn't love tending to a virtual pet? Chop is Franklin's canine sidekick in Grand Theft Auto V. Look after him well in the Chop the Dog app and you will reap the benefits when playing as Franklin in Grand Theft Auto V. Pet him, feed and water him, play fetch and tug-of-war, teach him tricks. Too much or too little of an activity, however, will cause Chop to become unhappy, and nobody likes an unhappy Rottweiler. Take Chop on walks to give him a chance to work off last night's steak and Piswasser and to mark his turf in the hood - defending his ladies, fending off gang members and even protecting the beach babes of Los Santos from unsightly tan lines by removing their bikinis.
The iFruit App is now available for iOS devices at the App Store, for Android devices via Google Play, for Windows Phone and for PlayStation Vita.
---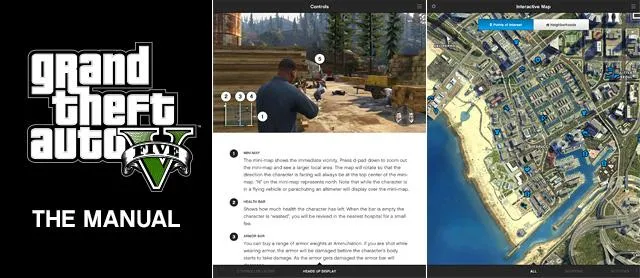 Grand Theft Auto V: The Manual
As this is the biggest Grand Theft Auto game to date, we literally couldn't fit everything into an old fashioned style printed booklet anymore so instead we have taken the tradition of the classic GTA game manual into the digital era properly and have created for you a massive over-100-page free digital app for smartphones, tablets as well as desktops called Grand Theft Auto V: The Manual. The official manual app has everything from essential and practical Game Controls, Features and Credits info to a tour through the activities and local shops and brands in the game – and best yet, a special digital version of the game map to zoom in and explore with an interactive legend to browse neighborhoods and points of interest all over the entire world of Los Santos and Blaine County.
"Grand Theft Auto V: The Manual" is now available for iOS devices at the App Store, for Android devices via Google Play, for Windows Phone and as a desktop application on PC and Mac.