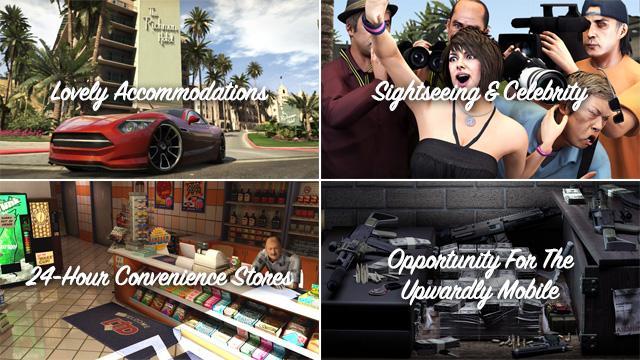 There's only a few days left until your West Coast trip begins – and today the Visitor's Travelogue has been filled out with a view of more activities to expect from the bustling city of Los Santos to the exciting outdoors action of Blaine County.
Sponsored by the Blaine County Board of Tourism – watch their new commercial 'My Blaine County' – and browse a range of living options to suit your lifestyle from single-family homes in the heart of Los Santos, to rural mobile trailers in Blaine to a dream mini-mansion in Rockford Hills.
Faded starlets, troubled celebutantes and aggressive, costumed street performers - you never know who you're going to bump into on Vinewood Boulevard. Come see the sights and sounds for yourself, or jump aboard the Vinewood Star Tours bus to have a struggling actor narrate as you take a guided tour of the landmarks and homes of the rich and famous while sitting on an un-airconditioned bus.
You'll find the roads of Los Santos and Blaine County packed with accommodating convenience and liquor stores, open around the clock for your last minute needs. Stop into your local 24/7, LTD service station or Rob's liquor store - the tills are always filled with cash to serve you.
Opportunity for the Upwardly Mobile
This is a land of great opportunity. Cash is king in these parts - and ambitious and hard-working business people can make some big bucks if they know the right people and the right enterprise to get hooked up with…

Today's official site update also reveals how you can enhance and extend your criminal career in Grand Theft Auto V with exclusive features strictly for members of the Rockstar Games Social Club – including the unlockable Assault Sub Machine Gun, the blazing Annis Elegy RH8 sports car and unique haircuts for Franklin, Michael and Trevor to sport around town. Social Club members will also be able to access the deep suite of Career stats and player checklist features to monitor everything from heist performances to BAWSAQ investment portfolios and compare progress and accomplishments against Friends through special leaderboards. Social Club members can also share in-game mobile photos online via Snapmatic and qualify for exclusive discounts on select in-game purchases through Lifeinvader.com.
Hit up www.rockstargames.com/V/socialclub for more info and stay tuned for Social Club exclusive features for Grand Theft Auto Online to be announced soon.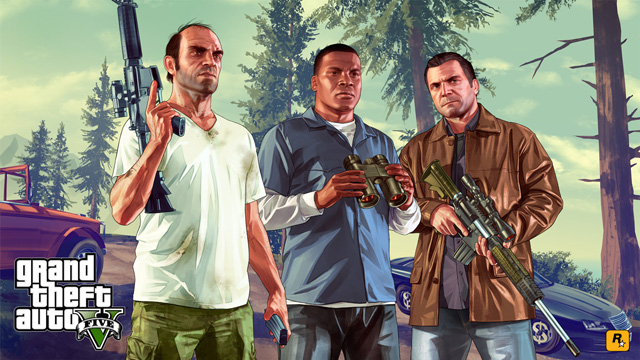 Plus a set of new Screens added to the gallery as well as brand new official GTA V artwork – depicting Trevor, Franklin and Michael on The Hunt – now available for download in mobile and desktop sizes at www.rockstargames.com/V/downloads.