The Diamond Casino & Resort opens for your enjoyment in the heart of Los Santos this Tuesday, July 23rd.
Opening Soon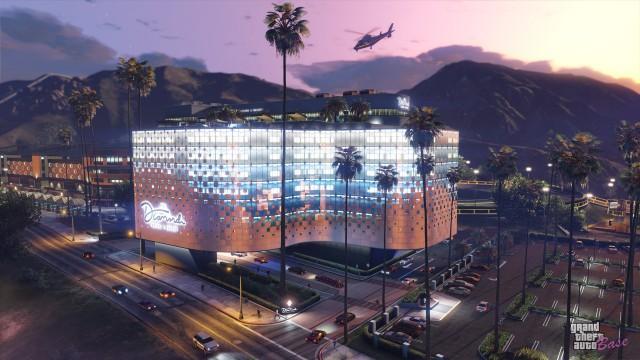 The massive construction project on the corner of Vinewood Park Drive and Mirror Park Boulevard is nearing completion, radically changing the skyline of Los Santos forever.
When the brand-new Diamond Casino & Resort opens its doors, one and all are welcome inside to play, or just to stay in the most luxurious residence in the entire state. More than just a place to let go of your inhibitions and your sense of the passage of time, The Diamond is the one-stop destination for quality entertainment, high-end living and a range of experiences you won't find anywhere else.
The Casino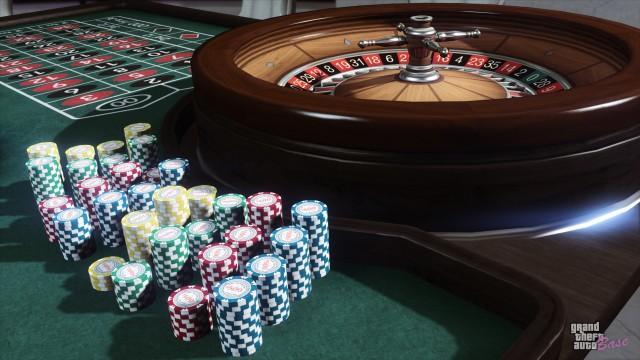 If you're looking to dive into the action, the casino floor has a selection of activities to enjoy. Play against the house using Chips in Three Card Poker, Blackjack and Roulette. Slot Machines with a variety of prizes are also at your fingertips, while Inside Track offers a lounge to watch and cheer along with friends as the drama of virtual horse racing unfolds.
Spin the Lucky Wheel in the lobby for chips, cash, and clothing or even the new Truffade Thrax supercar that can be found whirling on the podium during opening week. And be sure to check back each week to see what new high-end vehicle can be won. Check Rockstar Support for details and limitations.
Guests looking to push the limits of high-end resort fashion can also choose from the carefully curated rotation of new clothing and accessories in the Casino Store.
The Master Penthouse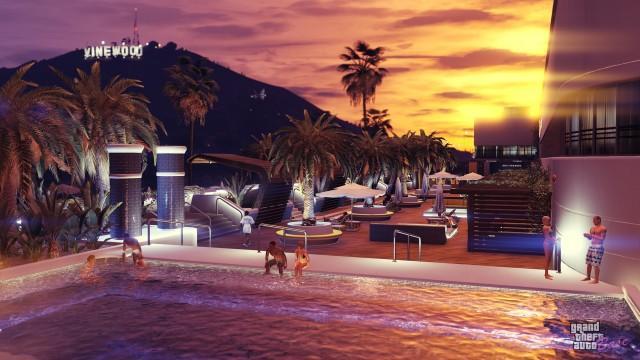 Sitting atop The Diamond is an oasis of luxury for those shopping for a lavish pied-à-terre or just a feature-laden property in which to entertain friends.
The Master Penthouse that sits beside the Roof Terrace with infinity pool and stunning views entitles the owner to VIP Membership status including access to VIP Lounges, High-Limit tables, plus a range of special services via the Penthouse phone including aircraft and limousine services and more.
Renovate your residence with several upgradeable floorplans including a private Spa with a round-the-clock personal stylist, a Bar and Party area perfect for hosting raging Member Parties and featuring private retro arcade games, and a Media Room to enjoy games of Don't Cross the Line and contemporary Vinewood cinema like Meltdown and The Loneliest Robot In Great Britain.
As an owner, you can select the Penthouse's color palette and patterns, and cement a place among the LS nouveau riche with a range of modern art from the Casino Store – from refined portraiture to pop art and daring modern sculpture – that can all be moved and placed around your property.
Co-Operative Missions
With a Master Penthouse you'll also become a member of The Diamond family, and the family business needs your attention. Help property owner Tao Cheng and The Diamond staff protect their investment from the clutches of a corrupt family of Texan petrochemical magnates in a series of all new co-operative missions.
Each mission pays out special Awards for first-time completion and hosting the entire story thread will reward you with a highly coveted, brand-new vehicle free of charge. You can also pickup additional work and odd jobs to earn extra cash and chips with a quick phone call to the Diamond's head of operations, Agatha Baker.
Free Master Penthouse with Twitch Prime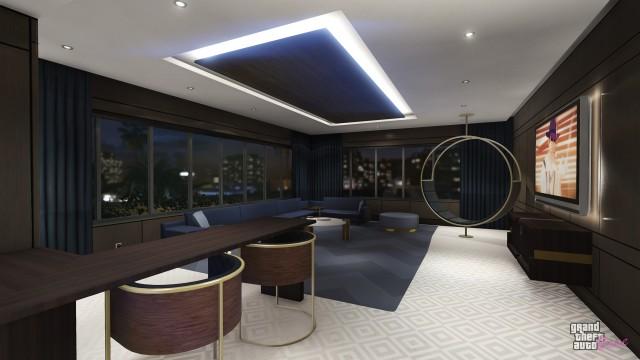 As part of the Rockstar Games Social Club x Twitch Prime Benefits program, all GTA Online players who link their Social Club account with Twitch Prime and claim their Twitch Prime benefits by the end of day on July 19th will be able to purchase the Master Penthouse for free in the Diamond Casino & Resort, as well as receive GTA$1.25M and up to 15% extra GTA$ on purchases of Shark Cash Cards.
Visit Twitch Prime and sign up to receive these perks and more coming soon, and visit the Social Club Events page to keep up with all special events, bonuses, and more in GTA Online.
Stay Tuned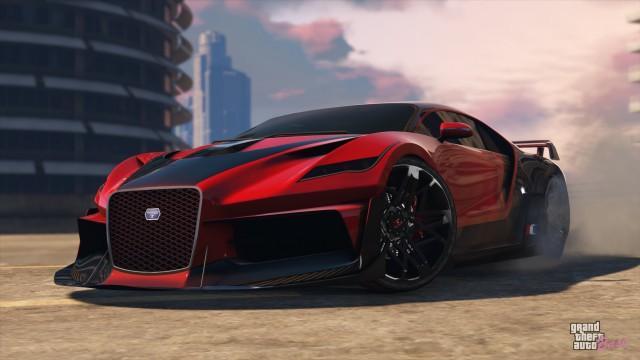 Visit thediamondcasinoandresort.com to see more details on what The Diamond has to offer, including Penthouse comforts, membership perks, and so much more.
Rockstar is also extending last week's bonuses through July 24th, so make the most of your time on the Stunt track – or contract as a Bodyguard/Associate on lucrative Business Battles, VIP Work, Sell Missions and more.