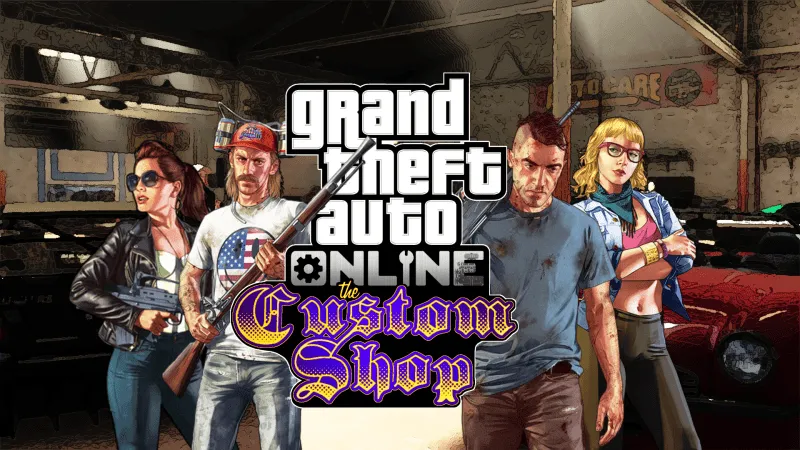 Over the past few months, I have released numerous concept updates for Red Dead Online - because it really needs some new content. Today, however, I've came up with something the already bustling GTA Online could use. Player to player business.
What do you get for someone who already has everything?
For years, people have begged Rockstar for a tuners DLC, and not including a few touches onto Lowriders and Benny's Automobiles, they haven't been added. Now, don't mistake me when I say this is not a tuners DLC, but it brings a whole new level of vehicle customisation entirely.
Long gone are the "Great looks for cars " videos, because this concept brings in an entirely new way to reward players for designing cars for and with other players, and brings real motivation to play within large public lobbies - A struggle GTA Online has had since launch in 2013.
I present to you,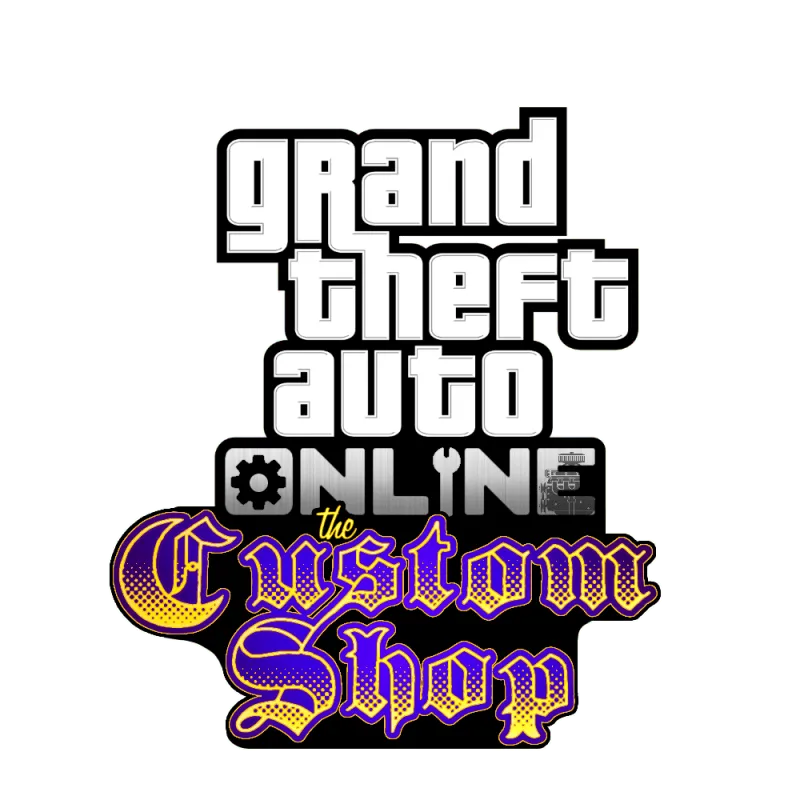 The Custom Shop is a DLC about ordering, or stealing, a base car kit, doing it up with all the modifications you desire, and selling the design off to NPCs for a set price, or other players for a potentially higher negotiated price. Keep your car's templates, designs and paint jobs on the market for other players to buy or get rid of them to make space for fresher content with better unlocks and any new investments you may make!
The Gift That Keeps on Giving
Purchase a base kit and add each design and upgrade you wish to it to increase it's value, before you sell it off for an increased price! NPCs will automatically have a 20% mark-up based on all upgrades added on to your vehicle when selling to them, but players can have a bartered price. (No, you can't keep any of your own cars. They are for sale only. For balancing purposes, you also can't sell any of your personal vehicles)
Of course, players will be able to buy vehicles from you for cheaper, or more expensive, than the prices listed on the in-game store, giving incentive to cooperate with you. Your selling price will determine how much business you get. Operating in a public lobby will mean there's more traffic coming to your customs shop to see what you have to offer. Players can give each other a star rating, so you can see who in your lobby is worth visiting first!
To me, this is exciting as players can start to become recognised for their designs, and we might end up seeing new luxury and designer brands popping up around Los Santos, with other cunning players doing their best to create knock-offs of a questionable morality. Copyright law in GTA, how fun!
If you are a higher-up in a crew, you can set a "Standard" crew vehicle, which can be purchased by crew members for the price set by the player vendor of choice, with upgraded versions available for different ranking members. You can also commission another, external player's design to become your crew car, with each of your crew paying them for one of the vehicles. Now that is a fantastic business opportunity. If the player fumbles the creation of your crew car of choice, you can always take your business elsewhere and leave a one-star review. Payments are completed on the sale of a vehicle by default, but can be changed to be upfront, or paid in two halves - On commission and on completion.
Vehicles will take varying time to produce, depending on the class and upgrades applied to it.
If designing vehicles isn't for you, how about you just create stickers and decals for cars? You can easily print them off and display them in your store's showroom for other players to purchase and add to the vehicles they design! Designs can be sold for a player-set price between $250 and $10,000. Upon purchasing a design from another player, you can use it as many times as you wish. Any vehicles you sell using other player-made designs will list the player's gamertag in the "Contributions" section.
And of course, if you're not artistic or creative in the slightest, you can still always purchase your new custom personal vehicle from another player, with it already upgraded. High-level players may also want to help out their lower-level friends by selling them a heavily-modified car on the cheap, featuring mods and upgrades that their friend won't have unlocked at Los Santos Customs yet. Also a perfect birthday gift, which requires no real life money!
Inspiration, and Purpose
This update was inspired by Forza Horizon 4's car design and modification system, combined with the customisation of Crossout, and the trading system of Fallout 76. It's something I've never seen discussed in the GTA Online community before, and would make car meets a hell of a lot more interesting. I, for one, would be very excited to see what this very talented community would create as no cars would ever look the same again. Think about all the movie cars you could re-create! Of course, it would take a long time to develop and could be quite resource-heavy, but isn't this the perfect DLC to set us off into this new powerful generation of the PS5 and Xbox Series X?
It would also save Rockstar from having to create so many liveries and modifications for any future vehicles which could be added to the game, and could be extended to planes and boats in the future too, making the groundworks for this DLC a worthwhile trade-off. Player-created content is at the heart of GTA, whether it be custom jobs, YouTube videos, mods, outfits, or something else - Players love to create and share, and this would be the most powerful tool added to the game for that to date.
The Detailed Details
Customise cars with the following;
Create vectorised artwork using shape and in-game logos, much like Forza
Customise every part of the exterior, with things like spoilers and skirts which can be extended or widened.
Add a variety of interiors, with separate front and back seat options.
Surround sound speakers, which can be added both inside, and outside the car
Completely overhaul the engine.

You could put a Truffade into a BF

Neon underglows have never looked so fancy, now you can get them in colour changing options, with different patterns and transitions available!

RGB lighting to match your keyboard

Separate front and back wheel and rim options, with multiple different tyre colours
Unlock special weaponised and future-tech upgrades, such as missiles, hover tech, nitrous, submersible conversions, and so much more!

Multiple of these can be added to each car, so you could have a T20 with the capabilities of a Deluxo and Stromberg combined!
Price stats:
Workshop: $3,000,000 - $5,000,000

Customisation and branding available

Weapons mechanic: $800,000
Futuretech mechanic: $1,750,000
Base kits:

Sedans, compacts and coupes: $5000 per car
SUVs: $10,000 per car
Sports classics: $15,000 per car
Sports: $20,000 per car
Offroad: $30,000 per car
Bikes: $35,000 per bike
Muscle: $40,000 per car
Super: $50,000 per car
Open-Wheel: $75,000 per car
Weaponised: $150,000 per car

Upgrades:

Vector art: $10000
Custom modifications: $2500 each
Each interior option: $1000
Speakers: $25,000
Neon underglows: $50,000
Wheel options: $25,000 - $120,000
Weaponised upgrades: $50,000 - $250,000
Futuretech upgrades: $120,000 - $400,000

Engine overhaul:

Sports classics engines: $20,000
Sedan, compact and coupe engines: $50,000
SUV engines: $75,000
Sports engines: $100,000
Offroad engines: $125,000
Muscle engines: $150,000
Super engines: $200,000
Open-Wheel engines: $250,000
Gameplay:
Showroom Space:

10 complete cars
5 complete bikes
10 vehicle templates
20 spray-on decals/stickers

Production time:

Bikes: 3 in-game hours
Sedans, compacts and coupes: 5 in-game hours
SUVs: 7 in-game hours
Sports classics: 9 in-game hours
Sports: 10 in-game hours
Offroad: 12 in-game hours
Muscle: 15 in-game hours
Super: 19 in-game hours
Open-Wheel: 24 in-game hours
Weaponised: 36 in-game hours

Time additions:

Vector art: + 20 seconds
Custom modifications: + 10 seconds
Each interior option: + 15 seconds
Speakers: + 1 minute
Engine overhaul: + 20% of that type of car production time, + 10% of current type of car production time
Neon underglows: + 30 seconds
Wheel options: + 20 seconds
Weaponised upgrades: + 10 minutes for one, with 1 minute for each following upgrade
Futuretech upgrades: + 10 minutes for one, with 1 minute for each following upgrade
What do you think of this concept? What kind of vehicle would you make? (Personally, I'm going for a Vigilante with Deluxo and Stromberg tech added onto it. An expensive and time-consuming, yet powerful vehicle) - Let us know your choices on our Twitter @GTABase and stay tuned for more fantastic articles!
If you'd like to see features like these added into GTA Online, be sure to share this article around and let Rockstar know that this is something we're interested in!