Born in the desert, brought to the city: the Annis Hellion may look like just another blocky 4x4, but this thing has survived on a diet of nothing but sand, rocks, rubble, bones, smoldering wreckage and more sand ever since it left the factory. With traction like this, the only obstacle is your imagination.
The Annis Hellion, available now from Southern San Andreas Super Autos in GTA Online.
Bonuses & Rewards
The Survival Series - with seven new maps added last week - continues to dish out Double GTA$ & RP for those with the gumption to stand their ground and decimate wave after wave of hired goons.
Players offering a helping hand to Tao Cheng and Ms. Baker as they fight off an incredibly hostile takeover bid by the Duggans will also receive Double Rewards for completing any Casino Story Mission by October 10th.
Choose to leave the beaten path and take advantage of Triple Rewards on all races in the Venture Off Road Playlist this week or compete in any Keep The Pace Adversary Mode track for 2X GTA$ & RP.
And Motorcycle Club Presidents can enjoy Doubled Payouts by launching any Clubhouse Contract Mission from their Clubhouse, as well as a 2X bonus on all Biker Business Sales. If you're still without a headquarters for your leather-clad operations, take 40% off all Clubhouses and Upgrades, as well as 40% off Biker Businesses, Upgrades and Supplies all week long.
Unlock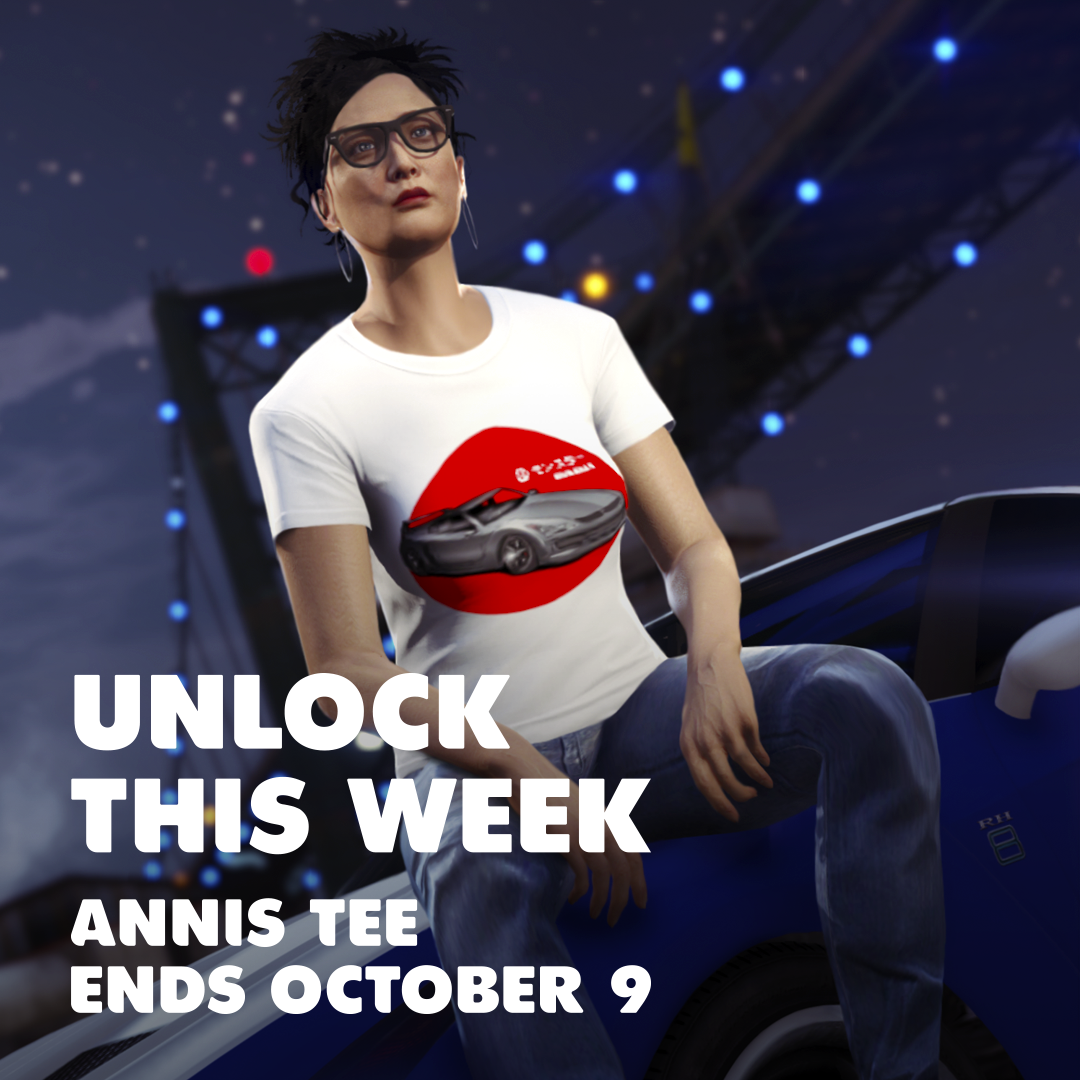 Play GTA Online any time this week and collect the Annis Japan Tee for free.
New Podium Vehicle: Ocelot Swinger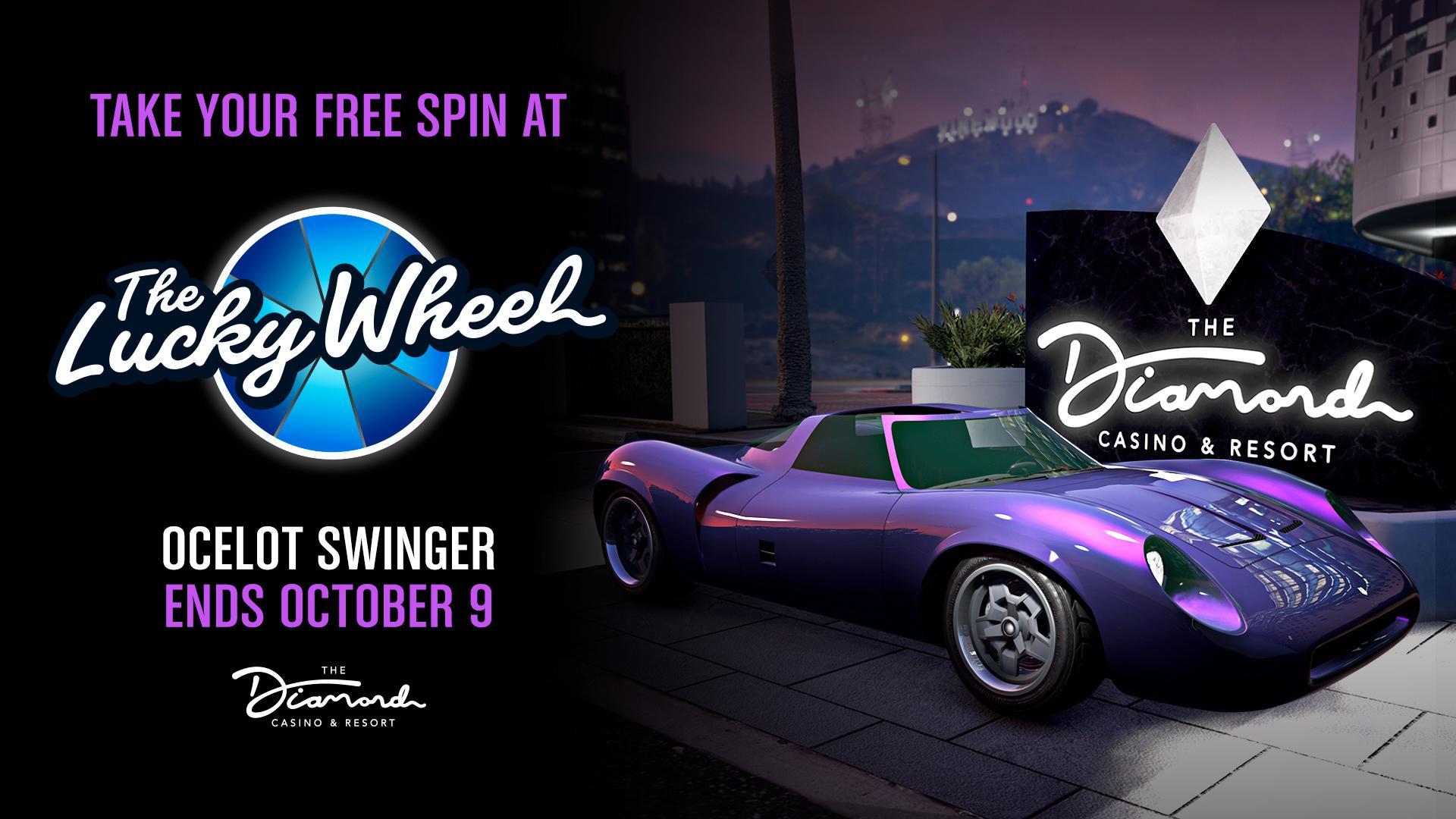 Stop by the Diamond Casino & Resort's lobby to give the Lucky Wheel a spin for the opportunity to win GTA$, RP, clothing and more. This week's top prize is the Ocelot Swinger.
Discounted Content In-Game
Clubhouses, Add-Ons & Upgrades – 40% off
Biker Businesses, Add-Ons & Upgrades – 40% off
Biker Business Supplies – 40% off
Nagasaki Shotaro (Motorcycle) – 40% off
Hakuchou Drag (Motorcycle) – 30% off
Nagasaki Carbon RS (Motorcycle) – 30% off
HVY Insurgent (Off-Road) – 35% off
HVY Insurgent Pick-Up (Off-Road) – 35% off
HVY Nightshark (Off-Road) – 35% off
Canis Kamacho (Off-Road) – 40% off
Ocelot Ardent (Sports Classic) – 40% off
Ocelot Pariah (Sports) – 40% off
Ocelot Lynx (Sports) – 40% off
Armor (Vehicles) – 40% off
Heavy Weapons – 40% off
Twitch Prime Benefits
Twitch Prime members have until October 6th to link their Twitch and Rockstar Games Social Club accounts to claim their free Master Penthouse in-game via the website on their iFruit. Players with linked accounts will be eligible for a rebate on the Master Penthouse until October 16th if they miss that deadline. Additionally, players who connect their accounts can purchase Fort Zancudo Hangar 3499 or the Lago Zancudo Bunker for a rebate on the base property after purchase. Plus, get an extra 10% off all of this week's vehicle and amenity discounts listed above, and players with a connected Twitch Prime account can take 75% off the HVY Chernobog and 80% off the Brute Armored Boxville. To ensure access to future benefits, make sure to visit Twitch Prime and sign up.