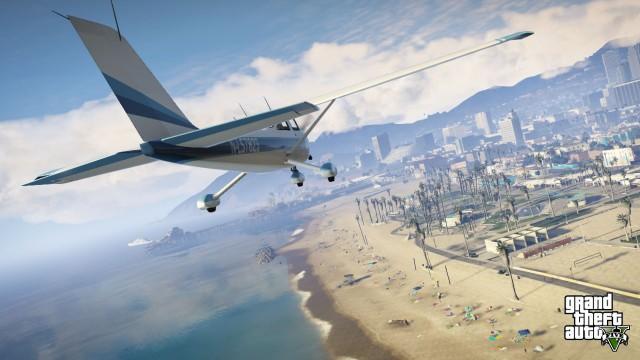 Today, gaming sites worldwide that recently saw Grand Theft Auto V first-hand are providing their insights, impressions and new details about the game.
Los Santos and Blaine County:
Our largest open world yet - by far - and spanning vastly diverse cultural and geographical areas, the entire world of Grand Theft Auto V is open from the very beginning of the game to explore. Visitors to the greater metropolis of Los Santos and the countryside of Blaine County will encounter faded celebrities, meth heads, party people, violent gangs, hikers, bikers and every other manner of colorful denizen. You'll be able to traverse everywhere from the tops of the mountains, through the streets of Los Santos and to the depths of the ocean floor. Below is an excerpt from The Telegraph about their first view of the game's world:
"A helicopter hovers gently in the midday sun, the whumph of its rotor-blades blending into an ambient, dream-like score. A man stands in the open fuselage of the chopper, peering down on a vast expanse of dusty wilderness. Countless dirt tracks wriggling through green hills like snakes. Mountain peaks looming over the brush. The sea stretching out to a beautiful cerulean horizon. As far as the eye can see; a detailed, enormous, bewildering landscape.

This is Blaine County, a vast scrubland just outside of the fictional west coast city of Los Santos, a garish, hyperactive pastiche of Los Angeles, California... We were told Grand Theft Auto V was going to be big --purportedly enough virtual acreage to fit in the maps of Red Dead Redemption, GTAIV and GTA: San Andreas-- but being told doesn't quite prepare you for the sheer scale of the thing. And this is a just a small chunk of brushland, a speck on a map that, for the first time in the series, is completely open to you from the very beginning."
Michael, Franklin and Trevor:
Three playable protagonists - Michael, Franklin and Trevor may live in different parts of town, have their own issues, attitudes, lifestyles, desires and goals - but they do know how to work together. They also each have their own unique skillsets to bring to the table when it's time to get the job done. From Destructoid's piece 'Grand Theft Auto V: Everything is Bigger and Better':
"It's important to note that the gameplay never stops while you're switching characters. You'll jump into whoever you've selected even if they're in the middle of driving a vehicle. All three characters have their own lives, own circle of friends, enemies, associates, and hobbies and they'll be living out their life while not in the player's control. When off mission, you can play as any of these characters or even just focus on one the entire time. It's up to you, but you'll want to play as all three if you want to experience everything possible as there will be things that only certain characters can do.

Each character has their respective roles. It was pretty cool to see the player shoot off the rocket as Trevor, and then switch down to Michael just as the rocket hit its target. You're going to want to switch between characters to take advantage of their skills as the enemy AI has greatly improved. Cops will try to flank you, get to higher ground, and communicate with one another, all in an effort to make for a fun challenge.
Heists:
Petty crimes, hustling and stealing cars can only get you so far in Los Santos. To score big, Michael, Franklin and Trevor will work together to pull off grand Heists - big, multi-part missions that require careful preparation, recruiting, and precise (and often explosive) execution. Cash is king in GTAV and while there will be plenty of ways to acquire and spend it - heists are the way to earn the big bucks. From GameSpot:
"What makes a good heist sequence so exciting? Not the kinds of elegant, stealthy heists that you might see in films like The Thomas Crown Affair… Think more along the lines of the bold, explosive heists that you see in films like Michael Mann's Los Angeles crime epic Heat. Sequences like these often end up involving gunfire, but that's not what separates a great heist scene from an average one. What really pulls you in to a scene like this is the sense of planning that the criminals have put into it, the awareness of all the coordinated, moving pieces that have to work together to pull the job off successfully, and the tension of not knowing if things will go off without a hitch, or if everything will fall apart. This is the kind of heist sequence that GTAV aims to let you experience…

For the bigger jobs, you'll also be able to build out your crew beyond just the three core protagonists, perhaps hiring additional drivers or other specialists who have their own skill levels and who take a cut of the overall score that's proportionate to their skills. Will you go with cheap help who take a smaller cut but might botch the job, or will you put together a costly but skillful group of seasoned professionals? Instead of just playing through an action sequence that might remind you of a scene from one of your favorite crime films, you might get to do something closer to designing your own incredible heist sequence. Eat your heart out, Michael Mann."
'Recreational' Activity:
The open world of Grand Theft Auto V is not just massive in scale, but will offer more to get into than ever before. For recreation, play a bit of golf or tennis, zen out with some yoga or cycle through the countryside... For adrenaline heads, parachute over the city, or customize your Cheetah and take it to the streets to race suckers for money... Or earn cash the old fashioned way, by taking it - whether by ripping off liquor stores or by buying and taking over businesses that will earn you dividends... Even minding your own business having a stroll you may meet one of Los Santos' weirdos, junkies, drunkies, or starlets and find yourself off on a wild misadventure you never expected... From CVG / GTAV O'Clock:
"And yet there's still more to tell... your cars can be given paint jobs, new wheels, window tints, grilles, spoilers, plus you can upgrade suspensions, engine and brakes - handy if you've pinpointed, say, an Infernus that you think could be a useful getaway vehicle.

You can customise weapons too, adding laser sights, scopes, silencers, and high capacity magazines. This is particularly relevant during the prep stage: you might find one weapon is good for clearing rooms, or another better for stealth, and as you earn more cash, you can develop and improve that weapon so that - by the time you head into the key heists - you have best, most specced-up firearm available for the job. Oh, and just to round things off, you can customise yourself as well, with haircuts and new clothes, or by dropping into a tattoo parlour between missions. (We spotted one on Vinewood Boulevard, close to the Chinese Theatre.)

It doesn't stop there. You can pick up hitchhikers, do stunt jumps and flying challenges, take part in yoga, golf, tennis or bike races, and - despite Rockstar being coy on this up until now - buy property too. Houses, garages and businesses can all be snapped up, providing a useful, additional revenue source that drip-feeds cash over time. Rather neatly, there seemed to be the suggestion that the men would remain true to their characters too: twentysomething Franklin will like the idea of buying a nightclub more than Michael, who might fancy investing in a marina."
Combat:
Game Informer's special series of previews today include individual pieces on The Art of the Heist, Touring the Open World and Putting Your Personal Stamp on Grand Theft Auto V - as well as some first details on the evolution of combat and gunplay mechanics via their story, Running and Gunning in GTAV. An excerpt:
"The core combat of Rockstar games has evolved quite a bit since Grand Theft Auto IV released in 2008. Red Dead Redemption streamlined the cover system first implemented in GTAIV, made gunfights more visceral thanks to the animations provided by the Euphoria technology, and introduced the slow-motion Dead-Eye mechanic. Max Payne 3 took the combat even further with destructible environments, kill cams, a last stand mechanic, and more natural feeling movement when you're running and gunning. For Grand Theft Auto V, Rockstar is taking the lessons learned from all of its previous games to bring the combat into the future.

The first thing I notice when Franklin and Michael open fire during a heist gone wrong is the smoothness of the transition animations. The characters move effortlessly in and out of cover, while taking care to avoid exposing themselves to incoming fire. A library of new animations also introduces a combat-ready jog that makes it easier to shoot from the hip and even allows players to run, aim, and shoot at the same time. Players can also drop into a combat roll at the press of a button...

Melding these improvements together, Rockstar aims to offer the best gunplay the series has ever seen."
Look for more GTA V previews on gaming sites around the web and around the world today which also include a host of new screens from the game - including many international previews linked below: