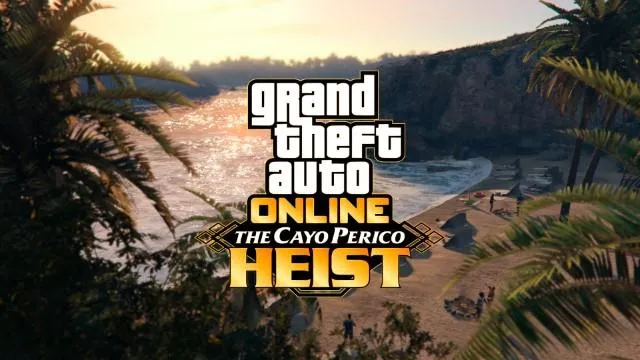 With the introduction of Cayo Perico Heist almost 3 years ago, the money-making meta in GTA Online completely changed. Especially for solo players. However, during GTA Online's 10th anniversary week, Rockstar decided to nerf it so much that the Cayo Perico Heist has now become worse that it may never be worth doing it anymore.
Cayo Perico Heist Nerfs
Cayo Perico Heist has received more patches (nerfs) from Rockstar Games than anything else in the entire game since its release. Initially, some patches addressed the obvious issues with the heist like letting players use personal vehicles or CEO Helicopters during the scope-out mission on the island.
This was followed by patching the gold glitch multiple times, which didn't matter too much as new workarounds were found and shared in a matter of weeks. And then a patch was added to make the juggernaut invulnerable to melee knockouts and have higher resistance to bullet damage.
But these changes were mostly aimed at fixing the missions or adding a small hurdle for players. However, the changes that came afterward made the community very upset. Rockstar decided to not only add a huge cooldown on the heist but also modify the loot chances so that playing the heist more frequently penalized players.
But that wasn't the last of it. On the 10th anniversary week of GTA Online, Rockstar decided to nerf Cayo Perico Heist payout values. Something that actually made the heist worth it, despite all the changes mentioned above.
Latest Payout Changes
A flat 30% decrease in primary targets except Pink Diamond (and Madrazo Files for 1st time players) and a 10% decrease in secondary targets except Gold. A couple more changes were also made to incentivize co-op (or penalize solo however you look at it).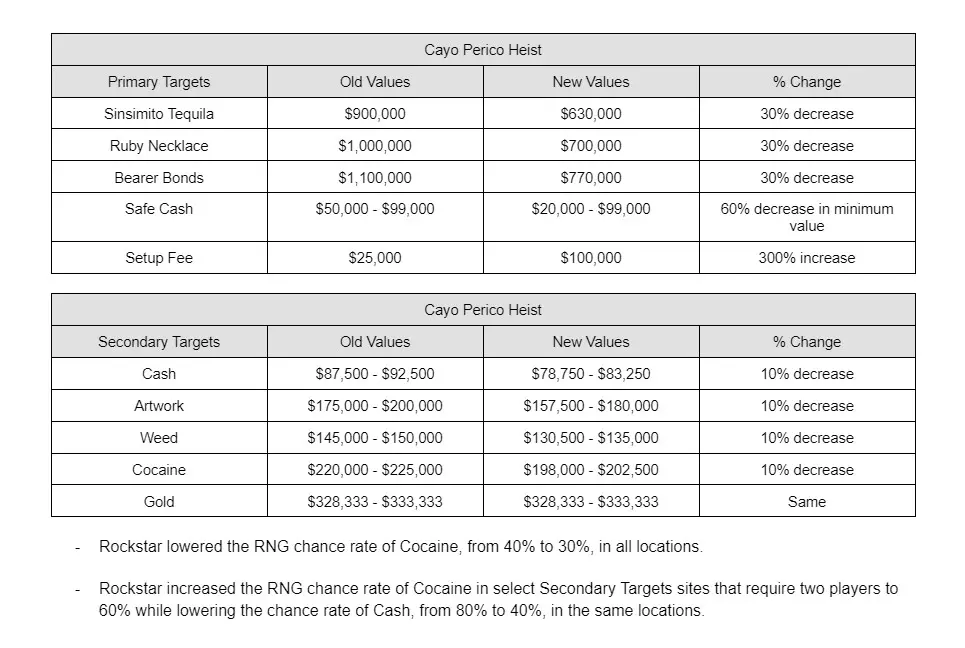 This would decrease an average solo Cayo Perico Heist payout from 1.5 million to 1.1 million. Co-op payouts also get subsequently reduced.
Now when it comes to executing the heist, there were some other changes made to the heist in previous updates that actually made it relatively harder than it was at launch. Which now makes the heist not as rewarding as before.
In my opinion, nerfing payouts isn't the right way to "incentivize" co-op gameplay. Adding Gold loot behind co-op only is a very good example of how it can be done right.
Maybe give a bonus to both players when playing co-op like GTA$ 250,000 or maybe increase bag space to allow stealing more loot or maybe add a new approach that is co-op exclusive and much easier than any other solo method. It will not only encourage players to play with others but also try the new approach.