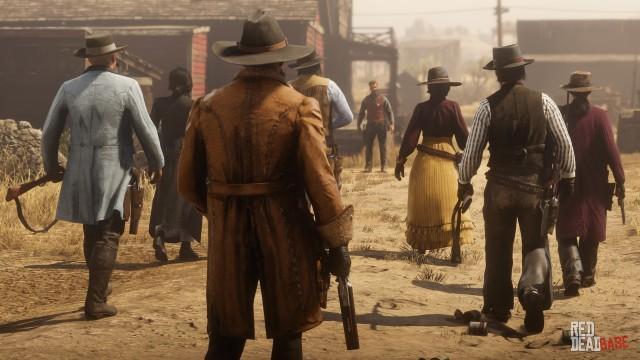 In Red Dead Online you can set up your Camp and ride with friends in a Posse, embark on cooperative story-based missions or go head-to-head in competitive series, find strangers throughout the world to help (or hurt), tackle spontaneous Free Roam challenges, go hunting, fishing, bond with your horse, explore with friends or on your own, and much more.
Series Playlists
Approaching a Series Marker in Free Roam will give you the option to start matchmaking into a Series.
Here you can compete against others in varied and intense Game Modes. Series can be identified on the radar and Pause Map by their unique blips. Alternatively, launch the Series you want from the Quick Join section of the Player menu.
After entering a Series, you will begin matchmaking in Free Roam. When a match is made, you will be taken straight into the Lobby to wait for the game to begin. Here you can invite players to join you. If a Posse Leader joins a Series, the whole Posse will be brought with them automatically.
Check out the full list of Red Dead Online Game Modes & Missions available so far.
Free Roam Events
While traversing the world of Red Dead Online, you will come across Free Roam Events. These are special PvP competitive game types that can be played individually or as a Posse.
When an Event is about to start, you will receive a notification and can chose to opt-in and take part. Your notifications can be viewed in the Player menu and you will have a limited amount of time to accept. When the Event begins, you will be taken straight to the location.
Cold Dead Hands: Fight for control over a target for the longest amount of time.
Competitive Challenges: Compete to get the highest score in a given, randomly-selected challenge within a set time limit (currently includes Bow, Headshot, Horseback, Longarm, and Sidearm Kill Challenges).
Dispatch Rider: Posses compete to be the first to deliver a horse to the assigned destination.
King of the Castle: Compete to gain and maintain control of the castle area by staying alive inside of it - whoever controls the active area for the highest percentage of the event time wins.
Master Archer: Compete to score the most points by hitting the most targets as accurately as you can within the time limit.
Fool's Gold: Fight to wear a protective suit of Golden Armor. Take down the current wearer to earn the armor and points, then turn the tables and earn points for kills while wearing the armor.
If you are a member of a Posse and your Posse Leader accepts a Free Roam Event, all the Posse Members will take part. If your Posse is the only one to take part in the Event, you will temporarily become enemies and play against each other.
Daily Challenges
Earn Gold Nuggets and XP for completing Daily Challenges, a series of wide-ranging objectives covering everything from skinning animals to finding treasure, winning feuds and more. Pull up the Player Menu to see your 7 Daily Challenges that will rotate each day, each challenge earns Gold Nuggets and XP and completing all 7 earns you a bonus.
Competitive Challenges
While in Free Roam, you will receive invitations from time to time to participate in Competitive Challenges. These are quick, challenges that you can take place, anywhere in the world. After accepting, a timer will begin counting down and you will be warped to the challenge location. All you have to do is complete the challenge to the best of your ability in the time given.
If you are a member of a Posse, you will play individually but win as a team, so help out your Posse to up your chances of a reward.


As you play Red Dead Online, you can earn special Belt Buckles and XP by completing various Award Challenges. There are 12 categories:
Sharpshooter
Combat
Hunting
Survivalist
Crimes
Travel
Trade
General
Horse
Posse
Free Roam
Competitive
You can view the different Awards and their tiers and track your development through the Awards section of the Progress menu. Here you can view Award sets and Pin individual awards to your Log using Triangle/Y.
Completing an Award will place a Belt Buckle into your Wardrobe for you to equip in order to show other players just how advanced you are.
Certain Awards allow you to reset your progress in exchange for Gold Nuggets.
---
For more Red Dead Redemption 2 Guides check out the complete RDR 2 Guides Section, including Horses Database, Weapons Database, and more!